There is never enough time in the day! I haven't had a chance to update this blog in a few days because time has been slip-slidin' away from me. But, rest assured that I have been eating. Last week I was dog-sitting a lovely pup named Zeke. He's swell. And, his house is awesome. Right in the Mexican War Streets--close to the park, close to Beleza. Perfect. I filled me with joy to be walking around in that 'hood for a few days. That's livin'. I always knew I liked that neighborhood, but now I *love* it! I'm going to dog-sit Zeke again this weekend, and I'm really looking forward to it. I heard my neighbor's dog let out a little whine yesterday that sounded exactly like Zeke's, and it made me miss him--real bad! This is his adorable face.


He and the K-Bear are now BFFs, and that's real sweet. And, they both love the "caleb cookie" treats I made. I'm going to have to make up a new batch tout suite.

Maggie came over for dinner on Friday, and we had leftovers of the vegan sprout burgers, the mushroom quinoa and sprouted hummus with carrots and peas. I'm not sure why all my pictures came out fuzzy. I must've had my camera on the wrong setting. Hope it's not too annoying. Maybe you should squint for best viewing. No, squint harder. No, harder.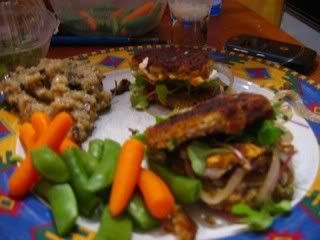 And, then we made the spiced caramel corn. She made the popcorn this time, and it was so easy! Why is it so hard for me? Is it because I have hate in my heart? Anyway, it was fluffy and delicious and addictive. Again, Heidi = genius.

Speaking of, on Saturday night I had a friend over for dinner, and made a little Japanese-ish feast. I wanted a meal that would be energizing, so I made some edamame, veggie sushi, otsu and genmaicha tea. And, ginger ice cream with caramel-coconut sauce. Dang. It was some serious delicious.


For the veggie sushi, I used nori, brown basmati rice (which I kinda burned, but just used the non-burnt part which tasted toasty 'cause of the burn) with sushi vinegar powder, grated beets, baby corn, peas, carrots, avocado, enoki mushrooms, green onions, cucumber, red bell pepper and wasabi. It was absolutely lovely.

The noodle dish was Otsu from Heidi's Super Natural Cooking. It's soba (buckwheat) noodles with a spicy-hot ginger sesame sauce with tofu, cucumbers and green onion. The sauce for this is so good that you could dive into a vat of it with your mouth open. Yum.

The ice cream and sauce recipe, I found on the blog My Husband Cooks. Here's the recipe: http://myhusbandcooks.wordpress.com/2006/10/25/ginger-in-ice-cream-hmm/



Okay. Gotta head out now. The Queer Dinner is tonight at the Gypsy Cafe (http://gypsycafe.net/), and they always have fantastic food. Yummy.