Yay! I like having a real-life, grown-up blog instead of just my myspace account. Plus, it was just a little embarrassing when I'd mention my blog and someone wanted to read it, but then they also saw my silly myspace stuff, too. Anyway, yeah. Feels good to be home!

I went to four innings of a Pirates game last night with Lauren and her friend Henry. (I had to leave early because I was dog-sitting and Lost was on...but, I fell asleep during Lost. dang!).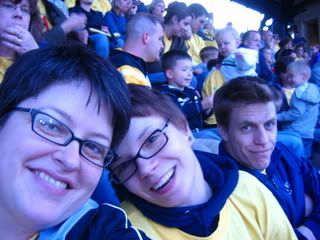 For our sports snacks, I made a batch of Heidi's Sprouted Garbanzo Burgers (from Super Natural Cooking), but changed the recipe I tiny bit to make them vegan. The original recipe calls for 4 eggs, and I wasn't quite sure what the best substitute would be. I ended up using flax seeds (grind up 1 T. in a coffee/spice grinder, and mix with 3 T. water to equal one egg. It should kinda have the consistency of egg whites), and it came out perfectly! So perfectly, in fact, that I may just make that my standard. They were a little bit wetter than the original egg version, but otherwise tasted the same--which is to say: yummy!




I made a vegan mayo (again, Heidi's Super Natural Cooking), and mixed a little with some miso paste. We used that to top the burgers along with some sun-dried tomato paste (I bought it), fresh spinach leaves, grated carrot and onion slices. And, some of the leftover spiced caramel corn for dessert (does it still count as dessert when you eat it first?).

It was fun, and I got to see a Pirates home run, someone catch a pop fly in one bare hand, and get schooled by a random passing sports fan 'cause I thought I was standing in front of the Roberto Clemente statue when it was, in fact, Willie Stargill. Silly me.

Also, made some quinoa with creamy fromage du pays and sauteed mushrooms--loosely based on another Heidi recipe. I shoulda stuck to the recipe because my version came out kinda boring, but Ellen said she made the original and it was delish.



I'm dog-sitting tonight, so probably no cooking. Just have to figure out what to forage from the fridge and cabinets before I go settle in with Zeke (my new dog pal).