I love a long weekend! But, we really should get a day of rest after a long weekend. I need to do the catch-up stuff like washing dishes, doing laundry and napping. But, it really was a super weekend. Despite the threats of all-rain all-the-time it ended up being pretty beautiful, and the rain stayed concentrated into several quick thunderstorms.

Friday evening I sold Scout to a woman for her daughter (who looked to be about 12 and possibly a budding young dykelet; it warmed the cockles of my heart). Farewell, friend. Then Mags and Ani came over for dinner (and dish-doggin'!). Maggie is seriously the fastest dishwasher on the planet! She knocked out my big backlog of dishes before I was even done making dinner. Sweet. And, she works for praise, so I like to report what a powerhouse she is. It really is something to behold. And, clean kitchen! Yay!

I made us a rice bowl dish with brown basmati rice, a riff of the recipe for Wheat Berry Salad in Heidi Swanson's Super Natural Cooking (one of my favorite recipes so far). It's a citrus-y dressing that I made with with orange zest and juice, lemon juice, garlic, green onions, olive oil, salt & pepper. Sauteed some broccoli, orange bell pepper (I thought the color of the pepper went nicely with the orange flecks from the dressing), and more green onions. With tofu and toasted pine nuts and feta cheese. Yum.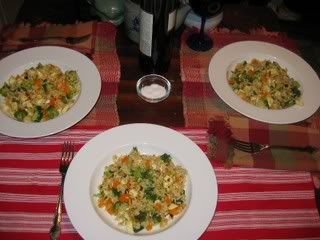 For dessert I made an ice cream. I was experimenting with this flavor, and it's not quite right yet (but still really tasty), but I made a bunch of notes for the next attempt (more cream, less milk, more cocoa, a dash of salt, etc.). The flavor was Mexican Hot Chocolate--flavored with cinnamon, cocoa, mesquite, chipotle chili powder and cayenne. It had a little kick, but your mouth was cooled by the ice cream. I think it's a good start! I'll make this again soon, and promised Mags and Ani that they could taste the next batch, too, in the capacity as my Official Ice Cream Testers for this flavor. (it looks melty because it is; we ate it when it was still soft-serve consistency).



Saturday morning Mags and I took the K-Bear, Fig and Ella for a big hike from my house, around Washington's Landing, and back up (and up and up...). We've done this many times, but it kinda wiped us all out that day. Maybe because it was the first hot day? I don't know, but the K-Bear kept trying to duck under some bushes for a nap on the way back up Rialto Street, and I kinda wanted to join him. But, it was gorgeous! And, the K-Bear even found a dead mouse to roll in, so a good time was had by all!

Afterwards I made a version of Heidi's curried tofu scramble. Golden and delicious!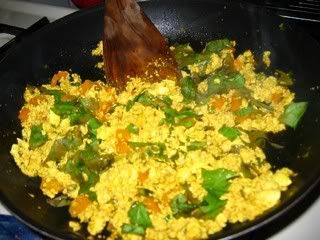 Saturday afternoon I went kayaking on the N. Side with a group of gals from the mailing list. Fun! Well, actually it was harder and scarier than I'd imagined, but I'd totally do it again. And, I'm sporting a couple blisters on my thumbs that I think make me look kinda butch.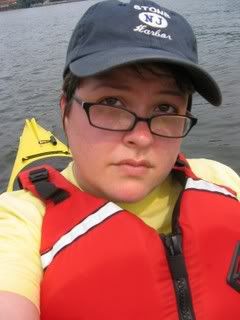 Sunday morning I headed over to hang with Zeke, and we took a big walk, then I picked up Ellen and Kara to go to the Rachel Carson Centennial Celebration. You paid $5 to get in, and then got to partake of lots of tastes from local chefs using local/organic/sustainable/seasonal ingredients. Freakin' yuh-um! Plus, lots of other environmentally-friendly types of booths. The only thing weird? All the food was served on disposable plates with disposable plasticware. What the bleep? Isn't that the complete opposite of the spirit of the gathering? Anyway...yeah, fantastic food! I tried some kind of pasta/fiddlehead/shittake thing, a curried corn chowder, a wheatberry/bulgur salad (was supposed to be with lamb, but I skipped that part), a rice dish with fiddleheads and a bunch of other veggies, a ginger-carrot mini cupcake (from Vanilla; totally the "winner" in the cupcake debate!), a salad with baby greens, local goat cheese and rhubarb vinaigrette. And, Najat's had a booth there, so I picked up a turnip green pie (oh my god, these are good!) and a little pistachio cookie. And, then we went to the Pittsburgh Mills Mall. Just for juxtaposition's sake, er something. (It was one mile away and air conditioned and we were weak! But, we were extra weak after walking one hundred miles in the mall just to make it to the gelato booth. dang.)

Monday was all about dog-walking and napping (I had to take some benedryl 'cause I got my sun-hives. I was so hoping that I'd grown out of it since last year wasn't so bad, but no. After the Rachel Carson thing both arms were covered in ugly, itchy hives. bummer). Ani and Maggie had a party/cook-out that was super fun! I got to see my ol' pal and roommate Becky, and her family that I hadn't seen for years. I hadn't even met one of the kids! (The kids, by the way, were magically gorgeous and hilarious! shout out to Della and Cece!).

I brought some fresh rolls. I'd made them once before, but then was re-inspired when Kara brought some to the book club a couple weeks ago. I made mine with marinated tofu, a "quick kimchee" (got the recipe out of a magazine a few months ago, but now can't remember which one), some pineapple macerated in lime juice and zest (this idea lifted from Kara), carrots, red and orange bell peppers, julienned, minced cliantro, basil, mint and red and green chilis and some vermicelli. Here's my little making station: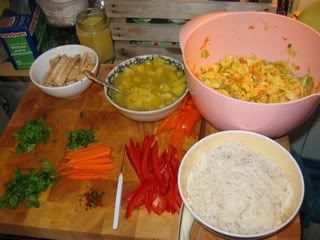 And, here are the babies when they're all ready to go to a potluck picnic: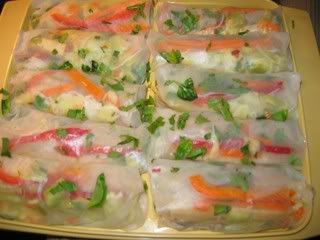 I made a spicy peanut dipping sauce with some natural peanut butter, some sriracha and some golden plum sauce (thinned with water). And, I brought two rolls for today's lunch. Which I'm ready for right now!