Dang! Does it get any more beautiful that Pittsburgh this past weekend? And, today, and the most of the rest of the week? Pittsburgh--you are lookin' cuh-yoot!

I had a great weekend! But, I did officially turn old yesterday. I woke up at 5:00 a.m. and was okay with that, and then I threw my back out in the afternoon! What the bleep! Next thing you know I'll be asking you to pre-chew my food and complaining that the kids are making too much noise past 4:30 p.m. I thought aging was a more gradual process.

Anyway. It's still sore, but much better than yesterday. I did have to call off kayaking and dinner last night, but it ended up being really nice just lying on the couch and watching netflixes and finishing the book club book.

I made some dog treats this weekend, and the K-Bear went crazy for them! I kept trying to get a picture of him getting ready to eat one, but he kept eating them before the picture snapped. I finally got one, but only because I threw down five at a time. When the picture had taken, only one cookie and a crumb were left. That's a good sign, though! I read through about a hundred recipes, and then just made up a recipe with stuff I had on hand. They're all-natural, organic and vegetarian, but you could use some type of meat broth if you wanted. I just had a bunch of vegetable stock that I made last weekend, so I used that.




I ate one with some cheese. It was pretty good. Like a cracker that needed some salt or a biscuit/cookie that needed some sugar. And, I've given snack-packs to three other dogs, and they dug them, too. I'm going to figure up how much they cost me to make, and maybe sell them as one of my side projects. They were fun. I think my favorite kitchen tasks are chopping and rolling out dough (especially with my awesome new french rolling pin).




Anyhow. So, the Firehouse Farmers Market started up their season on Saturday! It's the only (mostly) organic farmers market in the 'Burgh. It's small, but has lots of great vendors. Ellen and I walked over on Saturday morning to get there when it opened and do a little looking around in the shops, too. We went to Reyna, where I got another batch of their lovely tortillas, but I did not buy this:



But, here's what I did buy from the farmers market: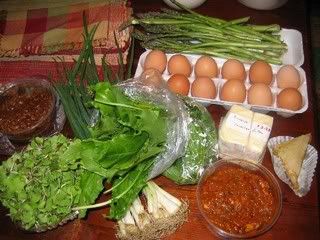 asparagus from Next Life Farms; eggs from Deron Johnson (the Polish Hill honey guy); Minerva butter; baklava, spicy hot beans plaki and muhummara from Najat's Cuisine; green onions, sorrel and radish microgreens from Pucker Brush Farms. YUM!

I used several of those gems for lunch. I made two, um, cheese crisp (?) type things. One had sundried tomato spread, spinach, basil, garlic, calimyrna figs, gimme lean sausage (already crumbled & fried), green onions and this really creamy and delicious fromage du pays.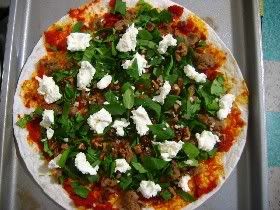 The other had muhummara, radish greens, green onions and feta.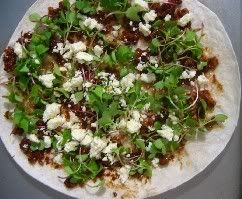 Then, on Saturday afternoon I went to the Craft Factory at the Mattress Factory (http://www.mattress.org/). I'm embarrassed to admit that I'd never gone through the museum. I'd been to the temporary James Turrell exhibit a couple of years ago where you sat in this room at either sunrise or sunset and watched how the light entered and changed with the outside light that was entering through this recessed ceiling thing. Anyway. So, I went with Lauren, and we spent the afternoon there, and it was *awesome*. If you haven't been, you should. So cool.

Last night I made my treat to take to book club tonight. Guess where I got the recipe! Heidi! From Super Natural Cooking, and it is awesome! I hate (hate!) to make popcorn the good ol' fashioned way, but I did it for Heidi. I forgot to bring the recipe with me, but I did bring some of the corn itself. It is so freaking good and addictive. You use a caramel of brown rice syrup and maple syrup and add nutmeg, chili powder, salt and toasted nuts and seeds (I used pecans, pistachios, almonds, pumpkin seeds, sesame seeds and sunflower seeds). I also added a little cinnamon (and next time I'll add a little mesquite, too). Sweet, spicy, salty. It doesn't get better than this. I even shook a giant pot of popcorn with a bad back for this.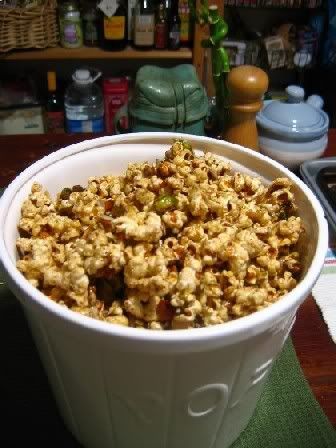 I brought some with my lunch today, along with a wrap I made with some of my sprouted hummus, spinach, radish microgreens, spicy beans plaki, carrots and feta. It was spicy and deeeelish!




Okay. I think that may have been the Longest Blog Post Ever. Phew!