Now is the time for all good comfort food to come to the aid of my uterus/uterache. And, it did. Last night. I made Heidi's Millet Fried "Rice" from Super Natural Cooking. In the future I'd use a ton more veggies, but it was really good. I'd never had millet before, and it's a lovely little grain--fluffy and tasting kinda cornmeal-y. I didn't bring the recipe with me, but I think I remember...

1 1/2 c. millet, picked over and rinsed
4 1/2 c. water
2 t. fine-grain sea salt
1 carrot
2 eggs, beaten
2 T. toasted sesame oil
2 T. clarified butter (I didn't take the time to do this 'cause I was hungry, and just used regular unsalted butter)
2 cloves garlic, minced (I used ramp bulbs)
2 green onions, chopped (again, I used ramps--the greens)
3/4" piece of ginger, grated
8 oz. firm tofu, cut into 1/4" dice
1 T. soy sauce (I used Bragg's Liquid Aminos)

So, you pick over and rinse your millet, and put it into a pot with the water and salt, and bring to a boil. Then reduce the heat so that it's an active simmer, cover and cook for about 25 minutes. If any water remains, drain it off--there shouldn't be much, if any. (Also, Ellen told me that her friend Richard used to make her drink hot millet water, so I looked it up, and millet's high in B vitamins--especially B6--but, Ellen also claims that it was "traumatic". Ha!).

Using a vegetable peeler, shave your carrot, and then cut the shavings into matchsticks (I just did matchsticks, 'cause I like a little crunch). Set aside.

In a large skillet or wok, heat 1 T. each of the toasted sesame oil and butter. Pour in the beaten eggs, and swirl to coat the pan. Cook for about 45 seconds until it starts to set up, then fold it over on itself, and cook for another 30 seconds or so, remove from pan, cool for a minute, then slice into thin strips.

Wipe out any crumbs from the pan, and add your tofu, and cook until golden brown, then remove and set aside.

Again, wipe the pan of any crumbs. Add the other 1 T. each of toasted sesame oil and butter and heat until a drop of water sizzles in the pan. Add the garlic (ramp bulbs!) and ginger, and cook for about 30 seconds, then add the carrots, green onion (ramps!), tofu, soy sauce, egg and millet. Stir for a couple minutes, then remove from heat and adjust seasonings, if necessary.

--So, as I said, I'd load this up with veggies (baby corn, peas, green and red bell peppers, etc.) next time and some crushed red pepper flakes or a couple of whole dried chilis in the hot oil. But, it was tasty and really comfort food-y. Yum. Heidi, kudos to you. Again. And, I loved the millet. I'll be making some millet again real soon.




I did remember the Pocket Tarts recipe.

Pocket Tarts (from Cook 1.0 by--guess who--Heidi Swanson)
makes 9-3 1/2" tarts

Step 1--Create Filling:
[Heidi has several filling ideas, but I made up my own--Curried Potato & Pea; Spinach-Mushroom-Goat Cheese; and, Cherry-Cinnamon with Almond Cream Cheese. I've posted the recipes for those in previous posts, but you can pretty much put whatever you want in them!]

Step 2--Assemble Pocket Tart:
Unwrap a 17-oz box of puff pastry dough onto a lightly floured surface. Quickly run a rolling pin over the puff pastry only once or twice to make it a bit bigger and flatter. using a 3" square cookie cutter, cut out 18 squares.

Fill half the squares with a spoonful of the filling. Place another square on top and gently press down on the edges to seal. Use the tines of a fork to press down on the edges the way you would for a pie crust, to reinforce the seal and keep the filling from leaking.

Step 3--Brush with Egg Wash and Bake:
Lightly beat 1 egg in a small bowl. Set aside. Place the tarts on a cookie sheet lined with parchment paper. Brush each tart with egg wash, then poke a few holes in the tops of the tarts to allow steam to escape. Bake on the middle rack of the oven for 15 minutes, or until the tarts are puffed and golden.

I'm still mad at myself for not taking pictures of the adorable tarts. Dang.

So, then last night I was watching Lost and needed another dose of comfort food. I couldn't help it; my uterus demanded it. So, I had the rest of the leftover wild rice with some grape tomatoes (halved), some blue cheese (I used bleu d'auvergne) and some fresh ground black pepper. Totally hit the spot.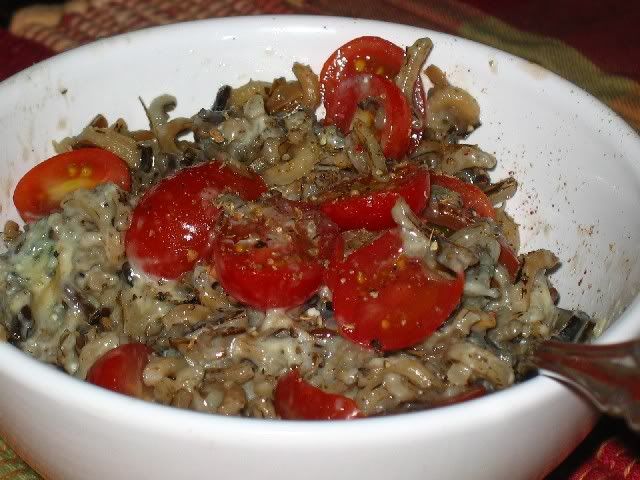 I also made some vegetable stock the other day. I just save my veggie scraps (like the mushroom stems from the tarts or potato skins or carrot shavings or whatever) and use some garlic, onion, a bunch of water and all my veggie scraps and leftovers (I used the rest of my spinach-mushroom filling from the tarts, too), and some ramps. I made about 8 quarts, froze some, and have some sitting in the fridge begging me to make some soup. We'll see about that.

Tonight is The Great Canning Adventure of 2007. I'm going to try to make pickled ramps and a ramp-fennel relish. Cross your fingers and toes for me!