Last night I again ramp-ramp-ramped it up! I went with a traditional West Virginia preparation (for the most part). For dinner I made ramps-n-taters, scrambled eggs, steamed asparagus and a yogurt-sun-dried tomato dipping sauce. Yuh-um. This was a little taste of heaven! Not even almost heaven, either!

Ramps-n-Taters
2 c. golden new potatoes, chopped about a 1" dice
1/4 c. onion, small dice
2 cloves garlic, minced
3 ramps--bulbs minced and separated from stems & greens, also minced
2 T. dried parsley (or 4 T. fresh, minced)
1 t. crushed red pepper
1 T. toasted sesame oil
coarse sea salt & fresh ground black pepper, to taste

Preheat oven to 375.

Heat the oil in a medium skillet. Add crushed red pepper, onion, garlic and parsley and sweat it for a couple minutes to get tender and fragrant, but don't brown. Add the potatoes, and cook for about ten minutes. Add the ramp greens, and cook for a minute or two longer.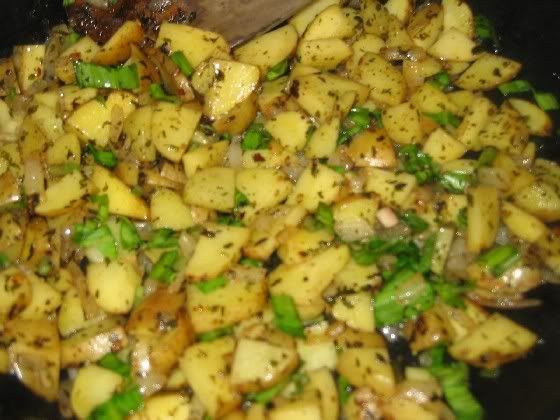 Remove the potato mixture from skillet, and toss with salt and pepper. Spread onto baking sheet (no need to grease, since they already have some oil from the pan), and bake for about 20-25 minutes until golden brown.

And, you can't have ramps-n-taters without scrambled eggs, right?

I got some eggs from the co-op that are my new favorite eggs. They're from Nu Way Farms in Fredonia, PA. I just googled them, and it looks like they have a CSA, too. These are the best eggs ever! They're like the backyard chicken egg from Gist Street that Kara shared with me a couple weeks ago. The yolks are a brilliant electric orange, and they taste so rich and fantastic. Free-range, grass-fed and "organic" (in quotation marks because they're not certified organic even though they adhere to the true organic principles).
I found this page: http://webpub.allegheny.edu/employee/c/cbakken/meadvillecsa/csapage.htm

I just beat them with a little bit of soy milk, and used the pan that I'd used for the potatoes. It still had some oil, so I didn't need to add any. Just a little salt and pepper.

I steamed a little asparagus, and served it with the eggs, instead of mixed in because it's too gorgeous to get all eggy and obscure the glorious green.

I just made a little dipping sauce with some lowfat plain yogurt, some sun-dried tomato spread and some crushed cumin seeds.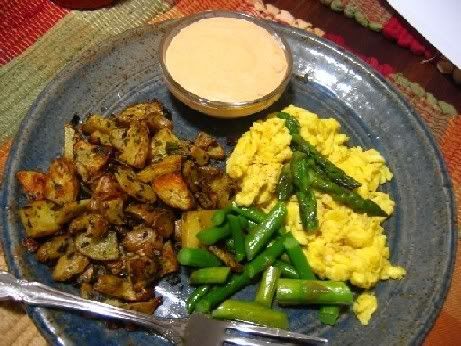 So, after I'd gotten my strength up it was time to try my hand at canning. I'd watched my mom, grandma, great-grandma and great-aunt do it when I was little, but had never attempted it myself. I got a book out of the library, googled quite a bit, got some canning jars, rigged up a little homemade double-boiler action, started making my recipe, and then read all the way through it, and saw that it says *not* to seal the jars. They're just preserved with the vinegar. But, curiously, the recipe author says, "If you keep the eggs covered in broth and store in a cool, dark place, the eggs will remain deliciously edible for many, many years....The oldest ones I ever ate were 17 years old." Whoa. (Appalachian Cooking: Ramps and Morels by Lewis J. Matt III). Actually, the recipe says "Refrigerate, covered (do not seal the jar) for at least four days so that all the flavors intermingle." So, what does that mean? That he sealed them after that? That they're in the fridge for four days with no jar lid at all, or just not pressure sealed? I need answers, Lewis J. Matt III!

But, I think it all may be moot because I cannot wait to eat them. I made a dozen--one large jar with eight eggs and a smaller one with four. I am trying to hold off for at least four days, but I want one now. The broth smelled so fantastic I almost could not stand it.

Fresh ramps: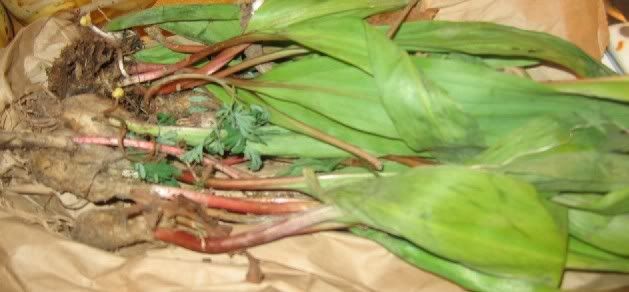 Pickled Ramp Eggs
(from Appalachian Cooking: Ramps and Morels by Lewis J. Matt III)

12 eggs
3 cloves garlic, thinly sliced
2 medium onions, thinly sliced (I only used about 1/2 of a large onion)
20 whole ramps, sliced lengthwise (I just used the bulbs, and saved the greens for some other use. I like to slice them off just after the stem starts to turn red/purple because they're really pretty like that)
2 c. white vinegar
2 t. ground ginger (I used a 3/4" piece of fresh ginger, minced)
1 T. pickling spice (I used about 1 1/2 T. of pickling spice that I got from the co-op's bulk section, and it's divine)
1/2 c. sugar
12 whole black peppercorns (I skipped this because the pickling spice had a lot of peppercorns)

In a large saucepan, completely cover the eggs with cold water, enough to cover them by about an inch. Bring to a boil. Simmer for not more than five minutes. Remove from heat; let stand, covered, 20 minutes. Plunge to cool at once in cold water. Remove shells.

Place the eggs in a steralized quart container, such as a wide mouth canning jar, interleaving the eggs with the sliced garlic, onion and ramps.

In a small, enameled, stainless steel or glass saucepan, bring the vinegar, ginger, pickling spice, sugar and black peppercorns to a boil. Reduce the heat and simmer for 20 minutes, covered. Pour the hot mixture over the peeled eggs in the quart jar. If there is not enough liquid to completely cover the eggs, add just a little boiled water. Refrigerate, covered (do not seal the jar) for at least four days so that all the flavors intermingle.

[If a vinegar "mother" develops in the broth, it will get cloudy. Remove the eggs, rinse with boiled, steralized water and cover with new hot broth].

Serve eggs in wedges or halves, sprinkled with salt and pepper. Garnish with the pickled ramp and onion slices. If you use these eggs for deviled eggs, chop the onion, garlic and ramps and add to the egg [sic] yoke mix to stuff the eggs.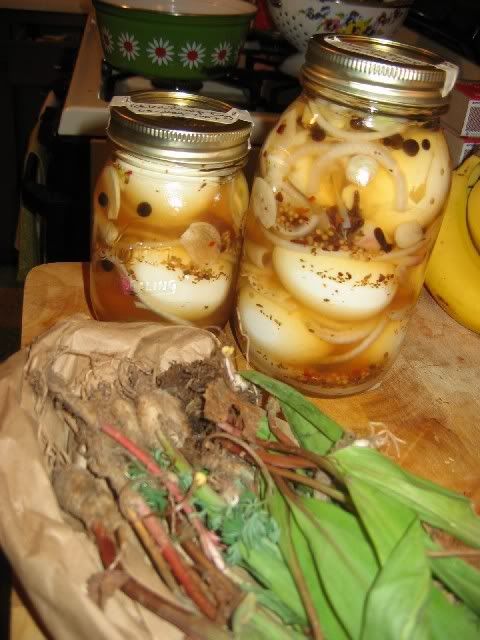 Those babies are gonna be awesome! All organic ingredients, too. And, I like the deviled egg idea! I hear tell that a friend might be having a WV Day celebration dinner this year (June 20th! Montani Semper Liberi!), and those would be perfect, wouldn't they?

Apart from that, I also started some chick pea sprouts. Ellen and I are going to make Heidi's Sprouted Garbanzo Burgers next week, so I finally busted out my little sprouter (and they ended up expanding so much that I also had to use two jars, additionally!). I found lots of instructions online, and printed out a couple of sets. But, then when I started doing them, I noticed that the directions were different on each set. Hmm... Luckily, my friend Jen is The Sprout Whisperer, and she advised. I think I'm going to have enough to make a couple batches of the burgers, so I'm going to try to freeze some, too. Here's that recipe from Heidi's blog:
http://www.101cookbooks.com/archives/001567.html

And here is the adventure my sprouts have been on thus far:

Step 1 - rinse & soak the beans 8-12 hours. I'm using some dried organic chick peas from the co-op's bulk section.



Step 2 - rinse and drain the beans.



Step 3 - No, really. Drain the beans. Evidently they can get pretty funky pretty fast if they're not drained properly. My sprouting container has its own draining basket and vented lid, but for the ones in the jars, I used some waxed paper that I slotted, and then I inverted the jars in a colander with a bowl beneath. Then I stuck them all in a cool, dark place (my kitchen cabinet). From here I'll rinse them 2x a day, and then should be ready in a couple days (my instructions said 1.5+ days, but The Sprout Whisperer said about 4 days). Perfect. We're making burgers on Tuesday. And, I might have to bust out a couple of the eggs, too...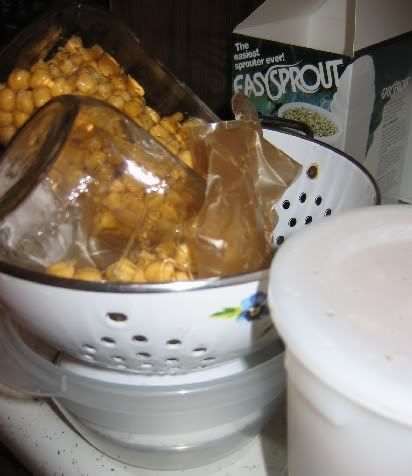 Next up, for-real canning. I want to make some ramp-fennel relish.