I did it! I called Comcast last night and told them to suck it! I was feeling a little sad about it yesterday, but then they called to harass me to pay my bill from last month, when I *told* them I wasn't going to pay it until I saw the credit for all the time it wasn't working. So, I went home, got my "Lost" on, and then immediately called them and told them to turn it off thatverysecond.

Speaking of "Lost", holy shit! That was a freakin' awesome episode! Crazy.

Yesterday evening my uterus demanded that I get takeaway from Spice Island Tea House (Atwood St., Oakland). It, and I, needed the Java Fried Rice (vegetarian with tofu and egg). Hot damn. It's not "healthy" 'cause I can see the oil in the bottom of the dish, but it is fabulous. And, it does have lots of veggies, so I can pretend it's healthy. And, I brought the leftovers today for lunch. YUM.

My uterus suggested that since we were on Atwood Street, perhaps we should also swing by Dave and Andy's Homemade Ice Cream Shop. So, we did. I got the cinnamon-apple-granola frozen yogurt, and it may be the best ice cream-type creation In The World. Holy moly.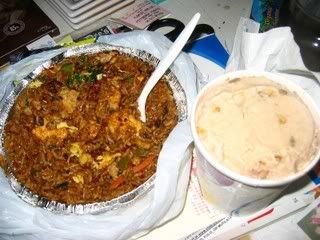 I'm taking Scout (my kids' bike) by a lady's house after work to try to sell it. I hope she buys it. Mostly 'cause I'm pretty broke (getting paid once per month sucks), and I'm going to the Rachel Carson Centennial this weekend, and I'm sure there will be some delicious treats to try. It's five bucks to get in, and then you get to try a bunch of chef's tastes. I like the sounds of that. Plus, the Firehouse Farmers Market, other vendors, etc. http://rch.extranet.bbfsol.com/Default.aspx?tabid=88

You know what is a moment of pure joy for me? It's when I open a brand-spankin' new jar of peanut butter and the surface is so smooth, and then that first dip into the jar. I made a PB-n-J burrito this morning (peanut butter and fig jam), and had this experience. It's just so satisfying.

Untouched:



Making contact:



First dip:



Ahhh.

And, TGIF. For reals.