Oh man, that was a beautiful weekend, eh? I had a lovely one--Gist Street on Friday (ask Ellen about her uber-nerdy hand sign for writers--and tell her that she needs to morph it into a literary nerd greeting, complete with sound effects). On Saturday I was crampy all morning (still haven't started--what the bleep? am i carrying the next savior or something?), but then rallied for the afternoon and hit the Strip to find that Balcony Cookware was having a sell-all-this-shit-'cause-someone-new-bought-it-and-is-remodeling sale, so I got one million items and gadgets. Then I hit Lotus (wonton wrappers, tofu skins, parsley and some other stuff I can't remember), Reyna (I got a molcajete y tejolote! and some of their deliciously soft flour tortillas), Mon Ami (I spent an obscene amount on a Vosges chocolate bar--over $1.25 more than you normally see those obscenely priced bars for, but I'd never seen that flavor--Goji with goji berries, pink himilayan salt and dark milk chocolate--and, my uterus demanded to be satisfied), Penn Mac (raw nuts, cheese, dried fruit, white truffle oil), and so on. Sunday was brunch at Zenith, wussing out on kayaking (Lauren and I were going to go, but then everyone else bailed, and it was kind windy and cool in the morning, so...), seeing a movie matinee (Year Of The Dog, which had Molly Shannon's character's dog die, and it made me think of when my dear, dear Ursa died so I bawled for the first half of the movie), hitting a little D.I.Y. craft show at Garfield Artwoks (so freakin' cute! with free mini cupcakes from Dozen--vegan & regular), tooled around in the S.Side, then home to read and relax.

Here's what the molcajete y tejolote looks like: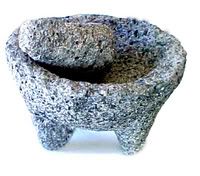 And, you can get the scoop on them here:
http://tasteoftx.com/recipes/glossary/molcajete.html


So, this was more of a consumer's weekend than a cooker's weekend. But, yeah, good times. AND, the cutest thing that happened this weekend? My mom called me last night because she bought some tofu and soy crumbles and wanted to know what to do with them! Aw!

I didn't cook anything spectacular this weekend--it was more about substance and relaxing. I did enjoy quite a few bean-tofu burritos, though.

Check out the sprouts! They are so amazingly satisfying to grow because they are really quick and really adorable. Here they are on Saturday: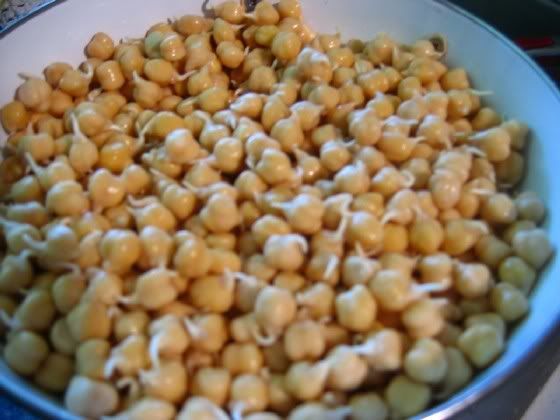 And, here they are on Sunday:



They're baby geniuses! I can't wait to eat them up on Tuesday! Ellen and I have a sprouted garbanzo burger date. I can't wait!