Okay. I have realized that this blog is turning into a 10% celebration of weekends and a 90% bitchfest about the weekdays. I would like to say that this will stop, but I cannot. Weekends are where it's at and way too short, and it makes me wanna squeeze someone's face in anger when they're over. I just read on Wikipedia that Mondayitis is a real disease! Well, something like that:


Many people claim that the "condition" is in fact a diagnosable illness based on the human circadian rhythm being incompatible with a 40-hour work week. However, the medical credibility of the condition is a matter of debate.
Anyway. Yeah. Boo for Monday.
But, the weekend was freakin' lovely, wasn't it? Friday evening I was finishing up dog-sitting with Zeke. I got off work early to go pick up my car (now with all four windows functional!), and shopped at the co-op--which took forever because I was on the phone with the Hurd, and her scintillating conversation was distracting. And, then went to the Citiparks farmers market and got some cherries, a slice of raspberry pie (dear lord. delicious. Sand Hill Berry Farms.), some basil, and potatoes. Then, I got Zeke, and we met Sandra and her little doggie-gal Talulah in the park for a nice little stroll and dogstravaganza. Good times. Then, I went home and watched
Music and Lyrics
. Whoa. Real bad. My uterus has horrible taste in films. But, a lazy night in with some bean-n-cheese-n-avocado soft tacos was a good time (and, I like a good time).
Saturday morning Ellen and I walked over to the Strip to hit up the Firehouse Farmers Market, Reyna, Penn Mac and La Prima. Now, that is totally my idea of a good time! At the farmers market I got some mushrooms (1/4 lb. of shittakes and 1 lb of criminis), some mint and cilantro, and some fresh horseradish. Those fluffy, beautiful flour tortillas and some mango salsa from Reyna. Some Breemster cheese, saffron, fresh pasta and dried fava beans from Penn Mac. A latte from La Prima.
I did the same baking of the mushrooms that I did last week, but this time I had what Ellen called a "mushroom off". I wanted to see if I could use other (less expensive) mushrooms and still achieve the deliciousness that the shittakes gave me. So, I went with 1/4 lb. of shittakes and 1/2 lb. of criminis. Brushed off any dirt, removed and discarded the stems, sliced them thinly, tossed with a little olive oil, salt and pepper, and ready, set, go'ed them at 325 degrees for about 20 minutes (flipping/shaking after ten minutes, then every 3-5 minutes after that) and tasting along the way, as per Doggie's instructions.
before (criminis on the left, shittakes on the right):
after:
I declare the winner to be....shittakes! Yes, they were just smokier, saltier, crispier and just had more depth of flavor. However, that said, the criminis were good, too. Just not
as
good.
But, the criminis still had a chance to redeem themselves, and they did! I'd been wanting to bake something since the weather had cooled down to a manageable temperature for having the oven on. I wanted to do some kind of savory tart. So, I dug around through some recipes, and found a recipe for Onion Tarte Lyonnaise with pastry brisee crust in
The Vegetarian Epicure
by
Anna Thomas
, the old skool edition. I added potatoes and mushrooms and forgot the cheese (d'oh!), cut down the amount of cream and increased the milk, but otherwise stuck closely to the original. It was simple and rustic and freakin' delicious (even without the cheese). It made enough for a 9" pie pan and two individual tarts in small ramekins. So, here's what I did:
2 medium red onions, thinly sliced
4 medium potatoes, thinly sliced
1/2 lb. mushrooms, thinly sliced
butter and olive oil
4 eggs
1/2 c. heavy cream
1 c. milk
nutmeg, salt, pepper
pastry brisee:
2 c. flour
2/3 c. butter
salt
1 T. sugar
Okay. So, first I made the pastry crust. She describes it as the "shortest of the short crusts", and it is. It's very flaky and crumbly. I put everything in the food processor and cut it until it resembled a coarse meal. She suggested forming it into a ball and chilling in the fridge for about an hour, but I just pressed it into the pans, poked it with a fork, then chilled it in the pans for about a half-hour. It's too crumbly to roll out, you just have to work it with your fingers to press it into your pans. Easy, peasy.
For the tart filling, I sauteed the onions until translucent with a little butter and olive oil and s+p, then added the potatoes, and cooked on low with a cover for about 10-15 minutes. In the meantime, I sauteed the mushrooms in a separate pan with a little butter and olive oil and s+p for about 5 minutes. Then tossed them all together, and spread them out over the bottom of the crust (it filled most of the pan). While they'd been cooking down, I combined the eggs, cream, milk, nutmeg (maybe 1/2 t.?), salt and pepper. After the potato/onion/mushroom mixture was in the crust, then I poured the egg mixture over them to fill them up. Sprinkled with a little more nutmeg and s+p. Anna also had called for some grated gruyere (3 oz?) in with the eggs. I had planned to add an equal amount of chevre in little dollops, but just spaced it. Luckily, it was still tasty without.
Next time I think I will cook the potatoes a little longer over higher heat to get them a little crispy, and add the cheese, of course.
before:
after: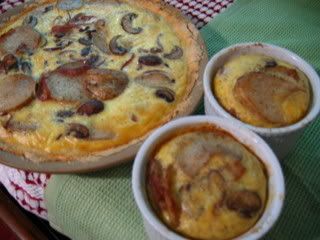 Saturday night I went to Cattivo. Someone (I think it was Lisa Campbell) put an idea out on the queer events mailing list to have a meet-up there for "The List", so I had to go, right? It ended up being a heck of a good time! Tons of ladies there! I'm bad with guessing how many jelly beans are in a jar, but maybe 150? maybe more? I don't know. Lots. And, I wore my fancy new dress that I'd gotten at the beach and was unsure if I'd ever wear. I liked it. This is how cool I looked. So cool that I had to pose with my sunglasses on.
Sunday I slept in, then got a call from Ellen for a coffee quest. We tried to hit up Beleza and Amani, but both were closed. And, right after we'd been talking about how righteous it is to have two coffeehouses in the North Side! Dang.
Actually, it ended up being a-okay. We went over to La Prima again in the Strip (and Ellen suggested that we pick a place each weekend to make it our hangout, and hang out there a lot, but only for that weekend. This was La Prima's big chance!). We ran into another local lesbian and had some coffee and chatted and eased gently into our Sundays. Good times. Then I went by Bobcat's new digs (super cute!) briefly to drop off some tart for her moving-in sustenance, then on to the Quiet Storm to meet up with my pal The Gooch for a Scrabble Smackdown. Unfortunately, I was the one smacked down. D'oh! But, it was still relatively respectable. 307 (The Gooch) to 301 (The Me). Still, dang. I was even wearing a Scrabble-themed outfit to inspire fear and intimidation. I was imagining myself to be some exotically plumed bird of paradise and was planning to freak her freak with my mere Scrabble-esque presence. So much for that. Then I was just left being a nerd. Ah well.
Then I got a call from The Hurd who suggested that I come over and join she and Ellen for yardening (sans yardening). Now, Hurd recently posed a question in the comments asking why our joint adventures rarely show up in the blog. And, the answer was that our shared adventures are seldom fit to print. This is not an exception, but here goes. We had a little wine, smoked cigarettes on the deck (I have to start the freakin' Chantix and quit again), had a kitchen dance party, smoked more, had an upstairs dance party to "Dick In A Box", may have engaged in some borderline illegal activities, then wrapped it up with a trip to Giant Eagle for Ben & Jerry's ice cream. We both wanted Willie Nelson's peach pie thingy, and there were two pints left. However, one of those pints was shoved all the way to the back. Hurd's solution? Have me climb into the freezer case with a package or Pringles to use as a reaching aid. Classy. (You like that Hurd?)