I'd been hesitant to post about my newest love because I have his book from the library, and there's only one copy in circulation, and I want to keep it forever. But, I just checked the library site, and now there's a dang hold on my copy so I won't be able to renew it. Crap. Buying new books does not fit into the budget, but I'm in love with this chef and his cookbook. Whoever has the hold on this book--a pox upon you!

So, anyway, the book is The Breakaway Cook by Eric Gower.

Last night I made two of the recipes from his book. The Edamame Salad with Pickled Ginger, Maccha Salt and Roasted Almonds and the Crispy, Tangy Tofu. Holy cow. Both were amazing. Very light and perfect for a summer dinner. I made them, and took them over to Maggie's with a jug of my homebrewed kombucha. Yum.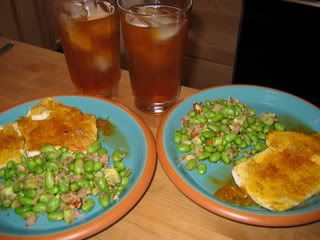 Eric's whole philosophy of "breakaway cooking" is that:

A breakaway cook is, above all, someone who loves great home cooking without excessive fuss – it's all about keeping things very simple and accessible. Simplicity is what distinguishes breakaway cooking from fusion food, which often muddies the waters with needless and excessive complexity. Breakaway cooking reaches all over the globe for inspiration and ingredients to produce easy, no-fuss food. The flavors are bright and fresh, and the ideas are simple yet sweeping.

Breakaway cooks aren't fancy restaurant chefs trying to achieve cutting-edge or trendy results. They typically work solo, or if they're very lucky sometimes have a friend or family member to help out, and they typically work in imperfect kitchens, with imperfect tools, limited budgets, and limited time to cook.

A breakaway cook is someone who's willing to take a culinary leap by combining everyday staples—chicken, eggs, common vegetables, pasta—with an international bazaar of readily available ingredients: miso, green tea, tamarind, chutney, star anise, pomegranate molasses, lemongrass, ginger and galangal . . . the list seems to grow everyday. The Breakaway Cook shows home cooks how to take these "global flavor blasts" down from the shelf and use them in new, time-saving ways. These intense flavors then get combined with the freshest of local organic produce, and are woken up even more with the liberal use of excellent salts, citrus, fresh herbs, and good olive oils and vinegars.
I love his style, and I LOVE the way those recipes tasted. And, they were really easy and straightforward. I had to make a couple substitutions/omissions, and it was still amazing. I'm especially down with his ideas of making flavored salts and vinegars as a simple way to infuse your cooking with "flavor blasts". I made his maccha salt last night for the edamame recipe, and used it today on some hard-boiled eggs with my lunch. So delicious!
Here's the tofu recipe:
Crispy, Tangy Tofu
serves 4 [ek: uh, this served 2 and I could've totally eaten more]
from

The Breakaway Cook

, p. 100

zest and juice (about 1/4 c.) of 1 large lemon, preferably Meyer
zest and juice or 1 orange
2 T. carrot juice [ek: i didn't have carrot juice, so just used water]
1 T. honey
1 T. soy sauce [ek: i used Bragg's liquid aminos]
pinch of cayenne
3 scant T. rice flakes or fine dry bread crumbs [ek: i used panko]
pinch of kosher salt
pinch of freshly crushed black pepper
1 block silken tofu, drained, then wrapped in paper towels to absorb moisture
1 egg yolk
1 generous T. unsalted butter
1 t. chopped fresh chives (optional)

Put the citrus juices into a small saucepan, add the carrot juice, honey, soy sauce and cayenne, and bring to a boil. Reduce the heat to low and simmer while you prepare the tofu. [ek: i actually added the zest, too. when i read through the recipe i thought he forgot to add it, but i'd do it again. it made the sauce extra citrusy and delicious].

Put the rice flakes (or bread crumbs), salt and pepper in a coffee or spice grinder and pulse a few times. Be sure the paper towels have absorbed as much water as possible from the tofu, then slice the tofu along its "equator", creating 2 large flattish slabs. Cut each of those in half, giving you 4 pieces. Spoon the egg yolk on one side of each piece and evenly spread the rice-flake crust over them. Heat the butter in a small nonstick skillet over medium heat and saute the tofu, crust side down, for about 5 minutes, until nicely browned. Carefully flip the pieces over with a spatula and briefly cook the other side, about 2 minutes. Pour some of the reduced sauce into a warm plate or shallow bowl and slide the tofu into the center of the sauce, crispy side up. Top with the orange and lemon zest and the chives, if desired.


And, here's the edamame salad recipe.
Edamame Salad with Pickled Ginger, Maccha Salt, and Roasted Almonds
serves 5 or 6 [ek: Mags and I each had two helpings of this, and I had one helping left over for lunch today]
from

The Breakaway Cook

, p. 66

1 T. unsalted butter
1 T. extra virgin olive oil
2 cloves garlic, minced
1/4 c. minced shallot
3 c. cooked edamame
1/2 c. pickled ginger (p. 38), juilienned [he makes his own pickled ginger, which I'm totally going to do, but I didn't have that ready, so just used it from a jar]
1/4 c. vinegar from Pickled Ginger
1 avocado, peeled, pitted and sliced into irregular shapes
freshly crushed black pepper
maccha salt (p. 36)
1/4 c. roasted almonds, roughly chopped

Melt the butter with the olive oil in a small pan over medium-low heat. Add the galic and shallot and saute until soft, about 5 minutes. Transfer to a large serving bowl and add the edamame, pickled ginger, vinegar and avocado. Mix and sprinkle in plenty of pepper. Divide the salad among individual plates, dust each serving liberally with the maccha salt, and top with the almonds.
I can't wait to try as many of the recipes as possible before I have to return the book (on 7/18, you bastard! no, not you. that person who has a hold on the book). I will definitely be buying a copy of this when I'm more financially solvent.
In other news, I've been on a quest to track down a source for raw dairy. At the beach Doggie made some waffles with raw milk, butter and cottage cheese that were
amazing
. I haven't been able to stop thinking of them, so I emailed around and found a couple sources for raw milk and cheese (alas, no butter or cottage cheese yet, but one farm said they may start making yogurt soon). E-dawg and I are making a little road trip out to Le-Ara Holsteins/Wilson Farms tomorrow to pick up some milk. And, then she and Kara and I are making the waffles tomorrow. I'm getting some strawberries and ricotta cheese (the raw cultured cottage cheese was sorta like ricotta) and maple syrup, and Ellen's brining some of her friend Richard's country honey and some raspberries. Kara is going to make "something complimentary", and I can't wait to see what that is because she's an insanely good cook. Now, that is what a Sunday morning is all about!
Oh, and the
kombucha
. I finished one batch on Sunday (took about a week and a half to get to the acidity that tasted good to me), and started two more. I bottled what I'd made, and have been drinking it up (made about a gallon). It's not as effervescent as the stuff you get in the store (I'm thinking that's probably because it's mixed with fruit puree which gives it something to eat and build up pressure), but it's delicious and I feel good when I drink it. The two mothers that will come from the batches I'm making now are spoken for, and one of the ones from the batch after that, but if you're interested in making your own, just let me know and I'll put you on The Mother List.