As always, the weekend rocked and Monday is the object of my anti-desire. But, I actually came in to work to a really nice email from one of the guys I support that he sent to my supervisor, my boss and my boss's boss about what a number one, right on employee I am. Sweet! That was really nice. And, I got a super-sweet email from a friend via myspace. Monday is really trying. I'll give it that.

But, but, but! The weekend was super-duper. And, I, for one, enjoy super-duper. Friday I went a-dogsitting in Squirrel Hill. He's a sweet little guy. And, I ran out for some errands, and to go see my friend Bob Snyder's opening at Gallerie Chiz. He makes these awesome little paintings on wood that are just amazing. He even did a portrait of me a couple years ago, and I cherish it. We used to work together, and I hadn't seen him in a while, so it was really fun to catch up and also see my pal Alan and his wife Heather who we also used to work with. A nice little reunion. Good times. (AH - They asked about Hurdcakes, too, fyi).

Saturday was more dogsitting, then off to the annual Gist Street Cook-Out. Even though it was the seventh annual cook-out it was my first, and it was AWESOME. Bringing two of my great loves--authors/books and food--together. Ellen and I both made Heidi dishes. I made the sprout burgers--this time with an Italian twist--used lots of basil from my front-step plants, sundried tomatoes and parsley. Yum. And, E-dawg made Heidi's kabobs with muhummara slather. Hot damn. Actually, when we were leaving one of the grill guys said, "Whoa! That sauce was intense! We put it on everything!" of the slather. And, it was--tangy and spicy and delicious. Yum. Thanks, Heidi! And, I actually won something from the raffle this month! I've never won before. I won a set of notecards by a glass artist...whose name I'm blanking on... Anyway, a good time was had by all.

Sunday was a lazy morning with some reading, some attempted (but ultimately unsuccessful) napping and a re-watching of Election. And, a kick-ass breakfast, courtesy of Eric Gower. I made his Shirred Shittake Eggs. Oh, dang. So good. I made them with some crispy garlic homefries and oj, and it was a breakfast fit for a queen. Seriously. I'm going to make baked eggs all the damn time now. I forgot to bring the recipe, but I think I remember it:

Shirred Shittake Eggs
from Eric Gower's The Breakaway Cook

4 eggs
2 T, plus 1 t. dried shittakes, pulverized [I probably used a little over 3 T., which was about 3 dried shittake caps]
2 T. butter, plus more to coat the ramekins
sea salt and pepper
a little shredded cheese, such as gouda [ek - I used an extra-aged Beemster gouda]

Preheat oven to 375 degrees. Melt the 2 T. butter in a small skillet, and add the 2 T. of shittake. Cook for a few minutes until the butter foams up. In the meantime, coat the 2 ramekins with butter, and sprinkle in some shittake dust and shake around like coating a baking pan with flour. When the mushroom-butter mixture is ready split between the two ramekins. Break two eggs into each ramekin, top with sea salt and pepper, a little more of the shittake dust and a little shredded cheese. Place into the oven and cook for about 12-14 minutes, until there is very little movement when you shake the pan, but the yolks are still soft. Turn out onto plates with a rubber spatula.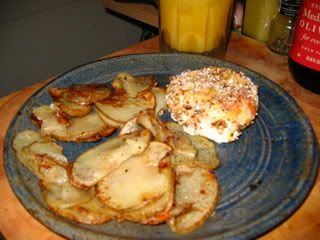 Sunday afternoon was all about hitting the pool. Ellen and I have set a goal to try to check out all the city pools. So far we've been to:
-Riverview
-Bloomfield
-Jack Stack
-Highland Park
-Scheneley Park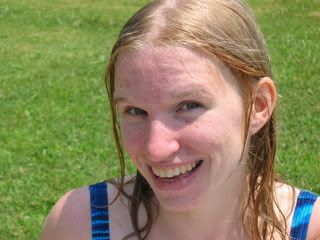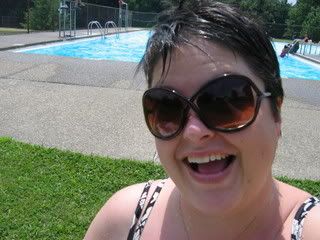 And then I rolled over to the Quiet Storm for my weekly Scrabble bout with The Gooch. Once again, she cheated. That is all I have to say about that. Except that everyone should try the pina colada vegan milkshake. It is bomb.

I have a book club (Classic Book Club) tonight, and need to make a snack. I'm thinking of doing another white bean dip with basil oil. I loved the last white bean dip I made, but Hurd said it didn't have enough flavor, so the basil oil should take care of that. I love white beans. And, on Tuesday I have dinner at a friend's house, and I'm going to attempt Eric Gower's Maccha Truffles. Keep your fingers crossed!