Dang, it's been a busy few days. Or weeks. Or months. Something like that. Good busy for the most part, but still. But, now I have a minute to settle down with my breakfast (fage 0% total greek yogurt, a handful of blueberries and a drizzle of honey--yum) and write a little something in this here blog.

First of all I'd like to sing the praises of Fred's Eggs. You can occasionally find them at the co-op, and I'd been hearing about them for a while, but had never been lucky enough to be there at the precise moment when they had some in stock. That is, until last week. I heard someone freaking out (in a good way) in front of the dairy case, and went over to inspect. Fred's Eggs! I snatched up a dozen, and I'm so glad I did. These are the premiere eggs in this here township. They're from Araucana chickens--who happen to not only be cute, but to also lay really beautiful blue eggs. And, in addition to being just lovely, the eggs were super fresh and very rich. Everything I've made with them has showcased the brilliant orange yolks and have been full of deliciousness. That's what you get when chickens are allowed to be true to their chickeny nature (paraphrasing Joel Salatin in the narrative related by Michael Pollan in The Omnivores's Dilemma). By the way, if I can convince you to do one thing this year, it would be to read The Omnivore's Dilemma. Pollan is a fantastic writer, and he takes us through the history of four meals--one from industrial agriculture, one from industrial organic agriculture, one from local, sustainable "organic", and one that he hunts and forages himself. It's fascinating, and he examines these meals from every aspect. And, while he clearly has an agenda (he's become a superstar for slowfooders and the like), he's never preachy. He's not even a vegetarian, if you're worried about him convincing you away from your favorite foods. Read him. Do it. It feels great.

Okay. Anyway, I was talking about Fred's Eggs. See for yourself:



I've done just the littlest bit of cooking the past couple of days. On Monday evening I went to Classic Book Club. I'd been on hiatus for, like, a year, and it was my first meeting back. Guess what we discussed? Ding! Ding! Ding! The Omnivore's Dilemma. I read it back in March, and was all fired up then, and now I'm all a-fire with love for it again. Since I knew it was going to be a snack-a-thon (it was), I just made a snack to take, and went hungry. I made my white bean dip again, but this time made a basil oil dressing to drizzle over it. It's easy as pie.

White Bean Dip

-some cooked white beans (I used white navy beans, soaked them overnight, and cooked them for about 50 minutes with a piece of kombu) - about 3-4 cups
-2 cloves garlic
-1 T. olive oil
-a little of the reserved cooking liquid from the beans (or the can, if you're using canned) to thin the dip to the desired consistency
-sea salt, to taste

Put it in your food processor and puree. Voila! You can also serve this as a side dish like you'd serve mashed potatoes.

...

Basil Dressing
(I just really made this by mixing and tasting, mixing and tasting, so all the amounts are approximations)

-a big handful of basil leaves, washed and patted dry (probably about a closely packed cup)
-1/2 c. extra virgin olive oil
-the juice of two lemons
-1/4 c. freshly grated parmesan cheese
-1/4 c. toasted pine nuts
-sea salt and pepper to taste

So, it's just like a very thinned-out pesto sauce. Just puree it in a food processor, and just keep tasting until it's delish. Then I drizzled some on the bean dip (and have plenty leftover for salads), and served it with some sliced carrots and cucumbers.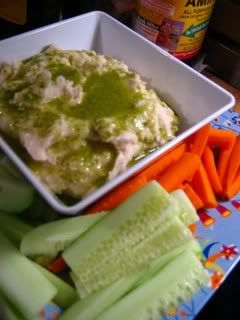 And, last night I went over to my friend Emily's for dinner. She made possibly the best version I've ever had of Sesame Peanut Noodles (spicy-i-licious!), and we had a little white wine (contributed by the other guest, Susheela, who I met for the first time last night) and I brought dessert, a baked lemon custardy thing. I googled for the recipe, and I totally forget where I ended up finding it, so sorry I'm not crediting you, Random Person On The Internets. But, it was really easy and really tasty. I forgot to take a picture, and it's all long gone. But, here's the recipe:

Baked Lemon Custard

2 T. butter, softened
1 C. sugar
2 eggs, separated
1 1/2 T. flour
juice and grated zest of 1 1/2 lemons
2 C. evaporated milk
1 t. lemon extract

Cream butter and sugar. Stir in egg yolks, 1 at a time. Add flour, juice and zest. Add milk and lemon extract. Beat egg whites until stiff but not dry. Gently fold lemon mixture into egg whites. Pour into a buttered 10-inch pie plate.

Preheat oven to 325°F. Bake 1 hour until brown and firm. Let cool slightly. Consistency is between a custard and soufflé. Cut in wedges and serve warm. [ek note: it didn't really hold up in wedge-shapes, it was more like a blob. maybe if you chilled it first? but, it was so good warm.]

I forgot to bring lunch today, and my thoughts have turned to my faithful friend the java fried rice from Spice Island Tea House. I texted my friend Susie to try to talk her into going with me, but didn't hear back, and am thinking I might just hold out and maybe order it when I leave work, and pick it up on the way home. Except it's in the wrong direction since I need to go pick up my CSA, then go meet Ellen at the pool (unless it's thunderstorming then). Hmmm...should I just go now? I'm hungry thinking about it...