For reals! Friday! Woot!

I wanted to ride my bike to work again today, but it's raining, and is supposed to rain on and off all day, so that nixed that idea. I pictured myself riding and my glasses being all wet, and taking them off, and running head-on into traffic, and well, it wasn't good. But, maybe it'll be dry later and I bike around the 'hood after work.

I had a date with myself last night. I didn't get lucky, but I did have a tasty dinner, watch three episodes of "The Extras" (thanks to Ellen & Lareese for the tip. hilarious!), and read about a hundred pages of Harry Potter. Good times!

Speaking of Lareese, dood. I stopped by her house the other night to taste this ice cream she'd made for an ice cream party. Whoa. It may be the best ice flavor EVER and OF ALL TIME. It was a curry-coconut-caramel-cashew. Wowza.

Anyhow, yes, last night was a good time. I made otsu for dinner. I've made it before, and I'll make it again. It's a Heidi recipe, and she says it's one of her favorites, too (in one of her, ahem, emails to me). I had cucumber and green onion from my CSA and some cilantro from the farmer's market and my favorite tofu (it's organic, from WV!). (they sell it at the co-op. it's super-firm, like nigari-firm).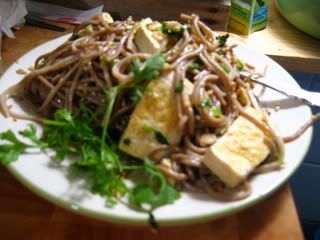 The Hurd stopped by to pick up some mail I'd gotten for her, and had some too. I think she liked it. (I've listed this recipe before. Look for the 'otsu' tag in the archives.)

Yesterday during a chat with The Gooch she mentioned that she'd just gotten some popcicle trays, and that very morning I'd looked at the box of popcicle trays I'd gotten when I was at the beach, and had thought I should make some. Since she mentioned them the same day, I was pretty sure that it was a sign from the baby jesus that I should make some. So, I made a batch this morning, and will try one when I get home. I underestimated the amount of stuff I'd need, so I only made four (instead of six, which the tray holds), and was in a rush, so didn't mix up another batch, but I think they're gonna be good. I went with a pina colada pop, and just sorta through stuff into the mixer until it tasted good. I used some frozen pineapple I'd chunked up into large chunks and frozen (the chunks are, like, 2" x 2"). I think I used six chunks, about 1.5 T. of organic raw coconut butter, about 1/4 c. of shredded unsweetened coconut, about 3 T. agave nectar, 2 T. freshly squeezed lemon juice, 3 T. greek nonfat yogurt (fage 0% total). Blended it all up, then just filled the tray, and loosely draped it in some plastic wrap, and popped them into the freezer. I can't wait to try one when I get home!



I canceled my plans for tonight so my new plan is to make some dinner, eat some pina colada pops and read more Harry Potter. And, maybe watch more of "The Extras".