This weekend was so fun that I'm not even really feeling that bitter about it being Monday! I like my weekends with a little laying about and a little bit action-packed. This one did not disappoint.

Friday I met up with Lauren to meet one of the dogs she sits for because I'm going to fill in for her this weekend. I had some time to kill before I met up with them after work, so I went to Trader Joes and got a couple of things and flirted withe some of their cute dykployees. Always a good time. Then, met up with Lauren and Dolce (a lil' maltese), and we took a little walk in the park and hung out for a bit. Then I went home, made a big salad with some jalapeno chips and mango salsa on the side (chips from TJ's, mango salsa from Reyna), watched a movie (Fixing Frank, 4 stars), pet and scratched and massaged the China-Bear and the K-Bear and we all passed out around 10:30. Good times.

Then, I was up at the cracka on Saturday because E-dawg and I were headed off for our raw milk roadtrip. We took a lovely drive (well, it was on 28 which isn't all that lovely, but still) out to Worthington to Le-Ara Holsteins/Wilson Farms. It's owned by two sisters, and we met Lara who I'd been emailing with. She's the cutest lady-farmer in all the land! And, they're planning on expanding into making a bottling facility so that they would be able to sell the raw milk in stores (like, the co-op, WF, etc.). It was a sweet little farm, and the cows seemed happy and clean (E's mom was concerned about them being clean), and with a gajillion barn cats hanging out looking cute (and also clean).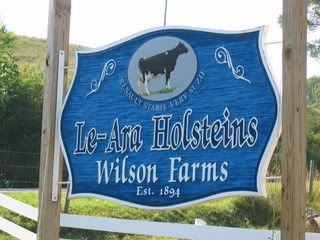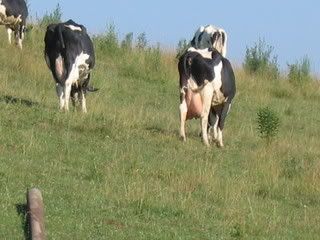 Then, we drove back to the 'Burgh, hung out for a while at Beleza, then in the courtyard at Zeke's house (where I was dogsitting) and shared cook books and recipes until we were hungry enough to warrant a salad. Nerdy and delicious. My favorite.


After E-dawg left, Zeke and I took a big walk and then just chilled out around the house, read, played around on the internet. Then I made a big ol' pile of Eric Gower's Breakaway Fries and watched some tv (cable!). But, he said that his are done in 5-7 minutes. Mine were more like 20-25 minutes. Hmmm. I forgot to take a picture, but they were freakin' awesome and very easy. I used four large potatoes cut into shoestrings. Heated 1 T. butter with 1 T. olive oil in a large skillet and added about 1 t. of chipotle chili powder. Pan fried them until they were golden brown and crispy-ish, and then shook on a bunch of paprika salt (just paprika pulverized with some coarse sea salt). Served it with a dollop of ketchup and a dollop of mayo. Not light, but mmm, mmm good.

Sunday morning Ellen and Kara came over for a raw milk waffle brunch. We were still at Zeke's house, so had the awesome courtyard for an al fresco brunch. Our menu was:
-coffee with raw milk and sugar
-orange juice
-wholewheat "almost as good as buttermilk" waffles, made with raw milk (I forgot to bring this recipe, but I'll try to remember it tomorrow--from Doggie's recipe from the beach)
-waffle toppings: ricotta cheese, sliced strawberries, the most gorgeous raspberries I've ever seen that Ellen foraged in the North Side, maple syrup and Richard's "country honey"
-Kara's tomatoes stuffed with an avocado-melon salad (I'm having the leftovers of this for lunch today!) with lemon cucumbers and watercress (was that watercress?)

Hot damn. That was some good eatin'!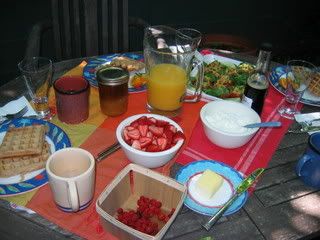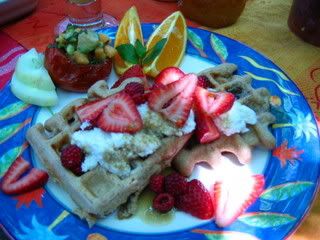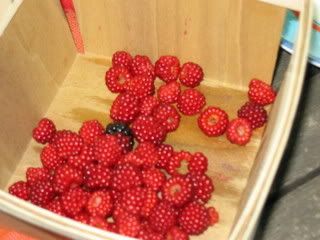 Wow, that was good. I wish I had another waffle right now.

Then, E-dawg and hit up the Riverview Park pool (home of our favorite graffiti: "you know you eat shit") to cool off, then I met up with The Gooch for a Scrabble Showdown. She beat me. Again. I cannot abide this.

I had plans to check out the Fair Is Fair show last night to see some jazzercizing quipsters and other fun times, but I was pooped by then. Plus, Sunday nights are for relaxing, right? I went home and hung with my babies, watched the second half of a movie I'd started on Friday night (The Devil's Backbone, 3 stars), then hung with Zeke, read and went to bed early.



Ahhhh. I feel super today.