OCIM. That's my new acronym in answer to TGIF. OCIM. Oh crap, it's Monday.

And, Monday means that just as soon as I finish this blog entry, then I will Get To Work and probably also Buckle Down. Eh. I have a huge pile on my desk of stuff I need to do, like, right now. Ugh.

But, the weekend was good. I trimmed down some of the activities, and added some others, but all in all a good time was had.

Friday after work I swung by the farmer's market in the North Side, and picked up a couple eggplants and a few other assorted goodies (a chocolate-raspberry cookie from Sand Hill Berry Farms, a bunch of basil from Joseph King, a cantelope from someone...?). I'd unfortunately let a couple eggplants rot in the crisper a few weeks ago, and was determined not to ever let that happen again, so I started thinking about what I could do with my deep, dark, purply-black, nightshade beauties, and decided to do a twist on an eggplant parm. I'd also wanted to make up a big batch of pesto with the basil bunch I got at the market and the bunch I got in my CSA (I pert-near picked my little plants clean recently, so I'm letting them come back for a week or two). So, I hatched a plan to do an eggplant parm-ish/lasagne-ish kind of a thing with a pesto layer and some other veggies. I wanted to make it rich, but also cut some corners on the fat where I wouldn't sacrifice any flavor. So, I opted for a part-skim mozzarella and ricotta and baked the eggplant rather than fry it. It came out so well! Delicious! And, plenty of it, too. I ate some that night, took some for our lunch during the farm tour on Saturday, took some to Maggie's for dinner on Saturday, ate some yesterday, and brought it today for lunch. And, I still have a half of a piece left. I have enjoyed it thoroughly. Now, I need to come up with a good name for it that will make it sound fancy.

Eggplant Thingy
(makes a 9x13" pan, really full)

filling:
2 medium eggplants, sliced into thin rounds
sea salt
small bowl of milk (around 1 c.)
1 c. onion, , small dice
1 c. green pepper, small dice
2 c. shittake mushrooms, thinly sliced
1 c. grated parmesan
2 c. part-skim ricotta cheese
1 1/2 c. part-skim mozzarella, grated

pesto:
2 big bunches of basil, washed, destemmed and patted dry
1/3-1/2 c. olive oil
juice of one lemon
grated zest of one lemon
1/4 c. grated parmesan
1/4 c. toasted pinenuts
sea salt, to taste

tomato sauce:
2 lg. cans diced tomatoes
10 sun-dried tomatoes
1 c. hot water
small bunch fresh oregano and parsley
1 T. olive oil
1/2 c. onions, small dice
4 cloves garlic, minced
crushed red pepper, to taste
sea salt, to taste

breadcrumbs:
4 slices good whole wheat bread
4 dried shittake mushrooms
1/3 c. toasted sesame seeds
1/2 t. coarse sea salt


Preheat the oven to 350. First slice the eggplants into thin rounds, place into a colander and shake on salt liberally, and let drain for about a half-hour while you're making the sauces and breadcrumbs.

To make the pesto, place all the pesto ingredients into a food processor or mortar and pestle, and puree.

To make the tomato sauce, drain (and reserve the liquid) from the tomatoes. Puree all ingredients in a food processor, and season to taste.

To make the breadcrumbs, just put everything into a food processor or spice mill, and pulverize to a small coarse grain.

Okay. So, now your eggplant slices have drained a little and had the bitterness sucked out of 'em, and you're ready to prep and bake them. So, get yourself a dish for the milk, a dish for the breadcrumbs, and have some baking sheets ready to go that have been sprayed or slathered with olive oil. Now, dip each slice in milk, then in crumbs, then place in a single layer on the baking sheet. When you've done all the slices, spray the tops of them with some olive oil cooking spray, then bake on each side for ten minutes.

In the meantime, chop the veggies, and set everything up in your Assembly Station. So, here's how I assembled:
-spread a little tomato sauce on the bottom of a 9x13" baking dish
-put a single layer of the eggplant slices
-sprinkle with the onion, green pepper and mushrooms (we're gonna make three layers, so keep that in mind)
-spread on a layer of the ricotta
-sprinkle on some parmesan and mozarella
-spread on a layer of pesto
-now, start again with the tomato sauce and make three repeating layers, ending with the tomato sauce and some more mozarella and parmesan on top.

Bake for about an hour, uncovered (if it starts to get too brown, then just lightly drape some foil over the top, but really it's best of the edges get a tiny bit crispy). It's good to put this on a baking sheet as well, because the pan is really full, and may run over.

Enjoy.

here's the before: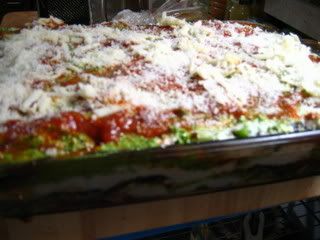 here's the after:


Gooey-licious!

So, Friday night was all about making the eggplant thingy and reading Harry Potter. Good times. Really, my ideal kind of an evening.

Saturday morning I met up with Ellen and Kara at Beleza, and we set off for the PASA farm tour. We'd targeted Blackberry Meadows, Dillner Farms and Soergels. Blackberry Meadows and Dillner's both have CSAs, too! Blackberry Meadows was the only organic of the three, but Dillner's seemed to mostly use organic practices, too. Soergel's seems mostly to be an orchard, and was sort of an activity play-place thing with a market. Good for kids. Plus, they gave us a free ice cream cone.

You can see my fliker pics of the farm tour here. They're in reverse order, and while it keeps saying that I've changed the order, they're still backwards. Ah well...

In other big news for the weekend, I finished reading the last Harry Potter book. So good! I won't say anything about it, though, because I was terrified that someone would give something away before I was done. Lauren told me yesterday that when a friend of hers went to pick up her book, the night it came out, some a-hole in line got their book, opened it to the last page, and read it aloud. What a jack-hole. I seriously might have committed murder at that point (via killing curse). Avada Kadavra! You may think I am a nerd right now, but honestly? You haven't heard anything yet. After work I'm going to see a HP-themed band play some wizard rock at Schenely Plaza, the Remus Lupins! And, then am going to play some Scrabble. So? So?

On Sunday I backed outta the bike-n-swim. A few other peeps ditched out, and it was hot and I had a headache, and oh! woe is me! I had decided just to stay inside all day and whine, but Ellen talked me into sticking with the brunch plan, so we met Lauren, and hit up the Big Idea Benefit Brunch. It was a vegan sensation. Deana, the vegan cupcake lady, was putting it on (with some other peeps that I don't know), and it was bomb. We had waffles with blueberries and strawberries, dilled potatoes, roasted veggies, kale and the most heavenly cinnamon buns ever. $5! (well, the cinnamon bun was an extra $3) Good cause, great food, good times.

Then Lauren and I went to the Carnegie Science Center, and tooled around for hours and saw an Omnimax of the Deep Sea. So fun! Lauren and I always have fun adventures.

Then I came home and realized that it was time to deal with the pile of zucchini that has been building up in my kitchen. I saw a recipe on Heidi's blog for these chocolate-zucchini muffins where she used coconut butter for the vegetable oil (original recipe from The Rebar Modern Food Cookbook). Yum! I wish I'd cooked them just a couple minutes less (I think my oven is cooking hotter than it claims. I'm buying an oven thermometer tout suite), but they are super chocolately, rich, fragrant and delicious.



Oh, but a sad update on the pina colada pops. They were cute, but disgusting. I'm thinking that maybe it was the non-fat yogurt (I always see peeps cautioning against using non-fat yogurt for fro-yo), but the texture was chalky and grody. Blech. So sad.