Dang it! I've been so absurdly busy that I haven't been able to post a blog, and it's killing a Hurd*.

*Hurd is actually my friend Amy's last name, but I love it so much that I also like to refer to myself as "A Hurd"--especially when I'm talking to her. As in, "A Hurd is feeling a Hurd. I totally know what you're saying." Plus, it's just really fun to say stuff like "it's killing a Hurd". "Hurd" also goes really well in nearly all popular music songs: ex. 'All I need is a miracle...All I neeeeed is Hurd!' or 'I'm bringin' Hurdcakes** back, Ow!'.

**Hurdcakes is another variation and a real good time.

A Hurd and a half a Hurd (new years in Toronto, which i will not discuss other than to say: down with Canada).



Anyhow, yeah, I didn't even get to do a rant about Mondays yesterday, as is my custom. Too bad, too, 'cause I was on a roll with hatin' yesterday (my uterus made me do it). I even forgot my mantra about hatin' being so last year.

But, the weekend? Oh, the weekend. How I love thee. I had a great one. The weather could not possibly have been better. And, I was out and about biking around! You know I mentioned that a few weeks ago my friend Marsha hooked me up with a (FREE!) bike from a woman she works with? Well, it was awesome, but a little big for me, and it has a boy-bar, so that I was terrified of having to stop suddenly and damaging my delicate lady-parts, so I worked out a trade with Mags. She's a little taller than me, and liked how light and fast that bike is. I like how hers (now mine) has a girl-bar (girls rule, boys drool--fyi) and just feels more my size, and I feel more stable on the seat, and like that it came with a WVU Horticulture milkcrate. I just got it a few days ago, and have made good use of it so far!

I rode down to a meeting for the Northside Co-op on Friday. Riding down Troy Hill was thrilling! I had big plans to ride it back up, but there was no way. I'm pretty out of shape, so I gotta ease into this thing. Luckily, Sandra and Jessica were also at the meeting, and gave a Hurd* a ride back up the hill, and let me store my bike at their place for the night.

Saturday Ellen and I rode over to the farmer's market (so fun!) from the Northside (to the Firehouse Farmer's Market in the Strip) and back. I'd met the manager of the market, Megan Cook, at the co-op meeting on Friday, and that made it even more fun 'cause I got scoop on stuff (well, really just that it was the first week for sweet corn, but still. she's a peach).

Sunday I went swimmin' at the Bloomfield Pool and then rode over to the Quiet Storm to meet up with The Gooch for our weekly Scrabble Fight To The Death. I totally kicked her ass. Just sayin'.

And, today? Today is my crowning achievement thus far. I drove to Bloomfield this morning and parked, then rode my bike to work. And, rode it down into Oakland to meet Roya for lunch (java fried rice and Dave-n-Andy's. don't blame me--the uterus made me do it) where she GAVE ME HER BRAND NEW COPY OF THE NEW HARRY POTTER BOOK (thank you, Roya!!!)!

I feel like a badass. For real. I bought a bike rack on Sunday, and so I'm going to take my bike everywhere I go, park a few miles away and ride so that I can gradually build up my stamina and tackle hills.

Also, I'm totally giving up the back-sliding smoking 'cause it makes my lungs want to bust through my chest when I'm biking. So, smoking: 0, biking: 1.

look! i'm so far ahead 'cause i'm so fast!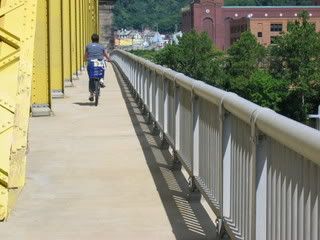 bike-n-me photoshoot (all my farmer's market goodies are in the back):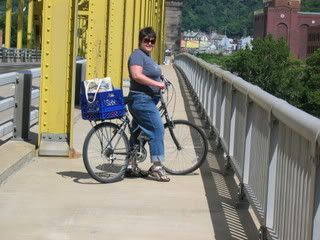 farmer's market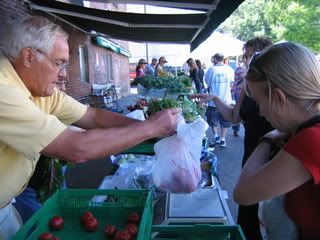 I got a bunch of stuff at the farmer's market because I was going to the 2nd Annual Pittsburgh DYKE MARCH & Picnic on Saturday afternoon. It was a real good time seeing all the ladies and marching, and I loved the addition of after-picnic. I made some tomato-bean-potato salad (based on a recipe from Chef Lon in a Whole Foods class. i couldn't find the exact recipe, but I think it was close), some of the white bean dip with basil drizzle with baguette, and a Blueberry Crisp (based on this recipe from Heidi's site).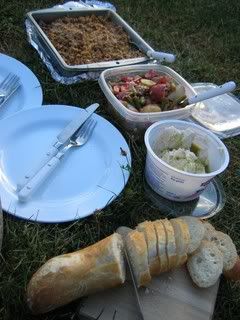 The salad was a breeze to make, and is super-tasty.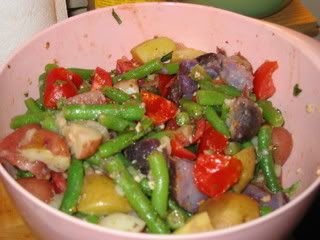 I just quartered a bunch of new potatoes (I used a mix of red, gold and purple for cuteness' sake), and boiled them until tender. And, meanwhile blanched the green beans. I quartered a bunch of small tomatoes (plum? the ones from the farmer's market picture above). I julienned a handful of basil, and tossed all that stuff together, and added the dressing:
1/2 c. olive oil
1/2 c. vinegar (i used a mix of white and apple cider)
3 cloves garlic, minced
1 rounded teaspoon of whole grain mustard (i used Double C)
salt & pepper to taste
I just put it all in a jar with a tight-fitting lid, and shake it-shake it. I didn't use all of it for the salad, just add enough to coat everything well, and then use the rest for salads. It'll keep for a week or two in the fridge. Yum.

For the crisp, I followed Heidi's recipe exactly, but substituted blueberries for the peaches and plums and rosewater for the orange blossom water. I probably could've cut the sugar in half, too. But, it was tasty!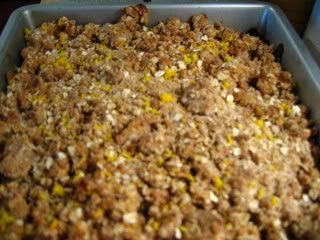 In between the farmer's market and the Dyke March, E-dawg and I went to the pool (Jack Stack), and then stopped by The Vault. We'd tried to check it out a week or two earlier, but were there on Sundays, and they're closed that day (I hate when coffeeshops are closed on Sundays!). But, it was worth waiting for. It's the cutest place ever! they have a bunch of hilarious signs, friendly staff, a great magazine selection, cute decor, and possibly the best pb&j sandwich Of All Time!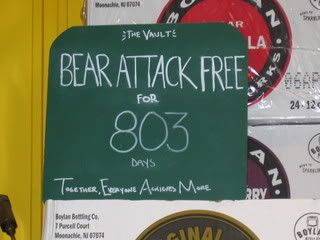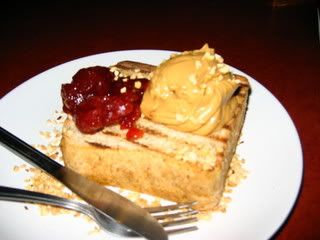 Mark my words, I will be back!

I went out to Operation Sappho and got my dance party on late Saturday night, so I was ready for a hearty breakfast again. I had to do the Shirred Shittake Eggs and fried potatoes again. So good. Thank you, Eric Gower!

Last night was the "Queers: They're What's For Dinner!" dinner at the Gypsy Cafe, and it was some good eatin'. My favorite thing was the crostini with this creamy veggie spread. Yuh-um.

Phew. Okay. I think I'm caught up. Just in the nick of time, 'cause a Hurd* needs to ride a Hurd's* bike over to Bloomfield to get a Hurd's* car.