I know it's ungrateful to complain about a day off, but still. It feels like a second Monday today. I was emailing with E-dawg about it this morning, and we were both feeling cranky. I freakin' hate waking up by an alarm. It makes me want to throw a temper tantrum, even though I'm not normally prone to temper tantrums.

But. But! I had a great day yesterday! I got up early and headed down to Morgantown and met up with Nowlze and B-dub for breakfast, then had a brief visit with Nowlzie's family.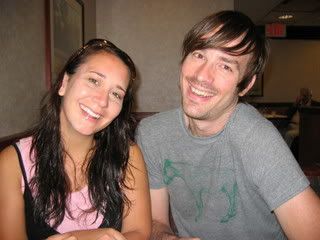 Then headed out to Cooper's Rock to meet up with my family. My mom, step-dad, brother and niece all drove up to meet me for a picnic/hike/hang-out. Good times. Here we are!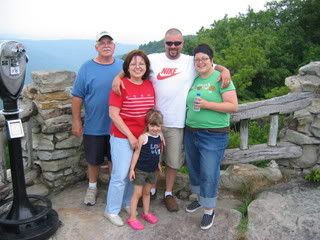 I made some picnic treats to take. A pesto pasta salad with the pesto I made on Monday. Just used some pasta, toasted pine nuts, yellow bell pepper, feta and grape tomatoes with the pesto. Yum.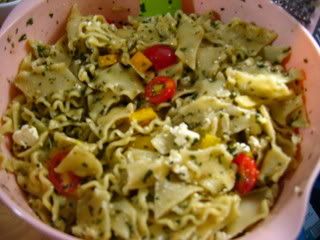 And, a beet salad. Here's a recipe I winged. It was good, but I also made some notes for next time, following:

8 small-medium beets, peeled and sliced into rounds
3 small carrots, grated
1 small red onion, frenched
1 handful of cilantro and parsley
1-2 T. apple cider vinegar
1 T. sugar
1 t. salt
2 T. olive oil

Cook the beets, just covered with water, the vinegar, salt and sugar until tender (like, 20 minutes). Toss with the other ingredients, and chill.

NEXT TIME NOTES:
-use a mild white onion instead of red
-maybe dill instead of cilantro
-double the amount of carrot
-make a vinaigrette with the beet water, olive oil, apple cider vinegar, shallots and pomegranate molasses? honey? fresh horseradish?

This picture is right after I made it. The next morning it was all beet-colored. Both are pretty, but I loved all the bright colors when I first mixed it:



I also sorta made up a recipe for a strawberry tart after looking at recipes from a bunch of people. The crust is based on the Pastry Sucree Crust from Anna Thomas. It was very, very tasty, but I'd still change a few things for next time.

Crust:
1 c. unbleached all-purpose flour
1/2 c. butter (oops! i meant this to be 1/4 c.!)
1/2 c. macadamia nuts
1/4 c. sugar
1 egg + 2 egg yolks
pinch of salt

Cut the flour, butter and macadamia nuts together until it resembles a coarse meal. Separately mix the sugar, salt and eggs. Then combine together, and chill in the refrigerator for about an hour. Then pat into buttered pan, and poke holes for steam to escape. Bake at 400 degrees for about 5-10 minutes.

Filling:
8 oz cream cheese (I only had Tofutti Better Than Cream Cheese, so used that, and it was good, but I'd probably use cream cheese or marscapone next time)
1/4 c. sugar
1/4 t. almond extract (couldn't really taste this, so either omit or add 1/2 t. instead)
zest of 1 orange
1 T. freshly squeezed orange juice
1 large basket of strawberries (and I used a small basket of cherries to make two individual tarts)

Cream first five ingredients together and chill for about an hour. Then, spread into the cooled crust and bake for about 40 minutes (put foil around edges of pan so the edges of the crust don't get too browned).

Now, in this version I actually placed the fruit and glaze onto the pie before baking, but next time I'm going to put the fruit and glaze on afterwords so the berries stay beautiful.

Glaze:
3 T. orange marmalade
1 T. freshly squeezed orange juice

Before baking:



After baking (still pretty, but would be so good with the unbaked berries--actually, probably would still bake the cherries, but not the strawberries):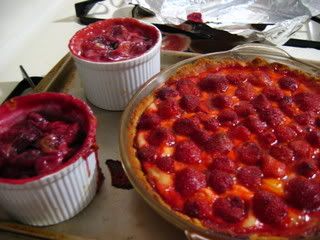 My mom brought her famous butternut pound cake (my favorite!), deviled eggs and a bunch of stuff from KFC. I took some cake and eggs home with me. Here was my leftovers plate.



I'm actually having more beet salad and pasta today for lunch. Right now. Right as I'm typing this. Like magic!