The last few days have been busy. Mostly with a controversy that erupted on a mailing list that I moderate (queer events; lemme know if you'd like to be on it). Well, it started as a queer events listing a few years ago to promote some events I was organizing, but then just grew and evolved into this bulletin board kind of thing. Every once and a while there will be little eruptions (it's largely user-moderated), but I generally stay out of it and just watch it unfold. It's pretty fascinating. But, this week an issue came up that coinciding with re-quitting smoking and pms and lots of fiery indignation into the perfect storm that made me a rant machine on the list. I think it was good, ultimately, and hope for a good outcome, but it definitely has taken up the bulk of my time and energy for the past couple of days. [if you wanna know what the hell I'm talking about, it's all about an issue where a local organization that puts on an event called Celebrate The Night as a women's night of celebrating coming out, and their subsequent transphobic exclusion of one performer, you can visit Sue Kerr's blog for a summary and her commentary or ask me and I'll give you a link to the actual conversation].

But, in health/food news, I did in fact re-quit smoking a couple days ago. After the bike ride to work day made me feel like my lungs were trying to burst out of my chest. I just hope it's not always a multi-daily battle like this. Damn, I wish smoking was good for you.

But, on a positive note, I'm already gearing up for the weekend. Friday night I'm going to stop by a party to celebrate a friend's divorce being finalized. Saturday, I'm going on a farm tour with Ellen and Kara. Here's the info for that, if you're interested:


Pennsylvania Association for Sustainable Agriculture
presents the first annual Allegheny County
Summer Farm Tour
Saturday, July 28, 2007
10 am - 2 pm
We want to connect you and your family with some of the farms in the Pittsburgh region offering you the best in healthy, sustainably raised food.

The farms on the tour include:

1. Blackberry Meadows Farm, Natrona Heights
2. Dillner Farms, Gibsonia
3. Garden Dreams, Wilkinsburg
4. Soergel Orchards and Greenhouses, Wexford
5. Triple B Farms, Monongahela

We hope your experience will leave you with an understanding of how critical local and organic food systems are to preserving the beautiful rural and urban landscapes of Allegheny County.

Download the Map.
cows Take the Tour

* Load up your friends and family.
* Locate the farms you want to visit on the map and decide on a route.
* Pay for your $10/per car at the first farm you visit. The same pass gains you access to all the participating farms on the tour.
* All farms open, rain or shine!

marketTips for Taking the Tour

* Bring a cooler! Eggs, meats, cheeses, milk, veggies, fruit and more will be available for purchase!
* You won't be able to visit all 5 farms since you'll spend time taking tours and traveling.
* Leave the pets at home. Farm tours are for people, not pets.

Additional tips.
The clearest path to a sustainable food system is by purchasing our food and fiber from local farms that work in harmony with nature using practices like organic or grazing.

Sincerely,


Julie Speicher
Pennsylvania Association for Sustainable Agriculture

PASA's Mission
Promoting profitable farms which produce healthy food for all people while respecting the natural environment.
Sunday I'm gonna go to the
Big Idea
Benefit Brunch*. Here's the scoop on that:
*brunch is my favorite meal of the week.

Sunday, July 29th 11AM - 2PM

Benefit BRUNCH for The Big Idea Bookstore to raise funds for awesome
improvements!

WHERE? 244 39th Street in Lawrenceville (across from Arsenal Park)

COST? $5 donation gets you a delicious vegetarian/vegan meal
of buffet-style foods including roasted potatoes, waffles (yes, vegan
waffles), veggies and more. Coffee and herbal tea available for a tiny
bit more.

WHAT ELSE? Other yummy vegan treats (cinnamon buns, cookies, cupcakes
and more) available for additional donation to take home.

Come eat delicious food and hang with good folks.

Also, the gal that's cooking for this (others might be, too?) is the Deana, the vegan cupcake lady. I had one of her avocado-coconut cupcakes last year at
Handmade Arcade
, and it was so good that I wrote her a fan letter. For reals. That good.
After that brunch-fest, I'm gonna meet up with some peeps on Washington's Landing for a bike-n-swim. We're gonna ride bikes over to the Sue Murray pool in the N.Side, take a dip, then ride back.
And, then? Well, then's it's time for the weekly Scrabble Smackdown with
The Gooch
.
I don't know if I've mentioned it, but I have a few little plants sitting on my front steps--the only place around my place that gets direct, full sunlight. So, I have two basil plants and two tomato plants. I harvest the basil a lot, but the tomatoes just grew a little tomato, and it gradually, gradually ripened until I had one perfect tiny tomato ready to be picked this morning. So I picked it. It's cute as can be!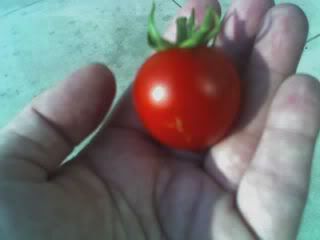 But, I just ate it, and the skin was tough, and the flesh was a little mealy. Eh. But, still cute.
Speaking of, a guy I work with just told me, "You look like the movie
Hairspray
today. Like, the original one." I don't think he meant it as a compliment, but I totally took it as one!