The title of today's blog is from a song that a Hurd put on a mix for me last year about a girl that inherits a bike and, well, rides around it, rides around on it. I keep hearing it in my head because...

Yay! Guess what! I have a bike! My pal Marsha hooked me up with a free bike! And panniers! And, Maggie is lending me her bike rack! And, I'm picking it up today! Hooray! I'm so excited! You better believe that pictures will follow! Woo hoo!

I'm meeting my parents, brother and niece in WV tomorrow, and Drew (my brother) suggested we meet at Cooper's Rock. I love it. It's a great park right outside of Morgantown. I'm going to take my bike, and my little niece Savanah (4, almost 5) is going to bring her's, too. I talked to her on the phone last night, and she said, "I done got me some Barbie band-aids for my only self, but you can use them if you get hurt, too." Can you tell she's from WV? I hope I don't need the Barbie band-aids, but I appreciate the offer. In related news, I just heard that I will be getting a new niece or nephew in March/April!

In other unrelated news, I'm still sick. I'm not really sure what's going on. I've been getting nauseous and throwing up randomly for a couple months now, and then have had this cold and flu thing for a couple weeks. The doctors don't seem to have any clue either. They gave me medicine for acid reflux (which is weird since I've only had heartburn twice in my life), allergies (for the continued sore throat and ears) and an anti-nausea pill. And, I'm supposed to go in for blood work and an abdominal ultrasound this week. And, they kept asking if there was any chance I could be pregnant. So, my theory is that I have a petrified baby, or the next coming of the messiah, stuck somewhere all up in there. We'll see. But, really, I'd be satisfied to just stop having to throw up all the time.

While I was at the doctor's I asked for them to check my weight history and when the last time I was under 200 pounds. It was March 2002. Come on, girl! I want to break that line! I've still been hovering between 208 and 213. I'm so ready to move down. Of course, that means that I need to re-give up ice cream. Ouch. But, the bike will help, I hope!

I made some pesto last night for dinner. I thought about trying Heidi's instructions for How To Make Pesto Like An Italian Grandmother, but I was hungry and didn't have time for all the chopping. Instead, I did a quick food processor version. All amounts are approximate. Vary based on your tastes:

2 c. basil (like, smashed down into the cup)
1/4 c. mint leaves
1-2 cloves garlic (I used one because it was pretty big)
1 T. lemon juice
1/2 c. olive oil
1/3 c. freshly grated parmesan or pecorino romano (I went with the romano because it's less expensive)
1/3 c. toasted pine nuts
sea salt and pepper

I made some fresh pasta that I got at Penn Mac on Saturday, but I can't remember what flavor I got. I'm thinking it might have been a basil-lemon? (do you remember, e-dawg? i remember that you got rosemary, but what did i get??). Anyway, yeah, I had it with pasta, and sprinkled on some more toasted pine nuts and some of the baked shittakes. Yum. That is some fantastic freshness.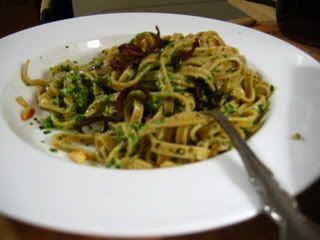 And, I still have about 1/2 c. left. I'm having visions of pizzas and sandwiches and eating it with a spoon. I love pesto!