Peeps, it was an action-packed weekend. I mean, I am a celebrity, after all. Speaking of, my celebrity status did not afford me a life of recognition and luxury as I'd hoped. In fact, it was pretty anticlimactic. But, I know you have it in you. Here's the plan, next time you see me, you should treat.me.like.a.queen and then all will be forgiven, k?

Saturday I hit two Halloween parties--one at the Haunted Cafe of my friends Sandra and Jessica, and one at Cattivo (where I was supposed to be a celebrity--judging the costume contest). I was, as promised, Richard Simmons. See?



and




and, check out these moves!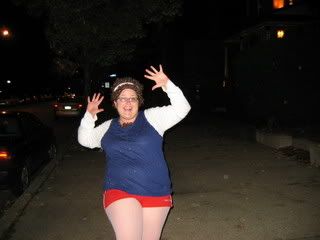 and, these!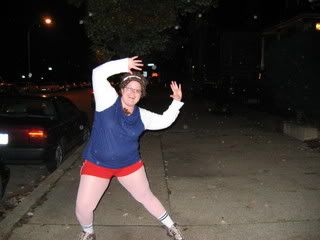 and, these!




and, then later that evening when Richard was partied out:




and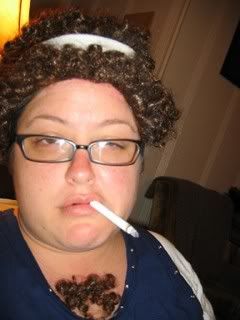 Good times. That was a fun and comfortable costume. I like. I heard that Richard was me on Saturday (we celebrities like to do that). I hope there are pictures.

Last night I met a Hurd out for dinner and a movie. We got some food at The Library, then caught the PILGFF closing film, Itty Bitty Titty Committee.

First, the food. It was the first trip to The Library for both a Hurd and I. I wasn't quite sure what to expect, because even though there was a definite library theme, the actuality was more sports bar (complete with drunken Stillers fans, tvs and loud music). So, they get an 'eh' on atmosphere. The menu was pub-grub. There weren't a ton of vegetarian options, but I settled on the portobella sandwich. Even though I love mushrooms, I'm kinda tired of seeing the portobella sandwich on the menu as the token vegetarian offering. But, it was good. Like, really good. The mushrooms were really nice, tender, and subtly balsamic. The roasted red peppers were sweet. The boursin cheese was melty and plentiful. And, the cilantro sprouts were a nice touch. I got sweet potato fries on the side, and they were tastilicious, too. All-around, surprisingly yummy!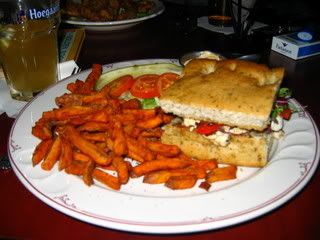 The movie was fantastic! Super-cute dykes, a womens' studies crash course, hot sex scenes, and very low on the cheese factor, but very high on the awesome factor. Plus, afterwards there was a cheesecake hangout thing (at, um, The Cheesecake Factory, which unlike the movie, is very high on the cheese factor). Our end of the table tried Pineapple Upside-Down, Vanilla Bean and Raspberry-Lemon. All incredibly delicious.

Tonight I have a date with a Hurd again. We're having dinner at Spice Island (okay, I practically live there. so?), then going to see Ryan Adams! That is the way to handle a Monday.

Woot!