Happy Halloween, my peeps! I hope that you're all having a spooky good time. Send me pictures of you in costume. It makes my day! Don't you wanna make my day? Do not defy me!

Actually, the title of this post is dedicated to Hurd. A few months ago we learned that Ryan Adams was coming to town, and quickly made a plan to get tickets on the opening sales day, 'cause sitting up front is where it's at (like when we were in the fourth row to see Neko Case a couple months ago). So, on that day I went on the interweb to check on tickets, and evidently there'd been some jacked-up iTunes pre-sale, and all the set-of-two tickets up close were long gone. So, Hurd suggested we split up and each get our own tickets. Which didn't sound as fun to me, but still. So, I got mine, and then had to harass Hurd for two months to get her ticket while she repeatedly defied me. Guess what? She had a sucky seat. Moral of this story? Do not defy me. You got it, peeps?

The show was kinda 'eh'. Or rather, I was just not feelin' it, so I listened for about an hour and fifteen, then busted a move at the intermission. (Hurd had left way before this after texting me a bunch of times to say how sucky her seat was, how sucky the sound was and how much she hates Ryan Adams--see moral of story, above)*.



Before the show we went to Spice Island. (I cannot stop. I don't wanna).
This is what a Plateful O' Love (aka java fried rice, vegetarian with tofu, eggs okay) looks like: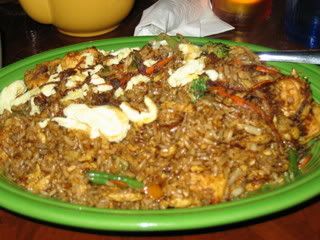 A Hurd got the fried tofu with peanut-chili-lime sauce (this is what I got when I deviated from the JFR one day last week. It's tasty. I mean, it's no JFR, but still).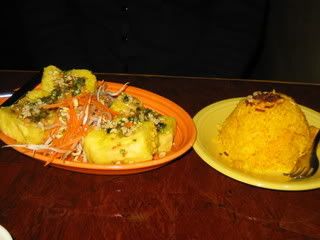 I thought JFR was the Love Of My Life. But, then yesterday everything changed. I'm pet-sitting the menagerie that I sat for a month or so ago, but last time one of the dogs went with the owner. I'd met him before, but hadn't had a chance to spend some quality time alone with him and/or show him off everywhere I go. All that has changed. He's in the pack I'm watching this time, and I'm in love--LOVE! His name is Emmett (actually named after Emmett Honeycutt from QAF!) He's a tiny chihuahua (he can stand on my hand!), he's cuter than a pile of buttons, has a winning personality, and the China-Bear (my cat) didn't even hate him! I think I have to keep him. I cannot let him go. I was actually late for work this morning because I couldn't bear to leave him. Look how tiny (my finger is there for scale)!



Here's a picture with Emm and some of the other kids:
Ripley (dog) and Macy (cat). You can't really tell in this picture, but Macy has the shiniest coat I've ever seen on a cat: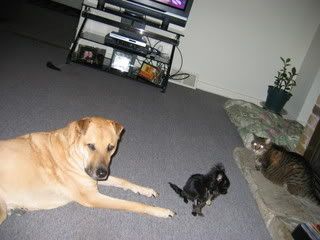 Cricket (I like to call her Crickers. She likes it.):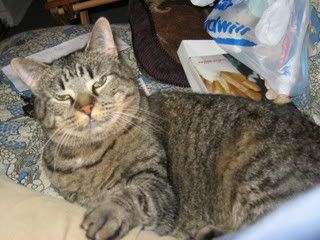 There's also an iguana, but I didn't take her picture (sorry, Drake).

In other news, I had lunch at Bangkok Balcony today. I used to go there a lot, but hadn't been in quite a while. But, I got the see-you noodles with tofu today, and it was spectacular. Like, perfect. Peppery, lots of broccoli, lots of tofu, and those glorious broad, flat noodles. Dang. So, so, so good.

Tonight I'm going to Spell--a Halloween party featuring RuPaul (!!) that's a benefit for Persad Center. Any of you going, too? Richard is making another appearance. Watch out!




*I know a Hurd is gonna lose her mind when she reads this. I'd just like to remind her, and you all: Nothing good can come from defying me. Just sayin'!