E-dawg and I checked out a new (to us) restaurant last night--Rivas Restaurant in Carnegie. It's the first time I'd had Nicaraguan food, and I really liked it! It's similar to Mexican food in the spicing and ingredients, and WAY better than the stuff that Kramer and I got on Sunday. I wasn't too crazy about the chips (too thick and hard) or the plantain tostones (greasy, not much flavor), but the main dish I got, Gallo Pinto con Queso Frito, was really yum. It was sorta like a fried rice kinda thing (and you know how much I like a fried rice kinda thing) with rice, beans, pico de gallo, onions, green and red peppers, and these little planks of fried cheese (I thought they were tofu at first). They're BYOB (but, we didn't B), but they have a bunch of non-alcholic different drinks that they make there. I got the strawberry lemonade, and E-dawg tried the peach lemonade (both super-good!). I proclaimed mine so delicious that I was fantasizing about installing one of those drinking tubes that hamsters use beside my couch, kept full of their strawberry lemonade. Like, this: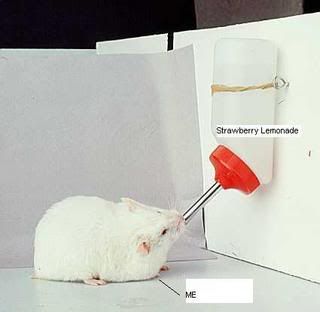 It's the night of the queer book club tonight--i.e. one of my favorite nights of the month! We read Strange Piece of Paradise by Terri Jentz. It was interesting, but could've done without about 350 pages (out of 542 pages in total). By the end I thought I was going to freak out due to the same stories being repeated. repeatedly. and then repeated again. It was a test of endurance.

Anyhow, you may remember that book club is also a foodstravaganza. I think I'm going to make Squash Spice Cake (recipe from the current Vegetarian Times). I baked the squash this morning, so I should be good to go. I don't have spelt flour, so I think I'm going to try a 1:1 mix of whole wheat flour and unbleached all-purpose (I love whole wheat flour!).

SQUASH SPICE BREAD
Serves 8

Butternut squash purée adds flavor while replacing some of the eggs and fat in this quick bread recipe. Spelt flour imparts a fine-grained texture, but all purpose flour will work just as well.

1 medium butternut squash, halved
and seeded (1 1/2 lb.)
1 Tbs. maple syrup
1 1/2 cups spelt flour
1/2 cup sugar
1/2 cup plus 2 Tbs. chopped walnuts, divided
1 tsp. baking powder
1 tsp. baking soda
1 tsp. ground cinnamon
1/2 tsp. ground allspice
1/4 tsp. salt
2 eggs
1/4 cup canola oil
1/3 cup plain (unsweetened) soymilk
1 Tbs. vanilla extract

1. Preheat oven to 350°F. Coat baking sheet with cooking spray. Place squash halves cut-side down on baking sheet. Bake 40 to 45 minutes, or until soft. Cool. Scoop fl esh from skin, mash with maple syrup, and set aside.
2. Coat 8- x 41/2-inch loaf pan with cooking spray. Combine spelt flour, sugar, walnuts, baking powder, baking soda, cinnamon, allspice, and salt in large bowl. Lightly beat eggs in separate bowl. Whisk in oil, soymilk, and vanilla until smooth. Fold squash into liquid ingredients with spatula. Stir squash liquid mixture into flour mixture.
3. Pour batter into prepared pan, and sprinkle with remaining 2 Tbs. walnuts. Bake 60 minutes, or until toothpick inserted in center comes out clean. Cool 20 minutes on wire rack, then unmold and cool completely.

PER SERVING: 311 CAL; 7G PROT; 15G TOTAL FAT (1.5G SAT. FAT); 40G CARB; 53MG CHOL; 323MG SOD; 5G FIBER; 17G SUGARS

I'll try to remember to take pictures to post tomorrow. I think my squash is big enough to make two loaves, but I didn't weigh it. So, I'm going to weigh myself, then step back on the scale with the squash to see if it's a three-pounder. It's huge; I had to use two baking dishes (one half in each), so I think it will be, but I'm horrible at guessing stuff like that. Will report back.