Okay, it's not actually Good Friday, but all Fridays are good in that they're the kick-off to the weekend. I'm so ready. Waking up this week has been really tough. I've snoozed for over an hour nearly every morning. It's just too hard to get up when it's dark outside, and kinda cool. That's perfect sleeping weather, and it's just sick and wrong to squander it. Of course, since I don't have to work tomorrow, I'm sure I'll be up at the cracka with no problem. That's how it works.

I just tracked down some spirit gum (necessary for affixing my chest hair for my Richard Simmons transformation), and I have the Bedazzler ready to do some serious bedazzlin' tonight/tomorrow. Now, I just need some pink tights. Actually, I wish I could find a whole-body pink leotard. That'd rock. Except when you have to pee, then it'd probably suck. Unless it came with an ass-flap like the old school longjohns. Anyone know any place in Pittsburgh that sells full-body leotards for chubby ladies at bargain basement prices?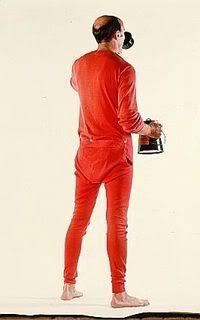 I've also always secretly wanted to be Slim Goodbody for Halloween, and if I happened to find a full-body (with or without ass-flap) pink leotard this time, next year I could dress it up to be him. And, I could use the same wig as for Richard!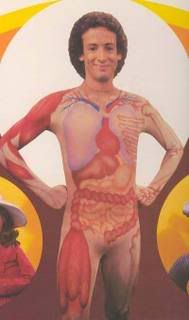 Just sayin'.

K. Thanks for the feedback yesterday on my quandary. I'm gonna let these go, and then next time I'll give up the goods about my meals out. I did have some good food yesterday. Mags and I went to lunch at Spice Island, and check it out--I actually got something other than java fried rice! I went for the fried tofu with chili-peanut sauce. Yum. And, at the farmers market I picked up some potato-n-cheese pierogies for dinner. Holy cow, those are so good! They're from Gosia's Pierogies in Latrobe. I signed up for their holiday list (they'll be taking holiday orders, and making a delivery to the 'Burgh some time in December). If you're interested in getting on their order list, check them here:

Gosia's Pierogies
Terry and Jan Smith-Rawecki
75 Pauline Drive
Latrobe, Pa 15650
724-205-9938
terrsmith@comcast.net

Or, just come to the Bloomfield farmers market on Thursdays. The farmers markets are going away soon! They end at Thanksgiving! And, so does my CSA! That's merely a few weeks away. It's so sad! It breaks my little heart! It makes me wish I were in Barbara Kingsolver's family, and I'd been farming and canning and storing all spring and summer so that I could reap the bounty of my labors with local foods all winter. Yinz guys should read Animal, Vegetable, Miracle. Such a fantastic book!

K, folks. Have a fantastic weekend!