Okay. Back from the depths of despair.

The last couple weeks, er months, have been tough. I've been pretty depressed, and just sorta let everything go--the healthquest, my apartment, etc. Sometimes I have bouts of depression that just sort of take over my life for a while, and this has been one of those times. I even had a panic attack last week (or week before?), that totally freaked me out. So, I took off work on Thursday and Friday, and just stewed in my shit, slept, watched bad movies, avoided interaction. Saturday and Sunday I still hibernated, but did a huge cleaning of my apartment. It's not perfect, but now I wouldn't be horrified if someone stopped by. That feels good.

I'm always so embarrassed to tell anyone about feeling bad. Even though every other commercial on television is for some antidepressant, and everybody and her brother has a therapist, there's still a stigma. And, it's not really acceptable to call off work for mental illness, so then you have to lie and pretend you have the flu or whatever. Blah. Anyway. The fog seems like it may start lifting. Baby steps, right?

But, since I haven't checked in with you peeps for a while, I have done some cooking. E-dawg stopped by Zeke's house for dinner last Wednesday (it was his birthday!). I just made some pasta with marinara (I must confess, I used a jar of tomato sauce from WF, that I doctored up with some sauteed garlic and onions and spices), some roasted green beans, some crispy mushrooms and some baguette toast with brie. Tasty.



This weekend I had a huge craving for veggie reubens. Kramer and I were planning our reuben-off-slash-potluck this weekend, but then she, Mags and I just weren't feeling up to a party, so we called it off. But, my stomach was having none of that. So, I stocked up on supplies to make a master version of the reuben, fusing the Kramer/Keenan styles into The Best Veggie Reuben On Earth.

The fixin's: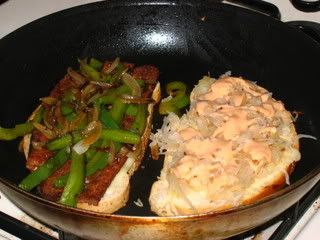 The goods: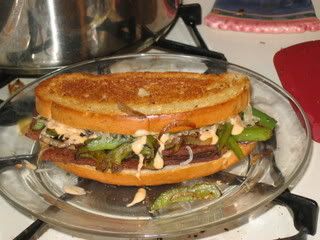 That's rye bread, Minerva swiss lace cheese (oh my god, this is good; got it at the co-op), fakin' bacon, sauteed green peppers and onions (I like to use mushrooms, too, but didn't have any on hand), sauerkraut and russian dressing. That is some good comfort food.

And, my favorite veggie is now officially in season! I stopped by the farmers market on Friday, and was delighted to find brussels sprouts! They are the pinnacle of the intersection between adorable and delicious.

First, I trimmed them, made a little X in the bottom, and put them in boiling water for about three minutes (then a plunge into some ice water after and drained), then sliced them in half, and roasted them in the oven at 375 for about 25 minutes (stirring twice) with a little olive oil and sea salt, then grated some parmesan cheese over them when they came out of the oven. And, while I was doing that, I roasted some potatoes (the "confetti" baby potatoes from Trader Joe's with yellow, redskin and purple babies) with some parsley, olive oil, salt and pepper.

before (the sprouts had been boiled, but not baked at this point):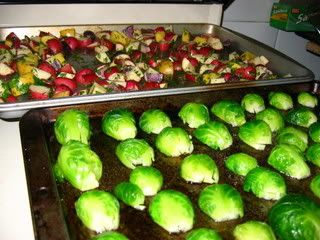 after: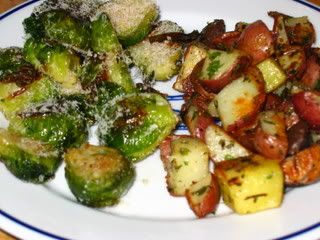 It was a comfort food bonanza. In fact, I even had grilled cheese with Campbell's tomato soup yesterday.



Tonight is the "Queers: They're What's For Dinner!" dinner at the Gypsy Cafe. They always have tasty grub.

In other news, one of my bestest friends, Dan, is visiting this week from LA. I could definitely use the pick-me-up. He is one hilarious mofo. Good times. (and, thank goodness my apartment is clean-ish!)