All morning I've had that jingle from the old O.B. tampon commercials in my head:
O.B.! It's the way you should be! Keep it simple, and set yourself free...from the extra...something-something...just try O.B. and you'll see!
I hate O.B.
I found myself in a desperate situation this morning with nothing but O.B. on hand. On my second try, I kinda got it, um, in place, but it was so uncomfortable it almost made me cry out of anger and frustration. And, there were no shops open anywhere between the house (where I'm pet-sitting), the bus stop and work. That is not a good way to start the day. How does anyone use these torture devices?! Monday morning + O.B. makes for one surly E.K.
Moral of this story? O.B. can suck it.
But, let's leave all that behind us, and concentrate on the good stuff--which is, of course, the weekend. And, it was a very special weekend because it was Maggie's birthday! Woot! She had her 2nd Annual Pittsburgh Birthday Potluck Party on Saturday evening, and I think I can safely say that a good time was had by all. Mags, Kramer, E-dawg and I reconvened the next morning (on Marge's actual birthday) for coffee and leftover cake, and a post-game discussion of our highlights and lowlights of the party the night before. It was all highlights, with very few lowlights! My highlights were: an excellent group of folks that seemed to be just the right mix, incredibly awesome food, super music--both the jams from the debut of DJ B.T. Hurd and the song stylings of
The Gooch
, encouragement (for all kinds of stuff) from our lovely hostess, and the peep show. My lowlights: none.
For the potluck I made a dish that is quickly becoming one of my ol' standbys--
Eric Gower
's recipe for Edamame Salad with Pickled Ginger from his
The Breakaway Cook
cookbook. I've talked about this on the blog before, and you can find the recipe
here
in the archives.
I also made a cake which I believed to be Maggie's favorite flavor--Apple-Walnut with Cream Cheese Frosting. But, when I said, "Guess what kind! It's your favorite!" She excitedly replied, "Lemon Poppyseed!". heh. But, then she recanted and said that Lemon Poppyseed
used
to be her favorite until a couple years ago when her loyalties shifted over to Apple Walnut. Either way, it was tasty. I got
the recipe
online from Shirl. Thanks, Shirl! (one note, Shirl makes this as a sheet cake, and I made two 9" rounds so as to look more birthday party-ish. So, I doubled the recipe for the frosting).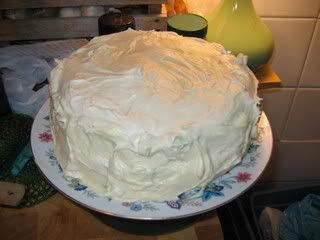 And, here's the spread:
One of my favorite dishes was Gooch's butternut squash. I had a butternut squash in my fridge, so I made it yesterday. So good and so easy!
Squash a la Gooch
1 butternut squash
1 small onion
some honey (2-4 T?)
some cayenne (1/2 t?)
Heat the oven to 375. Half the squash, long-ways, and scoop out the seeds. Half the onion, and place one half in each of the now-seedless cavities of the squash. Put some honey and cayenne into your baking dish, and place the squash, cut side down, into the dish (make sure the onion's not too big, because you want the squash to be flush with the pan). Cover loosely with foil, and bake about 45 minutes to an hour, depending on the size of your squash. Yuh-um! I had one dish of it straight-up with plenty of the honey-cayenne liquid on top (it generates more liquid when cooking, from the squash, but I probably used about 2-4 T. of honey to start with). Then later I had a dish with some cinnamon and butter and toasted pecans. And, yet later still I had a little bit with some cumin sprinkled on. And, I'm having the last of it for lunch today, again straight-up style.
Apart from the food, here are some general birthday highlights:
The Birthday Girl, the morning after: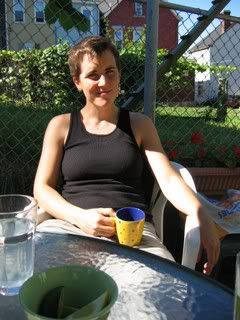 DJ B.T. Hurd kickin' out the jams: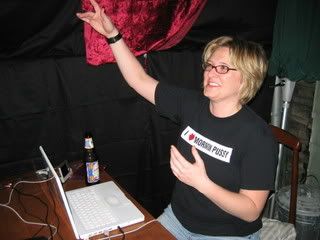 Some slow dancin':
Some fast dancin'/flat-footin':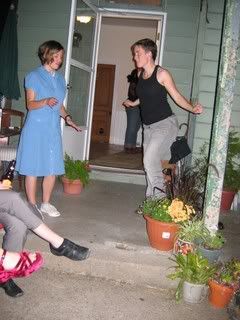 Some dirty dancin':