First, just wanted to pass this along:


Carnegie Library of Pittsburgh presents a talk by SFP's Marlene Parrish

What: Hear about Slow Food Pittsburgh and the challenges of Eating Local!
When: Wednesday, September 12
Time: 6-8 pm
Where: 4400 Forbes Avenue, Oakland, Main, First Floor Quiet Reading Room
Charge: Open to the public

Speaker: Marlene Parrish, co-leader of SFP and food writer for the Pittsburgh Post-Gazette

More info: 412-622-3151, or visit www.carnegielibrary.org

Come and learn about why buying fresh, local and seasonal food matters. If you love to eat and love to shop at farmers' markets and if you care about the environment and supporting the local economy, you'll want to hear about Slow Food Pittsburgh in this informal talk.

Plenty of time for questions, and we'll be giving away some cookbooks, too.
The First Floor Quiet Reading Room won't be quiet for long.....
I hope everyone had a super long weekend! I definitely did. It was action-packed! In fact, I'm kind of surprised that it all happened in one weekend. That's weird. And, I forgot my dang camera to upload the pics I wanted to include today. Hopefully I'll have it back tomorrow (I think I left it at Maggie's), and can update this post then.
On Friday, E-dawg and I met up at the Greek Festival in our 'hood (North Side represent!) for some delicious treats, some interesting music and some great people-watching. We each got a slice of spanikopita and tiropita (which I'd never had before, and was like the spanikopita without spinach and a fluffier cheese filling). And, I got a box of pastries to take to my mom and stepdad (my mom's favorite dessert is baklava)--a bunch of baklava, some little kourambiethes, a ghalatobouriko and an apricot and a cherry roll. It was a gorgeous assortment, and they were thrilled.
On Saturday morning I drove down to southern WV.
I got there around 2pm, and the cowgirl party was at 3:00. So, we headed up there, and as soon as we pulled up I could hear Savanah yelling "Ehrrin! Ehrrin! EhrrinEhrrinEhrrinEhrrin Ehrrrrrrrriiiiiiiiinnnnnnnnnnnnnnn!"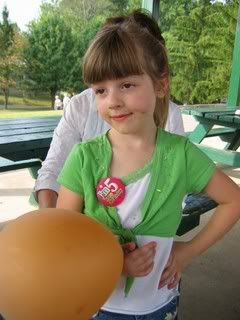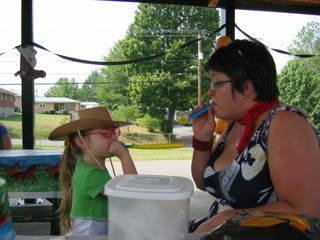 That is the most excited anyone has ever been to see me. I liked it. The party was cute, and the kids had fun. Then I went over to my brother's house for more playing and a ride on his new motorcycle.
Then, went out for Mexican food with my parents (there are three awesome Mexican restaurants in their tiny town, and we went to one I hadn't been to before; this was the best--Acapulco). So good. And, then I made them Huevos Rancheros for breakfast the next morning, to continue on with the theme.
Sunday morning my parents split for Ohio (for my nephew's birthday), and I met up with my brother and Savanah again, and we visited my MamMaw Gini and then my Aunt Boots (where, when we pulled up and got out of the car, Savanah said, "Now, where's them chickens?" 'cause they have some chickens that roost in one of the trees behind their house).
with MamMaw Gini: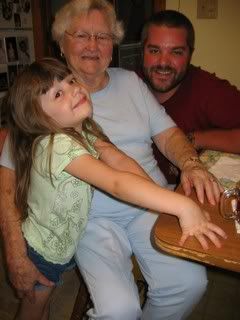 with Aunt Boots: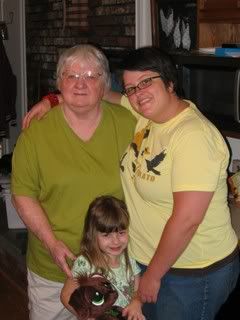 After that I hit it back to the 'Burgh, and made it back just in time to get my stuff from the car to the house so that E-dawg could pick me up for the
Ditty Bops
show at
Mr. Small's
. They're so cute! And, this tour is the Farm Tour (they say: In addition to playing traditional shows, we will perform benefit concerts on farms to raise money for local farm organizations, "The Growing Connection" and "FARM AID" - Willie Nelson, Neil Young, Dave Matthews and John Mellencamp's nonprofit.)
On Sunday night I sent Kramer a message to say that I was going to oversleep the next day, so we didn't walk yesterday morning. what? it was labor day! the day of rest!--and, she actually called me a chump.
So, I didn't really sleep in yesterday, but I did a lot of chillaxin', nonetheless. I watched five (five!) episodes of
QAF
, then napped, then
read
, then went over to Maggie's to do more chillaxin' with she and Kramer. And, we ate some delicious and nutritious quinoa/black bean/veggie bowls. And, I left my camera. Boo. Hoo.
It was back on track this morning with the walk with Kramer. We did about two miles this morning, and, and, and! there were tons of deer. Lots of mamas and babies-still-with-spots. And, they were completely unafraid of us. A couple of them came so close we could almost pet them. It was amazing. (Kramer said "creepy"). Tomorrow we're going to take some deer snacks and hope we run into them again. So cool.
And, tomorrow is our first official weigh-in for the Weight Off-Off! I already can feel that I'm going to kick her ass!
Also, in other news, I signed up for a "Knife Skills" class at Chop, Wok & Talk (through CCAC). yay!