Sandra posted a comment the other day mentioning that it was hard to tell a Hurd and the herd apart. So, I thought I'd include some (linked up) visual aids.

a Hurd
the herd

Speaking of a Hurd, you may remember a month or so ago that she asked me why our joint adventures so rarely show up on the blog, while it's "Ellen-Ellen-E-dawg" all the time. And, you may also remember that I replied that it was because so few of our activities are fit for public consumption. This weekend was no exception. Kramer and I were just trying to go about our business and get some groceries (and maybe some Spice Island and a drink or two at Kelly's), but then the Hurd entered the scene, and a very different evening was had by all. And, that's all I'm going to say about that. Except that I was hungover all day on Saturday and missed all my walking and meeting up with the herd, running of errands and changing of oil and going to parties. A Hurd is a bad influence. Just sayin'.

And, Sunday's plans fared no better because our bike escapades were called off due to a weather forecast that included "dreary", "humid" and "scattered showers all afternoon". So, we just went to brunch at Coca instead. Where I enjoyed some Grilled Polenta with Heirloom Tomatoes and Poached Eggs. Yum.

But, I did get in some good quality time with QAF, and have indulged in my first boy-crush in a looooooong time. Brian Kinney (...sigh...) from QAF. He's, like, totally dreamy. I cannot believe that the real life actor who plays him is straight! What the hell? I think I actually want to be Brian more than anything else, but still. Dang. Check out this short video of Brian and Justin that the Hurd sent me. Which also made me realize that there are a LOT of Brian/Justin videos out there. Goody.

...Sigh...

Okay, what? So, cooking or something, right? So, on Saturday I made up a little salad that is similar to several other summer salads I've done in that it's tomatoes, potatoes and some type of bean with a vinaigrette dressing. This one was baby yellow potatoes (that were incredibly creamy and firm and delicious), red, orange and green zebra tomatoes, green beans, onions, torn basil leaves and a simple vinaigrette with:
-lemon juice
-olive oil
-minced shallot
-sea salt and freshly grated pepper
This is a super-easy, super-fresh and super-pretty. See?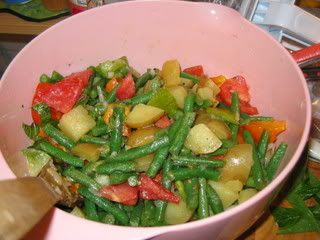 I had it with some lovely corn on the cob (although, I have to say that it didn't even come close to the corn from my CSA last week in terms of juicy deliciousness. I mean, it was good, but that other corn was stellar).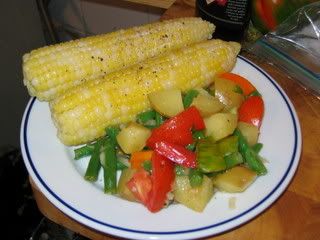 Yesterday I took stock of the contents of my kitchen, and whipped up a little casserole. Plus, I'm meeting up with Bobcat/Jess this evening, and had promised to bring another dish for her to review. So, I asked her if there's anything she doesn't like. You know what she said? Sausage. And, I said, don't worry about that; I'm vegetarian. And, then you know what I did? Added veggie sausage (Gimme Lean) into the dish. WTF? I'm an airhead. Also, while the dish is tasty, it's not perfect, and I'd much rather have her taste something great. But, it's probably better to have to taste something that's still at the drawing-board stage than something I already know is good, right? ugh. I woke up in a panic about it when I remembered the stupid sausage. Plus, there are just several things I'd change about the dish (less fennel, more nutmeg, a thicker egg/cheese mixture layer). And, the last thing I gave her to taste was a tarte in which I'd forgotten the cheese. I think I'm doomed.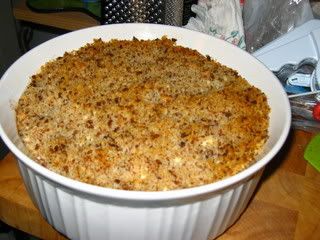 So, I wrote down the recipe for this, but I think I'm going to keep working on it before I give you that.


But, the layers were:
bottom--potatoes, onion, green pepper
2nd--veggie sausage
3rd--roasted eggplant and garlic
4th--egg/feta
topping--panko with butter and pulverized dried shittakes
I was sorta imagining a veggie moussaka, but I didn't actually have any moussaka recipes on hand, so I just winged it. The egg/cheese layer should have been way thicker. Okay, I think I'm just freaking out about the pressure to perform and NOT picking a winner for that kind of scrutiny. If it were just me eating it, I'd probably be raving about it. Sheesh.