I love CSA day, which for me is Wednesday. This week we got basil, a lovely assortment of heirloom tomatoes, corn, green and banana(?) peppers, green onions, garlic, beets, green beans, potatoes, chard...I think that's it. E-dawg said she got zucchini and lettuce, too, instead of the chard. It's fun to pick up your veggies, too. Sometimes the woman that lives in the house where we pick up (on the front porch) is outside, and she's really friendly and sweet. And, you can tell the other CSA-ers coming up the street. Everyone's smiling and happy and full of good cheer. I freakin' love good cheer! All of us that normally may not go out of our way to chat with strangers belt out a hearty "Hello! How are you?" when we're picking up our CSA shares. I [heart] local agriculture!

Speaking of...

Sept 16-22 is Local Food Week! Check out these great events! (from http://www.buylocalpa.org/events.php)


PASA Western Region Local Food Week
Where: Local Food Week occurs in various locations in Western Pennsylvania
When: Sun Sep 16th 12:00 PM - Sat Sep 22nd 12:00 PM

Please call 412-697-0411 or email julie@pasafarming.org for more information. The list of events will soon be downloadable from the western regional page of this website. Here is the basic listing of events:

Sunday,September 16 SAVOR, SIP AND SOCIALIZE
Local Food Kick-Off Event at WYEP Studios with the Mavens.
5:30-8:00 p.m. $10 wyep.org

Monday, September 17 FARM FANFARE:
A Festival at East Liberty Farmers' Market featuring cooking and music. 3:30-6:00 p.m. http://www.buylocalpa.org

LOCAL FOODS COOKING CLASS
East End Food Co-Op shows us how to make the most of the season's local bounty with the cooks of the Co-Op Café.
7:00-8:30 p.m. http://www.eastendfoodcoop.com

CELEBRATE The PATH
Dr. Will Clower and Enrico's Ristorante show us how local foods compliment the Mediterranean Habits of Healthy Eating. Reservations suggested. 6:30-8:00 p.m.
http://www.willclower.com or call 412-363-5201

EATING WELL WHILE DOING GOOD
PASA and the PA Restaurant Association team up to feature locally grown food at area restaurants from Monday-Thursday. For restaurants and times go to http://www.buylocalpa.org

Tuesday, September 18 PASA APPRECIATION DINNER
Enjoy a three-course local food dinner at the Pines Tavern from Tuesday through Saturday. Five dollars from each dinner benefits PASA and its programs. Reservations suggested. http://www.thepinestavern.com

Wednesday, September 19
EDIBLE SCHOOL YARD COOKS IN THE GARDEN
Join Executive Chef Bill Fuller and the students from Helen Faison Arts Academy in their school garden.
1:00-3:00 p.m. Wednesday and Thursday.
http://www.growpittsburgh.org

PASA APPRECIATION DAY
Shop at Whole Foods Market and their farmer's market. Five percent of sales benefit PASA and its programs.
wholefoodsmarket.com

Thursday, September 20
HARVEST FEST:
A festival at the Washington Main Street Market featuring cooking and entertainment. Washington, PA 3:00-6:00 p.m.
http://www.washpa.net/FarmersMarket

HIKE AND EAT LOCALLY
Venture Outdoors will host a hike in Schenley Park with a catered meal from Café at Phipps. 6:30-8:30 p.m.
Venture Outdoors Members - $12, Nonmembers - $15 http://www.ventureoutdoors.org

CELEBRATE LOCAL FOODS IN PA WINE COUNTRY
Culinary Bounty and Five French Fusion Restaurant team up for dinner to highlight the best in Northwest PA food and wine. Reservations suggested. North East, Pennsylvania
814-725-5318

Friday, September 21
FARMERS' MARKET FIESTA:
A festival at the Oakland Farmers' Market featuring cooking and entertainment. 3:30–6:00 p.m. http://www.oaklandbid.org

FALL HARVEST DINNER
A seasonal, local feast to remember at the Carnegie Science Center. 6:30 p.m. Sponsored by Parkhurst Dining Services. For reservations call 412-697-0411 or visit http://www.pasafarming.org

Saturday, September 22
EVERY WEEK IS LOCAL FOOD WEEK
Farmers @ the Firehouse Market" with Slow Food Pittsburgh, 9:30 a.m.-1:30 p.m. http://www.slowfoodpgh.com

GOOD AND LOCAL: BERRIES, CHEESE, TEAS, AND MORE
Taste a selection of local products at McGinnis Sisters, Monroeville and Brentwood locations. 11:00 a.m.-2:00 p.m.
http://www.mcginnis-sisters.com

HOMEMADE SALSA CONTEST AT LIGONIER COUNTRY MARKET
Test your salsa making skills to win a prize.
Ligonier, PA 7:00-9:00 a.m. Call 412-697-0411 from more information.

ENJOY THE BEST IN NORTHWEST PA MEATS
Meadville Market House with Friends of the Market House
Meadville, PA 6:00 – 7:30 p.m. $20 http://www.buylocalpa.org
So, what'd I do with that beautiful produce you ask? I ate it! Well, not all of it--yet, but lots of it. I got three ears of corn, and ate them up. All three ears were awesome, two of them were so good I nearly cried. Sweet, juicy, tender kernels. That is what corn is supposed to taste like! Did you know that corn (and some other veggies like peas) starts to break down its sugars into starches as soon as it's picked? So, corn should be cooked immediately because the sugar in the kernels rapidly turns to starch and consequently toughness. So, that's what I did, as soon as I got home I started some water and shucked my corn. I'd only planned to eat two ears, but it was too good not to eat it all. I just brought some salted water to a ready-to-almost-simmer stage, plunked the cobs in, and cooked them for about five minutes. At which time these little lovelies were ready to oop with juicy goodness. I had that with some roasted green beans, adapted from a
Mollie Katzen
recipe in
The New Moosewood Cookbook
. Here's what I did:
Roasted Green Beans
(vegan; makes about four servings, but you'll want them all for yourself)
a bunch of green beans (usually around 1/2-1#?, but I didn't have that many last night), washed and trimmed and cut into bite-sized pieces
1 small onion, thinly sliced
about 10 cloves of garlic, peeled
extra virgin olive oil
1-2 T. balsamic vinegar (I used a black fig vinegar, which has a red wine vinegar base, but tastes sorta balsamic)
toasted walnuts, broken into pieces
sea salt and freshly ground pepper, to taste
Heat oven to 400 degrees. Brush about 2 T. of evoo on a baking sheet, and scatter the beans, onion and garlic on the sheet and sprinkle with salt and pepper. Roast for about 20 minutes, shaking the sheet occasionally. On another sheet, toast the walnuts for about 5 minutes, then shake, and cook for another 3-4 minutes until toasty brown and fragrant. Remove all from the oven, and put the bean/onion/garlic mixture into a serving bowl and drizzle with the vinegar, and sprinkle liberally with the walnuts. (This is seriously to die for. It's one of my very, very favorite dishes, and it's so easy!)
before: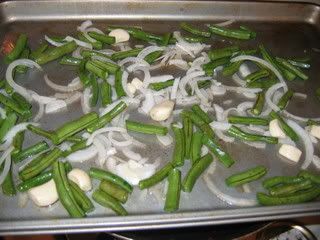 after, as dinner: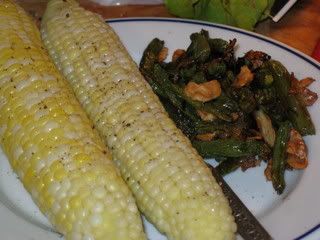 Actually, I had two dinners, so maybe I'll call that one an appetizer. Because while I had the oven on, and a bunch of gorgeous tomatoes, I decided to make a slow-roasted heirloom tomato sauce. All in all, I cooked it for about four hours, but it was really easy, and just required some occasional stirring, and one mid-way addition of some ingredients, and it is amazing. Seriously, one of the best sauces I've ever had. It literally bursting with flavor!
Slow-roasted Heirloom Tomato Sauce
(vegan, and doesn't make nearly enough)
A lot of tomatoes (I'm not sure about weight, but I used a pint-size container of those little yellowy-orange pear-shaped beauties--from someone in my office, two romas, 1 small reddish pink (Arkansas Traveler?), 1 larger red, some red plum tomatoes (about 8?), two yellows (Italian Gold?). It sounds like a a lot, but it's really not. They cook down so much that there's hardly anything left of them.
1 small onion
1 handful fresh basil, torn into large pieces, plus more for topping when serving
5-6 cloves of garlic, peeled
a few dashes of cinnamon
a few grates of nutmeg
a little bit of honey (a scant tablespoon?)
a little bit of extra-virgin olive oil (1-2 T)
Basically, I started with a bunch of halved tomatoes, a little evoo and the garlic cloves. Put it in the oven (at 400 degrees, loosely covered), and stirred it (and tasted it) about every half-hour or so. A couple hours in, I added the onion, basil, cinnamon, nutmeg and honey, and about 3 cups of water (it needs it now; they've cooked out all their juices and are caramelizing) then recovered it, still loosely. Then just cooked it until it was the taste and consistency that looked good to me (and, um, I couldn't wait any longer because the heavenly smells were like to drive me crazy!).
I ate it over (here's where it gets non-vegan) egg noodles with some grated parmesan and sprinkled some fresh basil over the top. Oh. My. God. Utterly fantastic. It actually reminded me a little of
the Arabian Stew that Kara made a few weeks ago
.
before:
after:
as dinner (um, take two):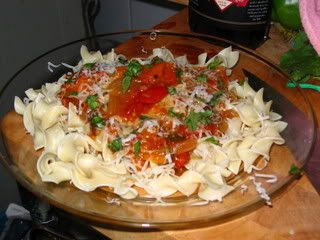 And, I have more for lunch today! Yay! I also have more
QAF
for tonight. Yesssssssss. I'm actually getting two discs, but I can't stay up so late watching them that I can't get up to walk in the morning. The first day we started walking I just kept thinking how much I hated it, but now it's one of the highlights of the day, it feels great, and all the deer are a fantastic bonus (we fed them more apples today, and have now identified some favorites as "our herd").
What's for dinner tonight? Who knows! But, I did get two gorgeous eggplants from someone at work, so we'll see...