Did you guys know that E-dawg is a runner? She started a few months ago with a goal to run a half-marathon in Chicago, and has trained and raced relentlessly since. Even in the heat. Even when I (maybe, a little bit, somewhat hysterically) cautioned her not to, complete with charts and graphs. But, she persisted, and today she heads to Chicago. Sunday is the race. I'm vying to be Most Enthusiastic Fan--Pittsburgh Contingent, from afar. Good luck, E-dawg! You are a champ! Go, E-dawg! Go, E-dawg! Go, go, go, E-dawg!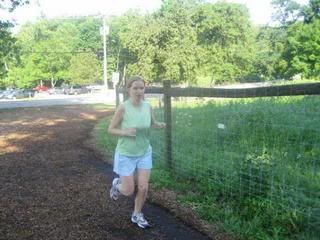 In other news, I visited the Bloomfield Farmers Market for the first time yesterday. I didn't need anything except some apples for the herd, but I ended up coming out with tons of stuff (corn, beans, apples, grapes, tomatoes, basil, some free mango Rita's Italian Ice, some pierogies). It's a really nice market, and had some (seemingly) really small farms. I bought all my stuff from the little guys to encourage them to keep coming back. And, I had big plans of making up another batch of the Slow-Roasted Heirloom Tomato Sauce (from yesterday's post) to freeze (for the glorious taste of summer tomatoes in the dead of winter), but it was too hot to turn on my oven to 400 degrees for four or so hours. So, that's on the agenda for this weekend. Instead I ate some pirogies from the market. I forgot to note where they came from because I was drunk with the smells of frying onions. So freakin' good. Not, of course, "diet food", but still. Dang.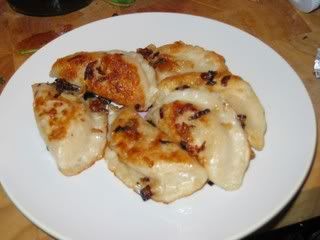 Also, I do "need" to go to the farmers market tomorrow, but only for mushrooms! I'm not allowed to buy anything else. Except rose jelly. I heard that Najat's will have homemade rose jelly this week. Okay, and maybe tortillas from Reyna. But, that's it! Well, maybe something from Cafe Richard...
Argh! I can't be trusted!

But, I do need to make a dish for a party a friend is having tomorrow evening (a Northside Mix-n-Mingle), and I need to make a dish on Sunday to take to Bobcat/Jess for when we meet up on Monday for Scrabble (and possibly another forthcoming food review!). And, I need to make some food for our bike ride/picnic on Sunday afternoon. So, I need to buy stuff, right?

A girl at work told me about a recipe she made last night--artichoke pesto with pasta (a Rachel Ray recipe). Sounds fantastic. And, I'm super-hungry. I want that Right Now. I might have to try that out this weekend. Maybe thickened with some yogurt (and cream cheese?) for a dip...? She didn't remember the exact recipe, but thought it was artichoke hearts, evoo, lemon zest, parsley and walnuts. I'm sure I can figure it out. Hmmm...

Anyhow, I hope you all have a lovely weekend. Cross your fingers that it doesn't rain on Sunday afternoon!