This morning at work my computer couldn't connect to the network. I had such high hopes for a little while that I'd have to be sent home 'cause you can't do anything without a computer. But, thanks to our handy IT guys, it's fixed. Um, yay.

But, it's actually kinda flying by. I just checked the clock, and was kinda surprised that it's already afternoon. I like that in a Friday.

As I mentioned (um, bragged), yesterday I went over to Kara's for dinner. She made three amazing dishes that completely personified summer. The first was an Arabian Stew. (I'll have to cajole her for the recipes). The stew was chock full of all the beautiful summer veggies. I think it was a variety of tomatoes and red and yellow bell peppers, zucchini and squash, onion, cliantro, lemon cucumbers, figs--or maybe dates?, and...not sure what else, but it was amazing. A little sweet, a lot gorgeous. It was almost too pretty to eat. But, I soldiered on. And, I got a snack pack with plenty for lunch today, and a snack (okay, a full meal) later.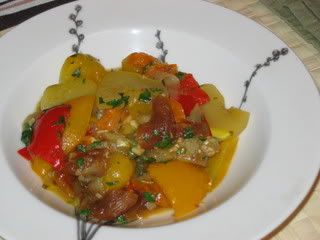 We had this with this really interesting carrot hummus-style dip. I know it had carrots, sesame seeds, green olives, harissa, scallions, red peppers...again, not sure what else except 100% pure deliciousness and love. Served with some wheat flatbread.


And, for dessert, a summer fruit crumble-tart-type thing. Blackberries, peaches, plums, apples? I don't know, but it was all amazing and completely full of the very best freshness of the summer. If you ever get a chance to try Kara's cooking, Do Not Pass It Up, Fools! Yuh-um. Thank you, Kara!

In other news, it was very nice to see Zeke's paws, and to get to hang in the central air yesterday evening. Me + central air = TLA.

And, speaking of paws, I got some especially cute ones from Nowlzie yesterday with The Biscuit attached. So, folks, I give you your Paws of the Day!