I took a long weekend. Left work at 2pm on Friday, and didn't go back until 8:30 a.m. this morning. Now, that is what I call a weekend. That's as it should be. I think I would be really, really great at living a Life Of Leisure.

It was a good weekend. I did my cooking and delivery on Friday, and everything turned out really great--seriously, my best incarnation thus far of the burgers and carrot fries. Once I actually started cooking I stopped being Aunt Frantic, then it was just good times. It was to feed a band, Ember Swift-n-band, that came through for the Queer Songwriters Night. I got to hang out while they started eating, and I got lots of good feedback, which was super-fun. And, a request to deliver to Canada! Here are a few of them chowing down: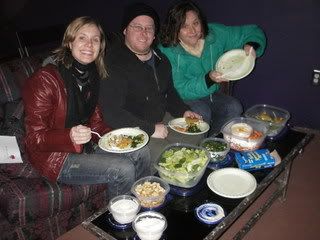 One of the recipes I used was Heidi's recipe for vegan caesar salad that she adapted from Isa Chandra Moskowitz and Terry Hope Romero's new book Veganomicon. Oh. my. god. This dressing is one of the Best Things I've Ever Tasted. Make it! Eat it! Love it! I really want that cook book now, too. I've paged through Post Punk Kitchen quite a few times and Moskowitz's Vegan With a Vengeance, and their recipes are great.

After the drop-off I picked up PYT for our own dinner. We'd planned to hit one of my favorites, Abay, but then decided to check out the new Ethiopian place, Tana. There's been some difference of opinion amongst my group of peeps over the new place. I have to come down on the side of "eh". It was okay, not totally horrible, but not great. The food and service and selection at Abay are WAY better. It's odd that Tana would choose to locate their restaurant only a block from an already successful Ethiopian restaurant (and the only other one in town). Anyhow, I probably won't go back, but I do wish them luck.

Then we went back to catch the show at Modern Formations. Unfortunately, we missed Steffanny/Stephanie-Kaye (I really liked her when I saw her play last year), and we just got Tracy Drach's last song (you should see her "outta sight!" dance!), but we saw Ember Swift's whole set. I hadn't really heard them before, and was pleasantly surprised! Her guitar/bass/voilin player and songwriting partner Lyndell Montgomery was ah-mazing! She played her guitar with a bow, and then banged on the body with it for percussion. Wowza. And, the drummer, Liz, was also really incredible. Good stuff! [Next month Garrison Star will be performing. Check out the series' myspace here!]

Saturday was a lazy day of lunching and browsing and shopping around town with PYT, and then an early night home. Sunday we were invited to brunch with our pals Nat and Heather. Heather made her patently fantastic french toast with raspberries and blueberries and fresh whipped cream. She also made some Scotch eggs, but I didn't try them due to the copious amount of meat. (PYT wants me to investigate a veggie version of these; they did look really good). There were also fruity champagne cocktails, delicious coffee, fruit, fabulous cheese, and I made some cinnamon rolls.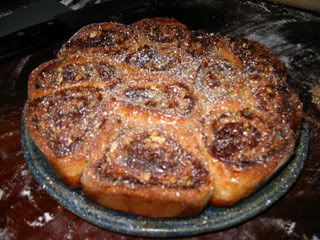 I used a recipe that I'd been eyeing up from the November 2007 issue of Fine Cooking magazine. The article was titled "Cinnamon Buns in Less Than an Hour" by Kathy Kingsley. Right on! They use a biscuit dough to cut the time instead of a yeasted dough that has to rise several times. I was worried they'd be too dense--especially because I used mostly whole wheat flour, but they actually came out really nice and tasty. Next time I think I'll add some orange zest to the filling, and make the glaze orange (with reduced orange juice and orange zest in place of the milk and vanilla). Here's my adaptation of the original recipe (can't link the original because you have to subscribe to the site to get the recipe):

Fastest Cinnamon Buns
yields 12 buns.

FOR THE DOUGH:
3/4 c. cottage cheese (the original recipe specified 4% milkfat, but I used 2%)
1/3 c. fage 0% total greek yogurt (original recipe was buttermilk)
1/4 c. sugar
4 T. unsalted butter, melted
1 t. pure vanilla extract
2 c. flour (I used 3/4 c. of unbleached white flour and 1 1/4 c. whole wheat flour)
1 T. baking powder
1/2 t. fine-grain sea salt
1/4 t. baking soda

FOR THE FILLING:
1 T. unsalted butter, melted
2/3 c. packed light or dark brown sugar (I used half dark, half light)
1 1/2 t. ground cinnamon
1/2 t. ground allspice
1/4 t. ground cloves
1 c. chopped pecans

FOR THE GLAZE:
2/3 c. powdered sugar
2-3 T. cold milk
1 t. pure vanilla extract

Heat oven to 400F. Grease the sides and bottom of a 9-10" round pan.

Make the dough: In a food processor, combine the cottage cheese, yogurt, sugar, melted butter and vanilla. Process until smooth, about 10 seconds. Add the flour, baking powder, salt and baking soda, and pulse in short bursts until the dough clumps together (don't overprocess!). The dough will be soft and moist.

Scrape the dough out onto a lightly floured surface and knead it 4 or 5 times until smooth. With a rolling pin, roll the dough into a 12x15" rectangle.

Make the filling: Brush the dough with the melted butter, leaving a 1/2" border unbuttered around the edges. In a medium bowl, combine the brown sugar, cinnamon, allspice, and cloves. Sprinkle the mixture over the buttered area of the dough and pat gently into the surface. Sprinkle the nuts over the sugar mixture.

Starting at a long edge, roll up the dough jelly roll style. Pinch the seam to seal, and leave the ends open.

With a sharp knife, cut the roll into 12 equal pieces. Set the pieces, cut side up, in the prepared pan; they should fill the pan and touch slightly, but don't worry if there are small gaps.

Bake until golden brown and firm to the touch (20-28 minutes; mine took just 20). Set the pan on a wire rack to cool for 5 minutes. Run a spatula around the inside edge of the pan. Transfer the rolls to a serving plate (I did the ol' plate on top, and flip out onto another plate trick).

Make the glaze: In a small bowl, mix the powdered sugar, 2 T. milk and vanilla to make a smooth glaze. It should have a thick but pourable consistency, so add up to 1 T. more milk if necessary. Drizzle the glaze over the rolls. Let stand 15 minutes and serve. I also sprinkled on a little extra powdered sugar for cuteness sake.

Yum. And, the smell that fills your house while these are baking is positively heavenly!

So, anyway, back to brunch. I had to scoot out early so I could make it to the hypnosis session I'd scheduled for that afternoon. And, it actually ended up being the same guy that I'd looked up online. Leaving the session I had high hopes, and had no desire to smoke on the drive home (from Washington Co). But, then that night around 9:30-ish, I started wanting to smoke really, really badly. And, that happened a couple times yesterday, too. So, the jury is still out. I think it might have helped a little, but my cravings definitely aren't gone. But, he also suggested lots of water and vegetables, and I have been wanting both a lot. Here's the salad I made when I got home (and I've reprised this several times since):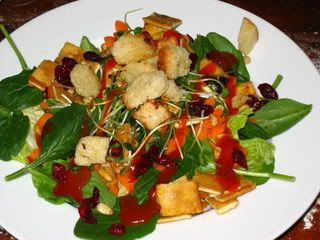 It's baby spinach, some tofu that I drained/pressed, then sliced super-thin and pan-fried with a little toasted sesame oil and Bragg's, some of my leftover croutons from the delivery the other day, diced carrots, dried cranberries, toasted pine nuts, radish sprouts and a lot of freshly ground black pepper. (That just made my stomach growl).

Tonight PYT is making me dinner. Can't wait!