Have you Pittsburgh peeps been outside today? It's sunny! It's warm! Where the heck are we? I just heard it's supposed to be almost 70 degrees tomorrow! I wish work would dismiss us due to weather.

I hope you all had a lovely weekend! I did, indeed. A little chillaxin', a little qt with a Hurd, fun times with a lovely new acquaintance, brunch at Zenith, saw Juno (if you haven't seen it, do!), had the first Bushwicks practice with Mags in over a year. Good times, all.

[Incidentally, do not let a Hurd convince you that she doesn't like games. I mean, look how excited she is over Trivial Pursuit!]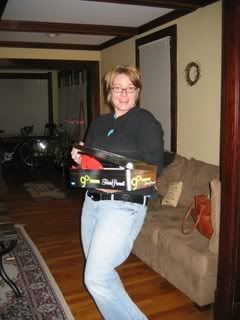 So, so, so...so much to catch up on since I was a slacker with the bloggin' over the holidays. But, a quick overview:

1. xmas was great. I went down to WV to see the fam, and (to steal a clever phrase from The Gooch) to recharge my accent*. Here's me and my beautiful and youthful mom: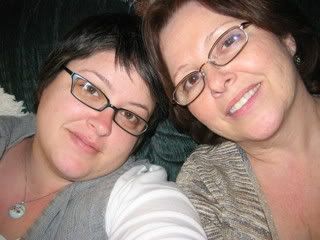 And, to add another generation on, here's my freakin' adorable niece, her only self:



*Regarding the accent, it doesn't take long for me to re-pick it up. I heard myself telling my step-dad, when I meant that I was going to get out of the car to walk my dog, "Ahm jus gon waukeem real quick" which translates as "I'm just going to walk him real quick." Whoa.

Also, my step-dad adopted a baby deer (now named Dixie), and has fed her for the last few months. She's joined her own herd, but she stills comes about three times per day for treats (apples, corn chips, deer kibble) and for pets. It was so fun to pet a baby deer! I wish I'd gotten a picture, but every time she came up my camera was charging, or downstairs, or something.

2. New Years Eve was great. I was at Zeke's with the and the K-Bear, and we had a lovely time with some pals who stopped by to count down to the new year.
K-Bear loves hats: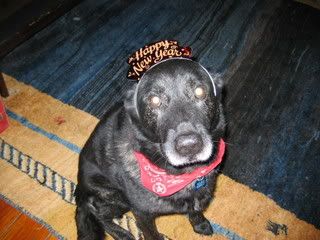 I made a spread of snacks for the soiree. I had:
-veggie sushi (assisted by the E-dawg)
-curried potato-pea-spinach puffs
-mini artichoke-spinach-sundried tomato quiche
-mini wild mushroom tarts
-buffalo tofu dip (this actually didn't turn out so great)
-my mom's famous cheeseball
-a gorgeous cheese spread (by E-dawg, with pears, honey and blackberries)
-a delicious mocktail (also by E-dawg), the Bramble with a juniper berry/bay leaf syrup mixed with seltzer water, fresh tarragon, meyer lemon juice and blackberries (this was SO good!)
-mesquite chocolate chip cookies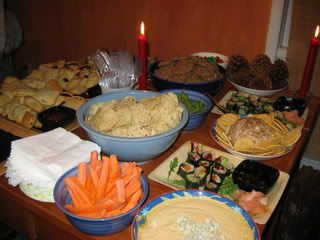 And, a few peeps stayed over, and Heather actually brought all the fixins for breakfast the next day--fancy french toast with banana yum and raspberry compote. Yum!



Also, I realized that you know when you are old when at the end of the night on NYE you're not passed out and/or making out with a stranger, but instead you're doing a load of dishes and sorting recycling. I loved it.

2. My new ride! I'm loving it!



I'm so glad to be mobile again.

And, now that we're back up to speed...

Hurd and I tried to check out the new Ethiopian restaurant, Tana, on Saturday, but arrived just as they were closing for a few hours between lunch and dinner. Kramer and Mags had lunch there last week, and gave it two thumbs up, way up. I can't wait to try it.

Tonight is Classic Book Club. We read Look Me in the Eye: My Life with Asperger's by John Elder Robison (Augusten Burrough's older brother). Plus, there are always lots of delicious and surprising snacks.