Peeps, thanks for all your sweet notes of encouragement--both here in the comments and via email, gmail chat, phone, etc. You're swell and awesome and great. You are the wind beneath my wings. I really needed it, and you gave it. Thanks for that.

I (re)quit smoking again yesterday. I think about it incessantly, but it's okay. Mags and I were talking about paws earlier, and I decided that I'm going to think about cute paws and/or look at pictures of cute paws every time I get the urge to smoke.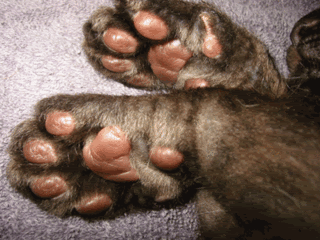 I feel real angry on the inside today, but paws make it better. PMS does not. Just sayin'.

I did cook something last night, too. Just made a pizza and roasted some red peppers. The pizza was Trader Joe's whole wheat crust (per E-dawg's suggestion--thanks!), pizza sauce (I think this was also TJ's), little pear tomatoes--red and yellow, basil (from my step plants), banana peppers, light feta (also TJs), part-skim mozzarella, crushed red pepper flakes, green pepper, red onion, dried parsley flakes and garlic. It was tasty, and it was a baby step.


For the peppers, I just baked them while I was getting the pizza read, and while it was baking. So, like, 400 degree oven for 45-ish minutes, and I turned them twice. Here's what they looked like when they came out (before I peeled the skins off, seeded them, etc.). So yeah, you wash your peppers, and put them on their sides in the oven still whole. 400 degrees for about 45 minutes, and flip them every ten-fifteen minutes or so. Then, when you take them out, wrap them in foil or put them in a glass bowl covered with plastic wrap, or put them in baggies, or whatever, until they're cool. Then peel off the skin (it comes off pretty easy), remove the stems and seeds. Voila!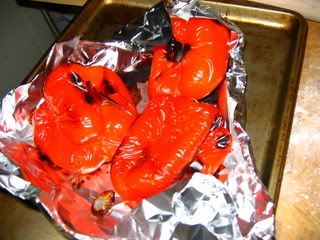 Pool-er-cize today, Bloomfield pool, 6pm. Feel free to splash on by!