Yeah, that's how I roll. Not like forcing peeps into fitness, but requiring force for myself. Why can't you get healthy by hanging out eating crullers and smoking cigarettes and drinking coffee and getting your sporting in with a hotly contested game of Scrabble? Whyyyyyy?

Okay. I did this before. I was on a roll. Maybe even On Fire. I can do it again. Right? Right!

Kramer has bullied me into starting up morning walks again. We used to do them last winter/spring every weekday morning through Allegheny Cemetery. We started again this morning, but it was a short one--largely because I forgot to set my alarm an hour earlier. But, it wasn't horrible. I mean, I was sorta cursing her name while we did it, but then it was fine. We just did a mile this morning, but I think we used to do three. She read on the internets that we should walk for an hour five days a week. And, she made me plan a biking outing for next weekend, too. (don't point out to her that she's just helping me Kick Her Ass at the weight-off off).

But, as much as I want to raise my tiny fists to heaven and bellow out: I HATE YOU, JEN KRAMER!, I realize that this is the kick in the pants that I really needed. It's tough stuff. So, thanks, Kramer. How have you all dealt with set-backs and forcing yourselves back on track?

In other news, I attended the Classic Book Club meeting last night, and a good time was had by all! Have I mentioned how much I love book clubs? They are the apex of hanging, reading, talking, snacking, drinking and nerding out that I aspire to every day. We'd read a rather silly, much-too-young-for-us book, and so there wasn't a whole lot of discussion about it, but I think that the next book sounds pretty interesting: The Female Brain by Louann Brizendine, M.D. Judging by the impassioned and lengthy comment reviews by amazon customers I imagine it's going to be great fodder for discussion. Right on.

Apart from the reading, we got down to some eating. I made a salad with the white beans I cooked yesterday and a bunch of veggies from this week's CSA. It was pretty. See?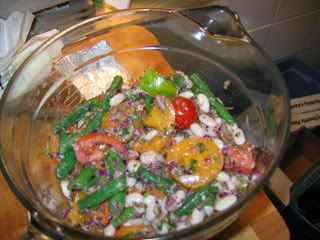 But, I over-mixed it, aesthetically speaking. I kept thinking to myself, "If Heidi made this, she would've mixed in the dressing with the beans first, and then just gently folded in everything else so it was beautiful and lightly flecked with purple, orange and green. But, I sir, am no Heidi Swanson. WWHSD? Ah well. Next time I'll try to keep the pretty in mind. I mean, it was still pretty 'cause of the colors, but still.

Here's what I did:

CSA Salad

white beans, cooked, rinsed and drained
green beans
tomatoes (I used red, yellow, red cherry and green zebra), cut into chunks
purple cabbage (I grated half of a small head)
carrot (I grated one large-ish carrot)
green onion (the ones I got were HUGE, so I just used one, but probably could have used another), thinly sliced--white and greens
sea salt & freshly ground black pepper, to taste
some grated and/or shaved parmesan for topping (I used both)
several basil leaves torn into small pieces or julienned for topping

pesto:
big bunch of basil
pine nuts (about 1/4 to 1/3 cup)
garlic (used 1 clove)
olive oil (about 1/2 c)
parmesan (grated, about 1/4 cup)
sea salt & freshly ground black pepper

I didn't really measure anything. Just kinda tossed it together until it looked like enough of each thing.

I soaked the white beans overnight, and then cooked them for about 40-ish minutes with a piece of kombu (helps make the beans more digestible). While the beans were cooking, I cleaned the green beans and steamed them in a mesh colander in the pot where the white beans were cooking (one less dirty dish!) for a couple minutes, then shocked them in some ice water so they'd retain their bright green loveliness.
Made up the pesto in my handy dandy chef's chopper (mini food processor), and left it kinda chunky.
Then just mixed everything together (see my note about WWHSD? above). Don't go crazy with too much pesto. It's better to let the vegetables' flavors come through. Freshness personified. Dig it. It was super-easy, and it was fun to just reach into my bag o' CSA goodness, pull something out, and use it right then and there.

Oh. You know what else I'm reading right now? (Well, some of you do since you're now my goodreads friends. Holla!) Animal, Vegetable, Miracle: A Year of Food Life by Barbara Kingsolver (written with her husband and daughters). I just started it, but it's good. Like, good-good. I just read this utterly fascinating passage about asparagus. Check it out, folks.

And, I've said it before, and (I'm sure) I'll say it again: if you haven't yet read The Omnivore's Dilemma by Michael Pollan, what're you waiting for? It's fan-effing-tastic, is right up your alley (I think; if you're reading this blog), and completely blow-you-away fascinatingly amazing. Classic book club read it month before last, and we talked a little again about it last night. The part about the mushrooms? Woah. (what? you don't know the part about the mushrooms? yeah? well, read it! it's even out in paperback now! do it! it feels good!)