This seems like the kind of day that would be really good spent under an afghan (the blanket kind, not the person kind), reading, eating soup and grilled cheese sandwiches and intermittently napping. At least that's what I was thinking when my alarm went off this morning (and I snoozed it for over an hour). But, the weekend was swell, so the alarm on Monday is the price you pay, it seems.

Friday I had a swim-date with E-dawg and Kramer. After some hectic running around and changing of locales, we met up at the Bloomfield pool, but it was kinda cold! So, we just pooled it for a while, then made a beeline to the wine store and back to Zeke's house for a little mezze-style feast. We included the leftovers from Kara's delicious cookin' the other night--the arabian stew and carrot hummus, and added in some cheese (extra aged beemster gouda - it has these amazing little crispy crystals that give it an awesome texture) and crackers, this Tomate Salade that Ellen riffed from The Splendid Table (big, thick slices of yellow and red tomatoes with a vanilla-citrus dressing), some nicoise olives (I think?), oven baked carrot fries and roasted potatoes and shallots with a chipotle dipping sauce based on this recipe from Heidi's site, and some banana chips dipped in a honeyed version of the chipotle sauce, washed down with some white wine in the courtyard, escorted by our speckledy friend Zeke. It was delicious, and just looking at these pictures made me wish I had a vat of the potatoes and chipotle sauce Right Now.



Yum.

Saturday morning E-dawg and I hit the Firehouse Farmers Market in the Strip, where I got more (more!more!) tomatoes, a piece of organic raw chocolate, and ran into the Davidson-Wagner clan out a-shopping. Sadly, Mushrooms For Life weren't there, 'cause I was craving some baked shittakes. But, we also hit Reyna for some fresh tortillas (where E-dawg was several people behind me in line and I overheard her on a phone call with Baby Boo where she was saying, "Oh, just read it on the blog". When I asked her about it, she said, "I didn't feel like listing everything we ate last night, so I told her just to read about it." heh.).


We also stopped in to Cafe Richard for lunch of spinach quiche, and it was fantastic--perfect crust, creamy filling. I love this place! I've walked past it a billion times, but had never gone in. It's really French, and really cute. I did not do well on the diet, but did do well on taste by ordering a coconut cream tart to go for later. It was uh-MAY-zing. The flakiest, butteriest crust, the silkiest custard, the fluffiest whipped cream. My god. In fact, I think I saw god. Perfect.

I made one more stop at Penn Mac for some grueyere where E-dawg's nimbleness and petite stature allowed us to spot and snag a number that was fifteen spots ahead of the one I'd grabbed--and, then we also got to help out someone else by giving them our number. Nice.

Saturday evening we rolled out to Sewickley to celebrate our dear pal Susie's graduation and going-away. She's heading out West to join up with her fabu gf (who surprised her by flying in for the party/weekend!) in Monterey, CA soon. The party was at her parents' house, and everything was planned perfectly. I *wish* I could be this organized! And, there was lots of consideration given to the vegetarians in the house--including that we got to eat first (they grilled the meatless meat first) and several delicious dishes were pointed out to us as specifically veg. We ate ourselves silly and ended the evening swinging in a hammock by the fire and making s'mores while belting out 80s style television theme songs. Good times.

Sunday I had a little work to-do at Dave and Busters. I'd never been to Dave and Busters, but had heard it described many times as "the grown-ups' Chuck E. Cheese". And, it was! Kramer went along as my plus one, and we had some snacks with my coworkers, then hit the game floor for some serious game-tastic delights. The event was an appreciation type shindig, and they gave us a card with $50 in game credits! Sweet! I could see where D-n-B could get really pricey if one were paying for it outta pocket, but the extent of my expense was $3.25 for a bottle of rootbeer (it just seemed to fit) and tip to the bartender. My favorite games were air hockey, the shooting of the basketballs game, and Ms. Pacman/Galaga. My least favorite were this bowling game that ate up a billion credits, hurt our hands, and wasn't even fun, and Qix, some old-skool game bundled with Space Invaders (what I meant to play) that we couldn't figure out. All in all, I felt real appreciated, and it was a perfect activity for a rainy day.

This was the boxing game. Notice how cool and tough I look.


No, seriously. Why does Kramer look like a normal person, and I looked like a freak?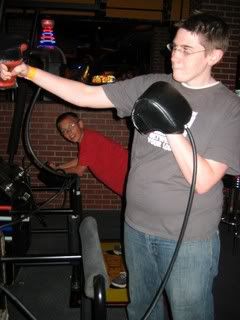 ps. China-Bear paws.