Guess who forgot their camera last night, and therefore was only able to take a couple crappy phone photos? I'll give you a hint. Her name rhymes with Behrrin Beenan.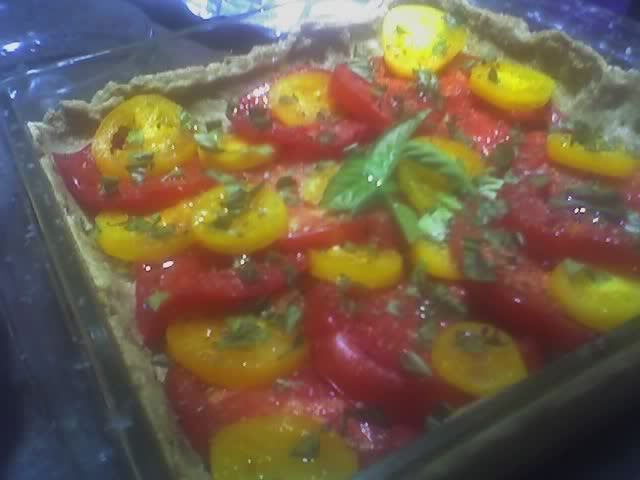 I'll have to make it again. The crust was a very tasty vehicle for getting the tomatoes and basil into my gullet. I just went with the fresh slices instead of "Chef Mark"'s suggestion of lightly sauteeing the tomato slices. They were just super lovely as-is. Not that you can tell that from the photos...

There were also two fantastic homemade salsas at the book club. You can tell it's tomato season! And, a selection of dips, grape leaves, cupcakes, rice pudding, lots of wine and good times. I love book club! We read A.M. Homes's The Mistress's Daughter, a memoir of the author's experience in meeting her birth parents as an adult. Most of us felt kinda 'eh' about it, but several in the group had read her fiction, and described it as "great" and "creepy" and "disturbing". I like the sounds of that, so I have one of her novels, The End of Alice, on loan from the library right now. Along with...um...fourteen other books. Admittedly, I do have a bit of a problem when it comes to getting carried away with library books, but also I had a bunch of stuff reserved, and it just all happened to come in at once. And, I just got an email that another one is in! Eek!

The best part is that I have another book club meeting next week--"classic" book club. But, we, um, read The Sisterhood of the Traveling Pants. Not my choice! Not it! Actually, I shouldn't be overly hard on it because it is teen chick lit. I mean, for real. What can you expect? And, in that context, it was fine--just not something I'd normally want to read.

Are you on goodreads? The myspace equivalent for book nerds? Yes, I know I've mentioned this (a couple times) before. Get on. Be my friend. Let me evaluate you based on your choice of reading material. Doesn't that sound fun?!

In other news I'm still struggling. A lot. With smoking and eating and cleaning and just generally feeling motivated and not depressed. I'm not exactly sure why. I thought that confessing would make me feel better, and it did--temporarily, but then I just felt more pressure to be "good". Blah.