Yep, it's officially summer! As of 2:06 p.m. I will say Yay! Summer equals swimming and tomatoes and cucumbers and basil and cute girls in minimal clothing and being busy in the best of ways. Again, yay!

I had a little plate of summer last night for dinner. I picked up my CSA (I got the whole thing this week since Jen's outta town! Yay!). We got: lettuce (mesclun?), spinach, green onions, peas, parsley, beets, zucchini, squash. Verdict: yum.

I supplemented a little from Whole Foods and made a salad for dinner with spinach, green onion, basil, cherry tomatoes, peas and avocado. Served it up with the last of my lovely raspberry dressing, some baguette smeared with brie (fromage d'affinois) and a mango Synergy kombucha. It was a fresh delight!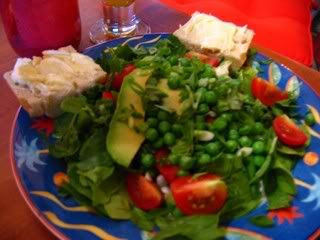 I'm still kinda sick, but I could feel the freshness starting to heal me. It totally works!