Yes, I am counting down the days until I'm going to the beach for my All Gal Beach Extravaganza 2007!!! We go to Stone Harbor, NJ, every year. Schwatts' dad has a house there that he generously lets us use for a week each summer and it's just a little slice of heaven. Half a block from the beach, two decks, lotsa bedrooms, lotsa mac-n-cheeses (what Katherine calls the bright orange throw blankets). And, we just get together once a year to chill, catch up on our lives, do workshops for one another, make and eat some tasty food, play in the ocean and bake on the beach and generally just have the very best week of the year. I'm chomping at the bit!

So, this weekend I went grocery shopping at the Co-Op, Trader Joe's, the farmers market and Reyna, (and Family Dollar for a cooler!) and stocked up with ingredients for some recipes I'd like to make in the next couple of days to take down with me. I think I'm going to make otsu, sprout burgers, wheat berry salad, crunchy/creamy beans-n-greens, chile de Arbol sauce and some mesquite chocolate chip cookies. But, I really only have one free evening until we go, so that's the goal list, and it'll probably be a little smaller than that actually, but I can take the other ingredients with me--'cause now I have a cooler! Guess whose recipes those all are? I'll give you one guess. Her name rhymes with Meidi Mwanson.

And, speaking of Heidi, I was reading her blog today and she gives a link to the Elastic Waist website because they have a video up of one of the contributors making the Straw and Hay Fettucine Tangle with Spring Asparagus Purée recipe from Heidi's Super Natural Cooking. I haven't made this yet, but Nowlze and I were just discussing alternative pestos last week, and I mentioned this one. It looks so good!

This weekend was a good time. You may or may not know that I like a good time. Friday was Gist Street (one of my favorite evenings of the month). I again did not win the eggs in the raffle, but maybe my luck is just saving itself up for a week when the chickens go crazy and make One Billion Eggs. I think that must be it.

Saturday morning the K-Bear and I met up with Zeke (my dog-sit friend) and his mom at this really beautiful dog park in Aspinwall/Fox Chapel. You can tell it's where the richies live 'cause it's super clean and unspoiled and just generally awesome. Lots of trails, a creek, biodegradable poop bags. Caleb and Zeke were thrilled to see one another. They get especially excited when things are out of context. I wanted to snap some pictures of them but they were way too busy sniffing stuff to pose. Here is a picture of some wildflowers, though.



I spent the rest of the day on Saturday doing some grocery shopping and napping. And, then Kara came over in the evening for an ice cream and game party (for two)! It all started when we were emailing back and forth about recipes, then ice cream recipes, and then we had to have some homemade ice cream! We both made a base in advance and got our ice cream machines ready, and then the plan was to play some games while the ice cream was freezing. Which was a perfect plan except that Kara's ice cream maker bit the dust. We noticed that it hadn't really frozen at all after nearly an hour, and so it had instead been actually warming up instead of freezing. Her maker was a really nice automatic Krupps one, but evidently something had gone horribly wrong with its freezing power. So, after I made mine, we tried using my maker, but the combo of it having just been used, my refrigerator not being an optimum temperature (due to all the new groceries) and it having been warmed and whipped for an hour it just never did sit up that night. But, the next day? Woah! She left it in the machine at my house, and that is like hitting the jackpot! Her ice cream flavor was avocado (and it's even raw and vegan!). Hot damn. The flavor is really...green. Like, it tastes a little like just under ripe bananas (which are my favorite fruit, but only when they're not quite ripe) and like avocado and like goodness. It's a little bit icy, but I'm thinking that might be because of the prolonged freezing process. Oh my god, it's good.



I made a rose petal ice cream. I got the recipe by googling one billion rose petal ice cream recipes and settling on the one that sounded most reasonable and rich. It's from the Border Grill:
Ingredients:
3 fragrant organic roses, petals only [E note: use organic here for sure!!!]
1/2 cup milk
3 1/2 cups heavy cream
1 cup granulated sugar, separated
6 egg yolks
1/4 cup rosewater (or to taste), available at Middle Eastern stores
3 drops red food color, optional

Directions:

Wash the rose petals in cold water and pat dry. In a heavy, nonreactive saucepan, place petals of 2 roses, milk, cream, and 1/2 cup of the sugar. Place over medium heat and heat to just under boiling. Let steep about a half hour to infuse.

[E note: there's a misprint with this recipe because they never tell you to add the rosewater. I added it when I added the rose petals.]

Combine the egg yolks and the remaining 1/2 cup of sugar in a mixing bowl. Whisk until thick and pale yellow. Bring the rose/cream mixture back to a near boil and whisk 1/4 of the warm mixture into the egg and sugar mixture. Then pour all of the egg mixture into the rose milk and place over low heat. Cook, stirring constantly, until the mixture is thick enough to coat the back of a spoon.

Strain into a bowl and chill on ice. Pour into the ice cream maker and freeze according to the manufacturer's instructions. Transfer finished ice cream into bowl and add the torn petals from the remaining rose. Fold into ice cream and pack into freezing container.

Due to do the temperature issues described above, we ate it as soft serve (or, soup). It was really rich and deelish.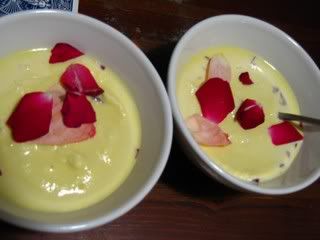 This is what it looked like the next day: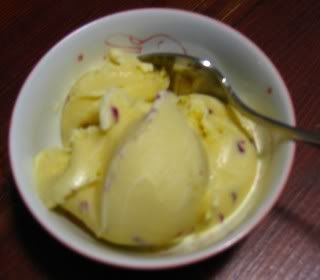 Sunday morning I was supposed to go to WV to visit a friend, but she wasn't feeling well, so I stuck around the 'Burgh and met a Hurd for brunch at the Quiet Storm. We got two of the specials and split them: Avocado-"Bacon" Frittata with Smoked Paprika Aoili and Chocolate Chip Pancakes with Honeyed Ricotta. (and I got some grits and she got some roasted sweet potatoes--just to make sure that we were in pain). Oh, golly. Those were good. Especially the frittata. Dang.

For dinner I made a salad that was inspired by a sandwich that Bozena brought to the after-kayak picnic. Her sandwich was avocado, hardboiled egg and argula on whole wheat. My salad was spinach, basil, hardboiled egg, avocado, sauteed pea shoots with egyptian onions in a tad bit of toasted sesame oil. The dressing was just fresh-squeezed lemon juice with sea salt and pepper. I made the same thing for lunch today. Yum.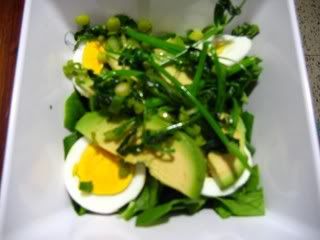 Okay. I've also come to a hard realization, too. It is that I lost 40 pounds by eliminating the processed crap out of my diet, but now my body has acclimated to that and it's just not enough anymore and I still have 60 pounds to go. I've been just thinking (aka justifying) that as long as I'm pretty much making everything I eat from scratch then that'll do it. Because it is all good for me, but it isn't all good if you're trying to lose weight. So, I need to kick this stuff up again. I did the whole first part of my diet with pretty much only changing the way I eat, but then got lazy. So, now I need to make a commitment to exercise at least three times a week and to drink at least eight glasses of water every day. I do best with this stuff when I actually write everything down. It helps me to be aware of what I'm doing and I always enjoy a good spreadsheet. So, dear friends, help keep me honest, and that means that if I say that I think it's a good idea to get those white chocolate chip and raspberry chocolate cookies from Sand Hill Berry Farm at the farmers market, you punch me in the throat.