I also wanted to post about the pizzas I've been living on since I returned from the beach. I made a recipe of Heidi's thin-crust pizza dough from Cook 1.0, except that I used half whole wheat flour. She gets six pizzas out of it, but I got five very thin crust pizzas. They are very yum. And, since they're relatively small and the dough is very thin, they're not even so "bad" for you!

E-dawg came over for dinner on Saturday in the middle of our Pride celebration and we had a fresh green salad (spinach, romaine, radishes, amorosa tomatoes, basil and the raspberry dressing) and a pizza with sun-dried tomato puree, fresh tomatoes, goat cheese, basil, veggie sausage, chopped dried figs, red onions and crushed red pepper. It was yummy, but I thought it needed something salty to balance the sweetness of the sun-dried tomatoes and figs. I made another one the next day (or, was it in the middle of the night when I got home...?) with all the same stuff except using feta instead of the goat cheese and it was perfect.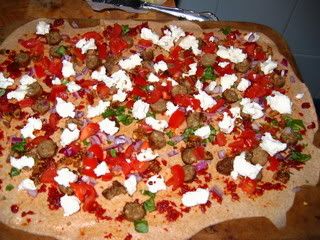 Here's one with banana peppers, red onion, parsley, a tomato sauce that is just fresh and sundried tomatoes pureed, grated cheddar and mozzarella. But, again, I felt like it needed something. It was pretty acidic, and needed something to balance it.



So, I made it again last night and swapped out the cheese for feta and added some roasted garlic. Perfect.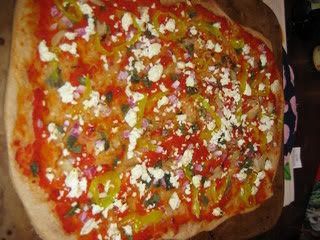 I love keeping a big ball of pizza dough in my fridge because then I can make something delicious to eat in under 20 minutes, including baking time (10 mins).

Sweet.