When I got home last night I realized that I did, in fact, have a tiny bit of olive oil with which to make some white bean dip for book club, so I did it. It's the first time I've made it, but friends, it won't be the last. It was possibly the easiest thing I've ever made and was really tasty. I'd cooked the beans (great northern white beans) the night before with a piece of kombu after soaking them overnight. Kombu is a sea vegetable, and if you use a little piece in your pot o' beans it helps make them more digestible and according to The Internet is rich in protein, calcium, iodine, magnesium, iron and folate. Lower rates of breast cancers have been reported in Japanese women eating a diet high in kelp. Lignans, which help fight cancer are found in high quantity in kelp and may provide protection against certain cancers. So, good stuff. Here's the recipe for the easiest-peasiest white bean dip in the history of white bean dips:

2 c. cooked white beans, drained
a little water
a little olive oil
a little salt

In your food processor puree the beans. Add some water for the right consistency. Add a little bit of olive oil and salt to taste. Then drizzle with a little oil to finish. Serve with pita wedges or your favorite veggies.

For real. That is the simplest recipe ever. And, really delicious in its simplicity. You can serve these like you would mashed potatoes, too. Or, I was thinking of pureeing some olive oil with some fresh parsley and making a swirl. And, you could add whatever herbs you like, but I just liked the pure soft white creamy goodness. Also, low-cal and low-fat and high protein and fiber. And, yum.

You shoulda seen the table of treats at the book club last night. Peeps were throwing down! Cheesecake with mangos and white peaches! Watermelon salad! Vegan rosemary-pine nut shortbread! Zucchini muffins! Fresh fruits! Rice crispy treats! Sesame noodles! And more! I can't even remember everything because there was so much goodness. And, I stuck around long enough to be sent home with a doggie bag full of a piece of cheesecake, some watermelon salad and shortbread. Yuh-um. For reals.

Apart from the food it was just a super-fun book club. We discussed Miranda July's No One Belongs Here More Than You and most of us (all but one) felt real, serious love for this book. I adore it. It makes me happy just thinking about it. If you also like to be happy, you should see the website for this book. It's the cutest/cleverest website ever, too. I love you, Miranda July!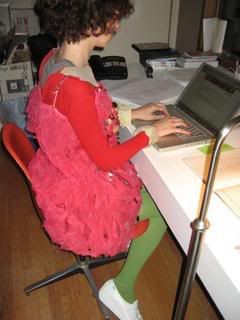 You know what else makes me happy? Huh? Guess. No, guess. I mean, I already told you about it, so guess. Give up?

Okay. I had my appointment with the debt counselor guy this morning, and I'd been so terrified for so long about doing this and was on the verge of tears when I sat down in this guy's office, and I'd already had a conversation with myself and given myself permission to cry if I had to because I figured that this dude had probably seen it all before, but to try not to because I'm already super stuffed-up still and it would suck to be even more stuffed up, but either way It Would Be Okay. And, you know what? It was okay. All of it. Like, I didn't even have to cry (well, not too much).

I went to Advantage Credit Counseling Service in the South Side. I'd called the United Way, and asked them for a recommendation for who to talk to, and they said that this was the only place they recommended in Pittsburgh. And, it's free. (There is a charge if you set up monthly debt consolidation payments with them, but even that is pretty cheap, but the counseling is totally free). And, they pulled my credit report, went through my monthly/yearly budget, talked about my future plans and current/desired situation, made very helpful and realistic suggestions, and the guy I saw was just a really kind, friendly guy. You should go. Ask for Justin. He's super. And, he told me about this site where you can get one free credit report per year, and it pulls from all three credit agencies (they don't let you take the one they pull; they have to shred it). Seriously, it was one of the best things I've ever done for myself. I finally got a clear picture of my debt and some good, objective advice about the best way to get to the place I want to be. To my surprise, he didn't push any services on me, and didn't even advise that trying to pay everything off right away was the best idea for me (since I'm needing to save right now for something specific). He was great. I feel so relieved. And, you know what? It wasn't as bad as I thought. My credit, I mean. I'd built it up into this horrible, scary thing that I could never hope to deal with, but I can. I have the knowledge I need now to do it. I talked to someone honestly about my real situation and the ground did not open up and swallow me whole. I didn't find a bunch of money, either, but now I know what I'm dealing with. And, the only time I cried was at the end of the meeting and that was with gratitude and relief. And, only a few tears--not nearly enough to make me stuffier.