Don't worry; it's the *good* kind of breakin' legs! I went to the audition yesterday, and it was really, really fun! I loved reading for the part, and I got to see a couple other people audition, and that was really interesting, too. The film project is for a pilot that a friend of mine is pitching to the premium networks (like hbo, showtime, etc.). I stuck around to do a complete read-through of the script afterwards so they could time it, and it's a great story. I'd totally watch it. I hope it gets picked up! I mean, I, obviously, wouldn't be in any kind of finished version that would actually air on the TV, but still. It's a great story, great characters (all the main characters are women), and I think it's going to be great. I volunteered to help out with whatever is needed because it's just super interesting and fun. Go, Dominga!

Before heading out for that adventure, I stopped by home and made a quick salad and an awesome salad dressing. The dressing was a raspberry vinaigrette, and I got the recipe at the raw foods "cooking" class at Whole Foods a couple of months ago. This is a recipe that Matt devised when he was trying to recreate the raspberry vinaigrette from Sand Hill Berry Farms. I haven't had theirs, and in general I'm just kinda over raspberry vinaigrettes, but this one is so amazing--in taste and appearance. Seriously. A show-stopper. And, really easy to make.

I should've taken the picture before I coated it in a fine layer of pepper, but you can still see the gorgeous color: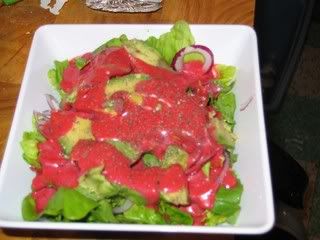 Here it is in its jar with an orange and lemon for color gauging: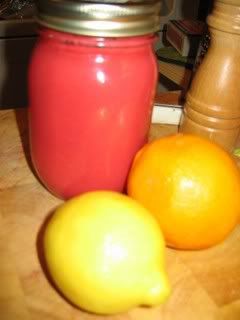 Matt's Fresh Raspberry Vinaigrette
(keeps up to 2 weeks refrigerated)
1 c. raspberries (that have been frozen and thawed, so they're releasing their juices)
2-3 dates, pitted
4 1/2 t. apple cider vinegar or 3 T. lemon juice [ek-I used the lemon juice]
1/2 c. - 3/4 c. water
1/4 c. flax oil [ek-I used extra-virgin olive oil]
2-3 cloves of garlic [ek-I used 3, but I'd use 2 next time]
3/4 t. sea salt

Place all the ingredients except the oil into a blender and puree. Drizzle in the oil while the blender is running to emulsify the dressing. (per serving, cal: 27, carbs: 2, fat: 2, protein: 0)

Yum. I'm going to take this to the beach with me.

And, after returning home last night I was craving some vanilla frozen yogurt. I'd read a post on Heidi's blog about a recipe for vanilla fro-yo from David Lebovitz's book The Perfect Scoop (which is right now, at this very moment, waiting for me to pick it up from the library). This is the most simple recipe ever. And, freakin' delicious! I used Fage Total (full fat) because I kept reading that you couldn't make it with the fat-free (not sure why. maybe the texture doesn't freeze well?). Next time I'll try it with the Fage 2%. I think that'd be fine.

I just used 2 containers of Fage Total greek strained yogurt, 3/4 c. organic sugar, 1 t. pure vanilla extract. Mix it all together until the sugar dissolves, and throw it in your ice cream maker. It's done in about ten minutes. I ate half my bowl of it before I remembered to snap a picture, which didn't come out too well, but here it is. You should look at the photo on Heidi's site. That is what made me Have To Have It.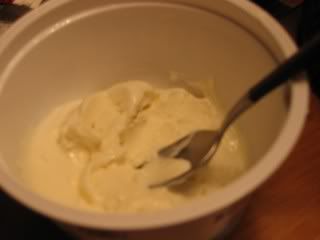 So, at the end of the day I stayed in my nutrition ranges. I ended up at:
Cal: 1273 (range 1200-1550)
Carbs: 194 (range 135-252)
Fat: 45 (range 27-60)
Protein: 43 (range 30-136)
Water: 7 (goal 8+)

And, I wasn't hungry at all, and didn't really think about it that much.

It's CSA Day! I love CSA Day! Ellen picks hers up on Tuesdays so I get a little preview. She said it was lots of greens, strawberries!, pea shoots, herbs (oregano, thyme, sage), garlic scapes, lettuce. Yummy freshness!

Here's today's breakfast-n-lunch pack: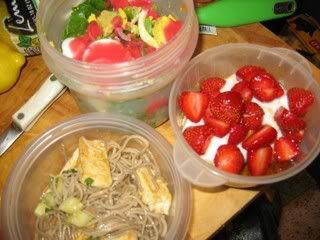 From the top, clockwise:
-salad with romaine lettuce, red onion, avocado, hardboiled egg, orange bell pepper, bac'uns, and raspberry vinaigrette (cal: 298, carb: 17, fat: 21, protein: 11)
-grape nuts, Fage Total 0% yogurt, strawberries and 1 T. honey (cal: 335, carb: 72, fat: 1, protein: 13)
-otsu (cal: 186, carb: 25, fat: 7, protein: 9)

And, three glasses of water so far.