Well, quite often during my beach week I remembered to photograph the food, but sometimes I forgot and sometimes it was too good for me to get up and grab my camera. I took a couple old standbys with me--Heidi's wheatberry salad and otsu. Always good. We ate the otsu in the car after picking Dra up at the Philly airport, and ate the Wheatberry Salad right after arriving at the beach and settling onto the back deck. But, everyone there was a talented cook, and a couple of them are honest-to-god chefs, so believe me when I say we ate like queens.

I held strong with sticking to my vegetarian ways and didn't eat any seafood even though it looked and smelled dreamy. Seafood was always my favorite. I considered just making an exception for that week, but then I opted not to go the route that would ensure guilty feelings. So, no fish for me, but I'm including a couple pictures with seafood because it looked so good.

What I made: otsu, wheatberry salad, mesquite chocolate chip cookies, lemon soup, zucchini-feta-herb salad, crepes w/ lemons and sugar and/or berry-rhubarb compote, veggies burgers (based on the sprouted garbanzo burgers and a bunch of extra stuff throw in), fresh rolls, Heidi's Yucatan street corn, marinated tofu filets, and, um, that's all I can remember.

wheatberry salad on fresh greens (based on Heidi's recipe from Super Natural Cooking):


lemon soup (Molly Katzen's recipe from The Enchanted Broccoli Forest):


corn and fixin's (crema w/ lime zest, queso blanco and limes dipped in chipotle chili powder):


fresh rolls with spicy peanut sauce and mango relish:


crepes with lemons and sugar and cherry-strawberry-rhubarb compote:


marinated and grilled tofu filets with grilled veggies:


veggie burgers with nowlzie's remoulade sauce and the best gaucamole in the world: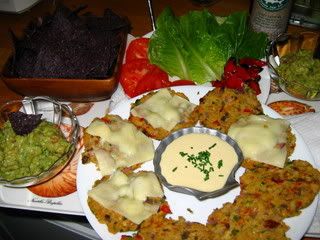 And, here's a sampling of food my friends made:
Dra's famous Caesar Salad with Dina's famous croutons: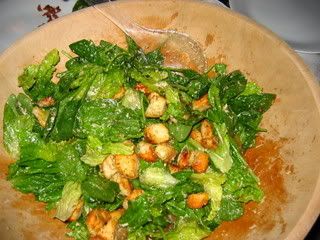 Dra's famous "fancy boli" that we like to call "The Dra" (half with procuitto, half without):


Dina's potato cake:


Schwatts's clam extravanza:


Schwattzie-Bear's lobbie madness:


Also, some highlights not pictured: Doggie's effing amazing raw dairy whole grain waffles with raw cottage cheese, fresh strawberries and maple syrup; Dina's famous lobster bisque; Schwatts's famous bacon-wrapped scallops; Schwatts's awesome potato chowder (and seafood chowder variation); Dina's chicken salad and faux-chicken salad; hardshell crabs; Dina's bananas foster bread pudding. I know there was more, but that's all I can think of right now. If you would like any of the recipes, lemme know and I'll hunt them down and post 'em up. But, suffice it to say, we had a fabulous week--and not just the food. These are some of my favorite peeps on earth. And, look how happy they are!
Scwatts:


Doggie:


Dra:


Nowlzie: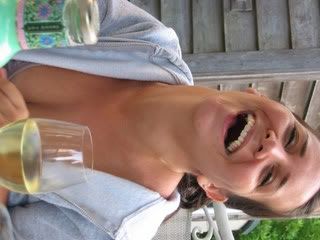 Dina:


Me:



p.s. Doggie gave me starters for both kombucha and kefir. Stay tuned for more about this!