Okay, so yesterday I was talking about needing to get back to the principles of the HealthQuest 2007. Meaning, time to stop resting on the ol' laurels, and kick the diet/exercise up a notch. Now, I'm not talking about trying to get skinny. I'm talking about getting healthy--physically and emotionally. And, being in a body that I'm proud of and feel good about. When I first started trying to get healthy someone accused me of being "unfeminist" and "not fat positive". Which is bullshit. I think that the most feminist thing you can do around body acceptance is to love yourself enough to be healthy and strong--regardless of your dress size, and to be happy with yourself and how you're living. I started this Health Quest because my dad died of diabetes complications after being sick for years, and I saw myself headed down that same path. So, the right thing for me to do is to take care of myself--including losing weight.

Amy just sent me this awesome YouTube video called "A Fat Rant" with a woman, Joy Nash, talking about being fat, her body, society, health, other women, excuses, living, etc. It's awesome. And, she challenges women to tell their weight. And, that's something I haven't done before even though I've been doing all this blogging about food. And, I hadn't done that because I was ashamed. And, I just don't have room in my life for shame. This lady is right. So, since January 2nd:

My starting weight was 245. My lowest weight was 205. This morning I weighed 213. My goal is 140.

And, being fat doesn't need to be an excuse for everything in your life--like it was mine for years and years. This healthquest is about caring about myself. Caring enough to eat good things, exercise and make my body strong, quit smoking (I'm now cigarette-free for 7 weeks and 4 days!), to participate in therapy to work through stuff I've been struggling with for years, to try to get my money issues under control, to surround myself with people that care about me and are positive and care about themselves, to not feel too ashamed to try things I've always wanted to try, to think I'm hot-to-trot, and to lose weight in a healthy and sustainable way.

So, I went back to a tool that has helped me in the past--keeping track of what I'm eating and drinking and how I'm moving. I used the site Sparkpeople for a couple months to track food, exercise and progress, but quit when I was both doing well and starting to cook with more unusual ingredients. Because, even though they have a recipe calculator (nice feature), their database doesn't have a lot of the ingredients I'm using so I'd have to google the particular item and its nutrition profile, then enter it all in and it was kinda a pain in the rear. But, I want to do it again for a few days and just see where I'm at. So, in the interest of getting me back on track and full disclosure, here's today's tally so far:

Breakfast:
Grape Nuts cereal with Fage Total 0% greek yogurt, strawberries and honey
cal: 335, fat: 1, carbs: 72, protein: 13

Lunch:
Otsu (without the toasted sesame seeds, but only because I forgot them)
cal: 372, fat: 14, carbs: 51, protein: 17

Water:
3

My personal nutrition goals* daily are:
cal: 1200-1550, fat: 27-60, carbs: 135-252, protein: 30-136, water: 8-8 oz glasses

*they calculate your goals based on your height, weight, age, activity level, goal weight, date for goal weight, etc.

Here's my little breakfast-n-lunch pack today (not pictured: 1 organic pink lady apple, 1 bottle of water)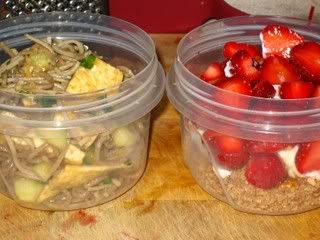 So, despite my big plans of making a bunch of salads in all my free time this week I ended up making dinner last night and then running over to Maggie's (so she could help me prepare for an acting audition!) for a bit. But, I did make a delicious dinner of Otsu (from Heidi's Super Natural Cooking). It's a Japanese soba noodle creation and addictively delicious.

Otsu
from Heidi Swanson's Super Natural Cooking, p. 62)


Heidi's note: In Japanese, otsu means something strange, quaint, stylish, chic, spicy, witty, tasty or romantic. In keeping with its namesake, this buckwheat noodle salad has flavor and personality to spare. Buckwheat, which technically isn't a grain, is lysine-rich and close to being a complete protein. In this recipe, buckwheat noodles (soba) are tossed with a fiery dressing tempered by a generous dose of cooling cucumbers, green onions and pan-seared tofu. Seek out nigari tofu whichis typically even firmer than other types labeled "extra firm."
Ginger-Sesame Dressing:
Grated zest of 1 lemon
1" cube of fresh ginger, peeled and grated
1 T. honey
3/4 t. cayenne [ek-I used 1 t.]
3/4 t. fine-grain sea salt
1 T. freshly squeezed lemon juice
1/4. unseasoned brown rice vinegar
1/3 c. shoyu sauce [ek-I used Bragg's Liquid Aminos]
2 T. extra-virgin olive oil
2 T. toasted sesame oil
12 oz. dried soba noodles
12 oz. extra-firm nigari tofu
1/4 c. chopped fresh cilantro
3 green onions, thinly sliced
1/2 cucumber, peeled, cut in half lengthwise, seeded and thinly sliced
1 small handful of cilantro, coarsely chopped, for garnish
1/4 c. toasted sesame seeds [ek-I forgot these! so, they're not in the nutrition breakdown above]
[ek-I also used a little grated lemon and orange zest for garnish]
To make the dressing, combine the zest, ginger, honey, cayenne and salt in a food processor (or use a hand blender) and process until smooth. Add the lemon juice, rice vinegar and shoyu and pulse to combine. With the machine running, drizzle in the oils.
Cook the soba in plenty of rapidly boiling salted water just until tender, then drain and rinse under cold running water. While the pasta is cooking, drain the tofu, pat it dry and cut into rectangles roughly the size of your thumb (1/2" thick and 1" long). Cook the tofu in a dry nonstick (or well-seasoned) skillet over medium-high heat for a few minutes, until the pieces are browned on one side. Toss gently once or twice, then continue cooking for another minute or so, until the tofu is firm, golden and bouncy.
In a large mixing bowl, combine the soba, the 1/4 c. of cilantro, green onions, cucumber and about 2/3 c. of the dressing and toss until well combined. Add the tofu and toss again gently. Serve on a platter garnished with the cilantro sprigs and toasted sesame seeds.
...
That shit is off-the-chain tastilicious. For real. It is like magic.
New Horizons #1:
Okay, so I just dropped a mention of this audition above. It's for a small part in a pilot episode of a project a friend of mine is working on for a show about women and therapy--both the therapists and clients. I've just read a tiny piece, but it sounds really good. She emailed me the casting call she had placed on
craigslist
, and asked if I'd be interested in auditioning. I have always secretly wanted to try acting but I have always been a-scared to death to be that vulnerable in front of other people and thought I was too fat. But, I'm doing it! My audition is tonight at 7:15 p.m. Wish me luck (or leg-breaking). I hope I get it, but even if I don't I'm going to feel really glad and accomplished that I tried it. Heck, I may even try it again.
New Horizons #2:
Sue from the
Pittsburgh Lesbian blog
sent an email to the queer events mailing list this morning asking if anyone was interested in joining a blog as a contributor for a women's blog project she's working on with some friends. It sounds like a pretty great concept--all women blogger in the 'Burgh blogging about things that are important to women. So, I signed on. I just wrote my first intro post, but I'll be adding more soon. Check it out
here
.
Right on, right on.