And, "it" means a veggie reuben. Sometimes I get on kicks of these babies, and nothing else will do the trick. I made one for dinner. I made one to bring for today's lunch (but accidentally ate it for breakfast). I want another right now.

Now, you may remember the Veggie Reuben-Off 2007 that Kramer and I conducted (sorta) a few months ago, which ended up in me taking some tips from her, and incorporating them into my own veggie reuben recipe to create a SUPER REUBEN.

But, anyway, I didn't have any green peppers or mushrooms, and didn't feel like messing with sauteeing the onions because I just wanted to Get It Into My Belly, so I went with the Kramer recipe, except that I added cheese (gruyere) and used sourdough bread. It was phenomenal. My mouth literally just started watering thinking about it.

See for yourselves: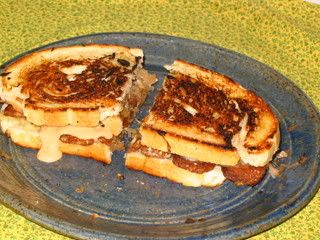 In other, unrelated news, I am back in the Hillary camp after being Obama-curious for a spell. Of course, I'll vote for the Democrat, regardless of who gets the nomination, but after talking with some pals (thanks, E-dawg and Jr.) and reading a lot, I'm back in Hill's camp.