Okay, so we've been playing at winter here for a while--some cold, some flurries, our winter coats and hats and gloves. But, it finally hit for real. The roads are bad, and intermittently scary, there's real snow (I think I had about 5" at my house by yesterday afternoon). I even got to leave work early yesterday! What does all this mean to you? It just means that I'm planning on using it as an excuse for not blogging for a few days. That, and my uterus has been playing games (not fun games) with me for nearly a week now. I am a cranky, bloated, tender, crampy, uterachey, crompy monster. But, that said, I'm real glad to be back to bloggin'!

First of all, the vegan-flavor cupcakes for Kramer's birthday celebration. I ended up making a sort of "almond joy" type of cupcake. I made the coconut cupcake recipe from this blog. As for the frosting, I made a chocolate-almond flavor, and I just kinda winged it like she suggests. I used powdered sugar, Earth Balance, a little hemp milk, some cocoa, some vanilla and almond extracts, and just kept beating it and tasting it until I was happy with it. Then I topped them with the toasted coconut and slivered almonds. They were yum--and cute! Here's a close-up, and one of Kramer blowing out her candles.



"blow like you've never blown before"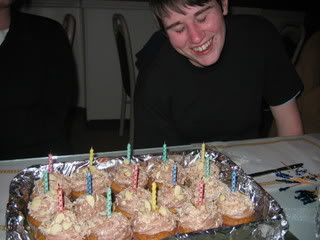 Also, Taste of India was pretty tasty, but I don't know if there's a place that can unseat Udipi from the top seat in my heart for Indian fare in the 'Burgh.

Saturday Barbara (PYT) made a little light dinner and hung out and played Skip-bo with me while I complained about my uterache. Obviously, I am a big bowl o' fun around this time of the month!

Couscous with garlic and veggies:



The next morning we made a big breakfast, and it was magically delicious! Sunday Brunch is my favorite meal of the week. She made her famous tofu scramble and some veggie sausages and coffee. I made some roasted dill potatoes, peanut butter-n-jelly french toast (from a recipe that came from a kid's cook book that my brother and I had when we were little), and some fresh-squeezed oj. So tasty and perfect for a chilly morning.



Sunday afternoon we went to a Baby Party. It was for her niece Violet's first birthday. However, I mistakenly thought that it meant [Dress Like a] Baby Party, and showed up in a diaper and bonnet. Boy, was that embarrassing for the first meeting with her extended family!

[Just kiddin', folks. It was a really cute baby party with delicious cake, and hilarious baby antics.]

In other news, my sandwich addiction this week is egg salad with fake bacon. I had an "Egg Salad BLT" at Hoi Polloi last week, and had been thinking about it since. Also, E-dawg and I had been talking about subbing all or most of the mayo in egg salad for greek yogurt, and then Heidi posted another egg salad recipe a few days ago. So, I gave that a whirl. I used 4 eggs, 1 T. mayo, 2 T. fage 0% greek yogurt as the base. But, it just was a little too tangy, and not enough mayo-y for my liking, so I'll likely switch back, or at least flip-flop the mayo to yogurt ratio. So, to off-set the tanginess I added some minced sweet gherkin, some parsley and salt and pepper. It was good, but not perfect. Adding the fake bacon helps, though.



Night before last I threw together a pasta dish with broccoli and a bastardized alfredo-type sauce. I didn't use a recipe, just threw some stuff together--a little half and half, a little marsala, a little parmesan, a little freshly grated nutmeg, a little garlic and onion, a little butter, some salt and pepper. It turned out pretty good!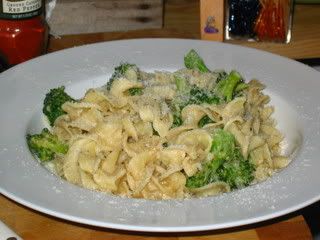 Tonight I'm doing some shopping for tomorrow's valentine's dinner with Barbara (aka PYT). I'm going to try the recipe that's on the cover of the new Vegetarian Times magazine for a vegetable wellington. Sounds deelish!