First of all, it's Kramer's birthday. Not just any birthday, either. This gal is entering her dirty thirties! She's been celebrating for days, and has some more to come. As part of the festivities, I will get to check out a new (to me) Indian restaurant, Taste of India. That is always a good time. I might even make her something tasty and vegan-flavored (her favorite).

She looks pretty good for her age, eh?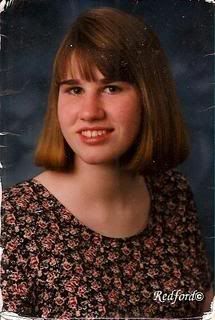 for Kramer:


In other news, I met my pal Alan last night at D's. I hadn't been there in a while, and it was pretty nice. I had a super-tasty beer--Rodenbach Red Bach, a cherry Belgian beer. Super-delicious. And, for dinner I went with the Big Ben (as a veggie dog)--it was ridiculously huge and messy, and very tasty in the trashiest sense of the word. Yum. Also, Alan gave me yet another mix. This guy is like a machine! I am rocking out, courtesy of him, right now!

In other unrelated news, another Re-pube down!