First of all, I'm thankful for my friends and family. I usually spend Thanksgiving at my mom's house, and we spend a couple days cooking. I'm always in charge of the bird, stuffing, mashed potatoes, deviled eggs and half of the broccoli casserole and sweet potato casserole. My mom makes a gagillion desserts, the gravy, rolls, salad and the other half of the casseroles. It's sometimes hectic, but it's always fun.

But, since my car woes made the scene, I stayed in the 'Burgh this holiday weekend. I was taken in as a Thanksgiving orphan by some friends. Leslie (remember her from this post of deliciousness?) hosted the dinner at friend Beth's lovely home (this house was made for Thanksgiving celebrations). She cooked up a storm, made it look like a breeze and a snap, and then cleaned up, too! Seriously. Have you ever heard of such a kitchen sensation? Sadly, I only snapped one picture. I got too into drinking wine, chatting, standing outside by the fire pit and deciding whether or not I was going to taste the turkey and gravy to remember to keep clickin'. But, this is a great picture. She made a little serving dish with the sides for ease in heating and eating. Isn't this perfect? It's making my mouth water.

(l-r: wild rice stuffing, roasted carrots, roasted turnips and my brussel sprouts)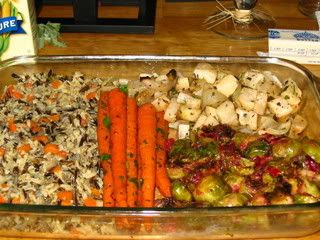 I only made one dish all day! (Which felt odd, but good. But, I think now I might have to actually make some stuffing tonight. I was talking about it a lot this morning, and I think I need one last dose of Thanksgiving). I made the aforementioned roasted brussels sprouts with cranberry brown butter (from Food & Wine magazine, recipe here.

***I used considerably more maple syrup than called for. It needed a little more sweetness since the brussels sprouts are a little naturally bitter, and the cranberries so naturally tart. It helped round out the flavor a little more. I probably used an extra 1/4 c. of syrup, a drizzle at a time (into the cranberry-butter mixture) until it tasted right. These were fantastic! I'd totally make this recipe again and again. It's going to be one of my Thanksgiving staples.



So, the menu for our dinner was:
-turkey
-roasted truffle gravy
-garlic mashed potatoes
-roasted carrots & turnips (my god, those turnips were like manna from heaven!)
-cranberry sauce
-wild rice stuffing
-roasted brussels sprouts with cranberry brown butter
-rolls
-corn pudding (a nod to our collective Appalachian heritage)
-pumpkin pie with whipped cream
-lotsa wine

Dang. As I was typing that my stomach growled. It was So Good.

In fact, it was so good that I ate a few bites of turkey and gravy!

Yes, I'm still a vegetarian, I just needed to taste it. It struck me when I had the first bite that nothing you eat as a vegetarian has this texture. It's a very satisfactory feeling to bite into a piece of meat. It felt almost primal. I'd forgotten about that. I quit eating meat at the tender young age of 13, and lasted until 26. Since then I've spent several years (I'm now 34) oscillating between meat-eating, vegetarianism and pescatarianism. I re-quit eating all meat early this year (February?), and have felt good about it. Although, as I continue to learn more and more about sustainable agriculture I sometimes think that maybe I should do an all-local diet, including some meat products as opposed to an all-vegetarian diet. But, that's still up in the air. I'm staying on the veggie side of the fence for now. but, I am grateful to Leslie for cooking that delicious bird, and for the bird itself. As humans, something always must die for us to eat--whether that's an animal or vegetable, and I think it serves us well to remember that and accept that gift and sacrifice with grace and gratefulness, regardless of its source.

Okay, now back to the eats.

I made the brown butter for the sprouts on Wednesday night, and since I already had a pan with a thin layer of butter, shallots and thyme I decided to make a pan sauce and some crispy tofu. So, I took a block of tofu (I love the extra firm tofu from Spring Creek Natural Foods; great taste and texture, and it's from West Virginia! You can find it locally in Pittsburgh at the co-op) and got to work.

I haven't settled on a name for this, but it needs one because it was so fantastically good. Definitely a repeater. How about...Crispy Fried Tofu with Lemon-Butter Cream Sauce?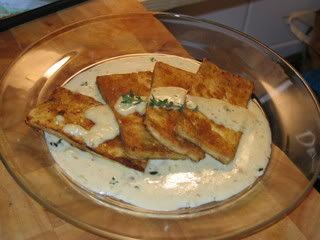 for the tofu:

1 block Spring Creek (or other extra-firm tofu), drained (I wrap it in paper towels, and drain between two plates with a weight on top--like a large can of tomatoes or something, for an hour)
a little tiny bit of oil for the pan
some Bragg's, or soy sauce

Slice the tofu into thin (like 1/4") fillets. Heat a skillet to med-high, and put a little oil in the pan. Squirt in some Bragg's (or soy sauce), probably about 2-3 T., but it's not exact--you just don't want to drown the tofu, 'cause you want it crispy. Lay the tofu in the pan, and flip it around so that it gets some Bragg's on both sides. Cook it for about five minutes on each side, until it's pretty browned and crispy. I just made a little of the tofu, and kept the rest, uncooked, in the fridge for the next time.

for the lemon-butter cream sauce:

1 1/2 T. freshly squeezed lemon juice, with about 1 1/2 T. water added, for 3 T. of liquid total
3 T. butter
1 lg shallot, minced
1 T. fresh thyme leaves
a little marsala for deglazing
a little heavy cream for creaming

First, add the shallots and butter to a pan over med heat. Cook for a few minutes until the shallots are soft and translucent. Add the thyme and lemon liquid, and cook down for a few minutes until it develops a lovely deep golden hue. Pour in a little marsala (or, other wine of your choice) to deglaze the pan. Reduce it down, and deglaze again with a little more wine. Then add some heavy cream, drizzling in and stirring constantly, and continue to cook over med-high heat for a few minutes until the sauce starts to reduce and thicken a little (it'll continue to thicken off the heat, so it's okay if it's still a little thinner than you want).

To serve, spread a little sauce on the plate, and lay the tofu planks on top while it's all hot and delish. The sauce doesn't keep well (it just separated when I reheated it), so just make the amount you want to use for this meal. Enjoy!

In other cooking/baking news this weekend, I made a batch of brownies. I used a recipe from my good pal and former Pittsburgher, Susie Q (she's a liar on myspace, she really lives in Monterey, CA now). She is a baking wonder, and her recipes for brownies and banana bread are possibly the Best Ever. I'll check with her, and if she doesn't mind I'll share her brownie recipe. Check 'em out!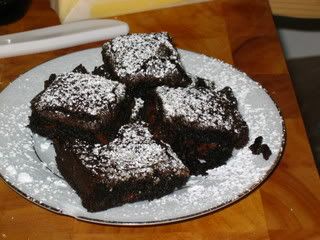 I also had a hankering to try out a sugar cookie recipe. I wanted to base the flavors on this utterly fantastic pan of vegan rosemary shortbread that Kara brought to a queer book club meeting this summer. It was herby and was chock-full of pine nuts. She'd noted, when I begged for the recipe, that she'd use a little lemon juice to make the herbs pop next time. So, I scoured my cookbooks and the internets for some good sugar cookie recipes. And, then I didn't have quite enough butter, and no solid vegetable shortening, so I improvised with drizzling in some canola oil with my creamed butter. This made them crispier than they'd have otherwise been, but I think they turned out really well! It was kind of a conglomeration of recipes that I adapted, and this is what I ended up with. I have another roll of dough in the fridge, and will use it to bake up another batch for Classic Book Club meeting tomorrow (we read Michael Pollan's The Botany of Desire. two thumbs up; way up! And, p.s., his next book, In Defense of Food: An Eater's Manifesto, is due out in January 2008!).

Lemon-Rosemary-Pine Nut Sugar Cookies
makes about 4-5 dozen cookies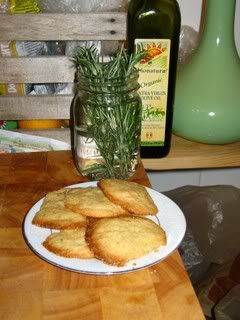 3/4 cup butter
1/4 cup canola oil (you could use all butter instead of the oil, they just wouldn't be as crisp)
1 1/2 cup sugar
freshly squeezed juice of one lemon (i'd maybe add about 1/2 t. of lemon extract next time, too)
3-4 T. lemon and/or orange zest
2 eggs
2 3/4 cup flour
2 teaspoons cream of tartar
1 teaspoon soda
1/4 teaspoon salt
2 T. fresh rosemary, minced
1 c. toasted pine nuts
some washed raw sugar for sugaring the cookies

On the stovetop, toast the pine nuts until lightly browned and fragrant (about 8 minutes). Take them out of the pan, and make sure they're entirely cooled before adding to the dough mixture (below).

Cream the butter, then drizzle in the canola oil with beaters going. Add in the sugar, eggs and lemon juice (and/or lemon extract).

Mix the dry ingredients--the flour, cream of tartar, soda and salt--and, add that into the butter mixture. Stir in the rosemary, the zest and the (cooled!) pine nuts.

Form into logs about 1.5" in diameter, wrap in waxed paper and chill in the refrigerator for about an hour or two (I chilled them overnight).

When the dough is well-chilled, preheat the oven to 400 degrees, and either lightly oil the pan, or use some parchment paper. Remove the dough from the refrigerator, and slice into thin slices, about 1/4" thick. Press the tops into the sugar, and place on a cookie sheet. Bake for 8 minutes, until the edges are brown and crispy. You want to give these babies plenty of room on the baking sheet because they will spread out quite a bit.

Yum.

In other news, the cable came back on Friday, and it is good. It's a wondrous thing. I watched an appalling amount of television on Friday and Saturday. I called Mags yesterday morning to describe it, and she asked if I'd started developing bed sores yet. I realized that I was right on the precipice, so to save me from that fate, I went over to her house where she made me a tasty breakfast of french toast, fruit salad and roasted regular-and-sweet potatoes with coffee and oj. Then we took the dogs on a nice walk somewhere near the river--near enough for them to run down the side of the hill, jump into the water, and find something dead and stinky to roll in. A good time was had by all. Which I'm thankful for.