Actually, I'm of two minds when it comes to Thanksgiving. On one hand, I love a holiday that's all about the cooking and eating of food, tradition and observing a time to be thankful. On the other hand, I'm disturbed that we continue to honor an annual celebration of conquering and decimating a native population. I wish that were more acknowledged when people talk about the Thanksgiving holiday. But, apart from the genocidal undertones, I actually really, really enjoy Thanksgiving. And, I don't really want it to be over. Yesterday most of the talk around the water cooler at work, and in catching up with friends, was about Thanksgiving dinner. And, since I didn't cook the giant meal this year I'm not the proud owner of a refrigerator loaded down with leftovers. I kept craving stuffing all day yesterday. I could smell the sage and celery wafting from the workplace kitchen while everyone warmed their leftover feasts, and wanted more, more, more!

Now, I did actually end up with a beautiful container of leftovers from Thursday. I dubbed it "tupperware full o' love", but it was quickly gobbled up for breakfast and lunch on Friday. So, last night I had to--had to!--cobble together some stuffing. (Do you call it dressing or stuffing?) I didn't have all the ingredients I wanted/needed, but it still came out a-okay, if not exactly as I was picturing. Speaking of picturing it...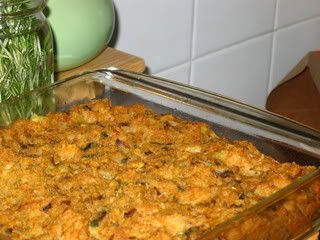 Cornbread Stuffing
makes a 9x9" pan

1 16-oz bag of cornbread bread crumbs (or make your own cornbread, and crumble it up)
about 4 c. vegetable broth (always best if you make your own*, but I like this kind, too)
1 lg onion, diced
2-3 celery stalks, diced
1 c. dried cranberries (I was out of these, but they really make it!)
1/2 lb. mushrooms (any kind, I used white, 'cause that's what I had on hand), sliced
2 T. fresh sage, chopped
2 T. other fresh herbs (I used rosemary, thyme and parsley)
3 T. butter or olive oil (it tastes better with butter, but I was out so used evoo)
a little wine for deglazing the skillet
1 egg, beaten
freshly ground sea salt and pepper, to taste

So, I preheated the oven to 350, and lightly greased a 9x9 pan.

In a large bowl, add the cornbread crumbs and set aside.

I added the evoo to a skillet, and sauteed the onion and celery with the sage, rosemary and thyme until softened and translucent. Then add them to the cornbread crumbs. In the same skillet, without cleaning it first, add the mushrooms and parsley and cook about 8 minutes or so, until the mushrooms have released their liquid and then it starts to evaporate. Add a little wine (I used marsala, 'cause it was handy), and get all the goodness from the pan--the bits or herbs and veggies. Cook that for a few minutes, then add the lot to the bowl. Add the beaten egg (I actually don't usually use egg, but I needed a little extra moisture) and the stock/broth one cup at a time until it has a dough-like consistency. Make sure all the breadcrumbs get mixed in or you'll have hard bites in your dressing.

Transfer the stuffing mix to your greased pan, and pop it into the oven, covered, for 30 minutes. Then remove the cover, and return it to the oven for another 15-25 minutes (depending on how moist your mix was).

Yummers.

I also realized last night that I left two important items off my Thanksgiving menu list! Leslie also made a roasted truffle gravy and a salad with butter lettuce, oranges and fennel. We had the salad at the end of the meal (I love when the salad is at the end of the meal), and it was the perfect end to a lovely meal. The salad itself was light and fresh, and really ideal to conclude a big meal.

Unfortunately, I had to run out not long after dinner--way before I was at a point where I could eat pie--so I didn't get in on the pumpkin pie. Now I need some. I may have to make that this week, too. It's the never-ending Thanksgiving!

Here's a Natalie Dee Thanksgiving themed/pie themed slice of goodness:



Why did I have to run out so quickly after the meal, you ask? Because my excellent pal Dinah had an extra ticket to see Avenue Q! And, this was no ordinary ticket to a show. Oh no. This was front-row center! I've never had a seat like that before. I could peek down into the orchestra pit! I was sitting right behind the conductor! I could look over her shoulder and see the names of the songs and her notes on the sheet music! And, it was such a great show! I've had the song "The Internet Is For Porn" in my head for days, and even got Mags and the e-Dawg singing along on Sunday.



*I mentioned making your own vegetable stock above, and I've had a few people ask me how you do it. It actually couldn't be easier! Basically all you do is simmer vegetables and aromatics in water for about an hour and strain. I usually keep a bag in the fridge where I keep vegetable scraps--the stems from herbs, the end pieces of veggies, potato peel and ends, mushroom stems, etc. For your stock, you just want a bunch of veggies--I use my scraps, and then also add some carrots, onion, celery and garlic, all in large chunks. And, I usually add in a couple bay leaves, some peppercorns, etc., too. Add enough water to cover all the veggies and make a good amount, then bring it to a gentle boil. Then lower the temperature to med-low, and simmer for about an hour. Then pour the broth through a piece of cheesecloth or a fine-mesh strainer. I like to freeze it in several tupperware-style containers in about 4-cup increments, so I can just take it out and thaw it as I need it. Easy, peasy!

Tonight I'll be spanning time with my pal Zeke. The K-Bear just had a bath this morning (after rolling in some stench during our little hike on Sunday), so he'll be joining me. They're a cute pair. I also have Classic Book Club tonight, so I'll be reprising the lemon-rosemary-pinenut cookies, and I'm sure I'll get to taste all sorts of delicious treats contributed by my fellow book clubbers. I love book club!

Have you peeps tried out the Double Wide restaurant over on the S.Side? I didn't find out that it was uber-veg/vegan-friendly until they were temporarily closed due to a fire. But, they're back. And, I checked out their menu online yesterday, and feel very excited on the inside. Vegetarian Pulled "Pork"? Oh, hells yeah! The only glaring omission I notice is that they don't serve grits for their brunch. Seeing grits on a menu always makes my day. And, it seems to be such an obvious choice for their motif. Hopefully I'll be checking it out soon, and can personally tell them that they need to get some grits on the menu, tout suite! Will report back...