How I've missed you!

Okay, actually I was having way too good of a time with Schwatts in York to miss anything. I didn't want to come home! First of all, it was just great to see my gal since I hadn't seen her since our beach trip. She's one of my very favorite people on earth, and I don't know anyone else like her. If there were any justice in this world I would be able to clone an extra to keep in my pocket at all times. Plus, even before she went to culinary school she was one of my favorite cooks ever--always beautiful and delicious food infused with love.

I arrived on Saturday afternoon, and we had some wine, ran some errands, and then came back home and made dinner. She made grilled pizzas--three varities! I was in charge of rolling out pizza dough, and she was in charge of making the magic happen. My favorite variety was arugula, pears, honey, olive oil and brie. Oh, dang. It was amazing! And, then we had a tomato-veggie version and a pepperoni-veggie version for her main man, Joe.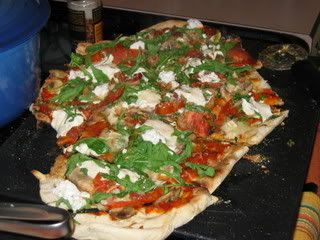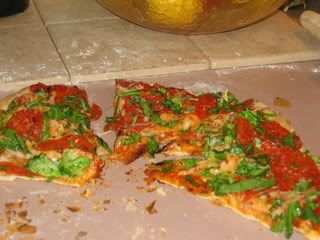 The next morning she let me in on her plan of attack (personal cheffing takes a LOT of organization), and we shopped, made sauces and then made ourselves a fabulous dinner. Firstly, I gotta say, I'd never made homemade mayo before. I've made vegan mayo, but never the real deal. It makes such a difference! We made a regular mayo and then an herbed aioli--which is one of the Best Things Ever To Touch My Taste Buds EVER! Seriously, rich, fragrant, gorgeously velvety. I'll never buy store-bought mayo again (unfortunately I *just* bought a jar of Hellman's). I could've eaten a bowl of it!

That evening we made ourselves a pasta dish with lots of veggies and a rich cream sauce (I've always been terrified of making cream sauces and gravies, but Schwatts let me do it with her guidance). It turned out so well that I forgot to take pictures! Suffice it to say, it was heaven with a side of garlic bread. For real. We ate it, and then both passed out on our respective couches moments after she said, "now, let's not fall asleep out here...".

The next morning we got up early and went to the local culinary school where she rents a kitchen (for her Jon & Kate clients since she can't cook there), and whipped up a Chicken and Veg Soba salad with peanut sauce, scalloped potatoes, roasted asparagus and crabcakes (with the glorious herbed aioli). And, I got to have her teach me to make a roux (for the potatoes), which is another one of those creamy things that I'm a-scared of. I meant, again, to snap some photos, but forgot until we'd already cooled and packaged everything. But, it looked gorgeous and delicious. It was so fun to get to work in a big kitchen like that, and so fun to cook with Katherine (aka Schwatts). I normally get all uptight if there are peeps in the kitchen with me while I'm cooking, but we worked like a well-oiled machine (well, I thought so, she might have been telling me to get offa her land! in her head). Then we stopped off for some giant and tasty burritos at a local spot.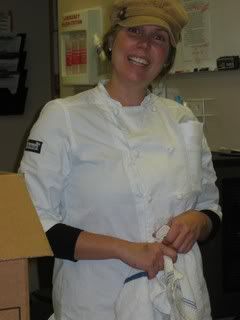 That night for dinner she made a big salad (arugula, toasted pine nuts, parmesan, gorgonzola, red peppers, sugar snap peas, carrots, scallions) with a fantabulous pomegranate vinaigrette and I made some grilled cheese sandwiches on pumpernickel with triple cream brie and some hard farmers' goat cheese and, Schwatts' brilliant addition, herbs de Provence. It was heavenly. Really. The perfect meal.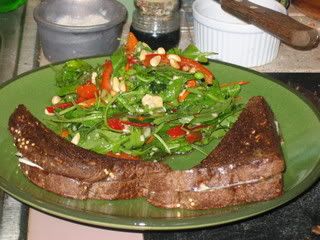 I got to see all the ins and outs--the cooking, the scheduling, the writing menus, making grocery lists, cooling, packaging...I didn't get to do the delivery with her because they pushed it back a day, but it was all so much fun!

And, when we weren't cooking, we were hanging out with her fabulous fella, Joe, and their dog, Gus (The Gutmaster General, Baby Lambda--half lamb, half panda, Guttercup) and two cats--Natalie (who I dearly, dearly love and who has the sweetest cat face ever) and Goya (who is kind of a jerk, but has the cutest spotted back left foot and moments of pure sweetness).

I wish you could see her face straight-on because it is seriously gorgeous: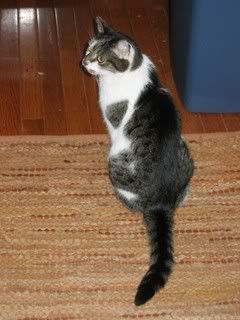 Goya, doing his every-two-minute ritual of being let in/out the door: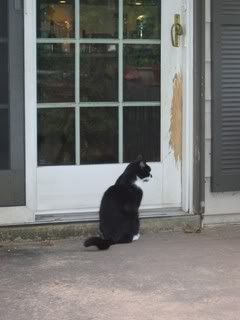 The Gutmaster General, and I don't know if you can tell in these pictures, but he is huge. Seriously, his head is at least twice the size of mine. He's a St. Bernard, and weighs almost 150 pounds. And, all those pounds are comprised of sweetness and love. He could be the K-Bear's long lost soul mate.
Here he is taking up almost a whole couch: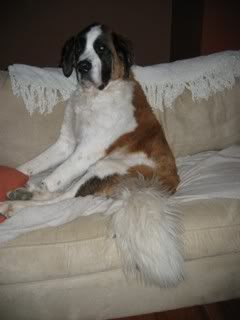 And, here's his glamour shot on the porch:



Speaking of the porch, it's beautiful. They have a beautiful home, and the back porch is very reminiscent of our porch at the beach, but even bigger and more beautiful!



All in all, it was a dream visit. Katherine and Joe are incredibly gracious hosts, have a lovely and comfortable home, anticipate the needs of their guest, and I learned a ton. I wish they would adopt me! Thank you, Schwattzie-Bear!