My birthday was super. It was nice to go the low-key route, especially since this sinus infection has pretty much Taken Over My Life. But, even though (on my birthday, last Thursday) it was just a leisurely dinner, and I didn't have anything stronger to drink than water and herbal tea, just being up until 1 a.m.-ish kicked my behind. I was exhausted the entire next day.

It is this way with those of us who are old(ish).

For the big night out, I'd asked around to some people for suggestions. I couldn't decide where to go, but I wanted somewhere off my regularly beaten path--somewhere festive, somewhere good, somewhere not crazy-ass expensive. And, a friend suggested we try The Melting Pot in Station Square. I have a long-time love for fondue, since my mom went through her Fondue Period in the mid-70s, so I thought it just might be wacky enough to work.

To start, it was just kind of surreal to be in Station Square. It's weird down there. I think it's for tourists who desire an inauthentic glimpse of Pittsburgh. Or, suburbanites who want a taste of the Big City, but to not get dirty. I'm not really sure. The Melting Pot is in the mall-type thing, which is also very bizarre. Any time I've been there I've wondered at all the odd shops and the nearly non-existent clientele. How do they stay afloat? But, anyway, back to dinner. It was fine, but not stellar, definitely designed for meat-eaters, but we had a great time nonetheless. Our group was a small foursome--just me, Barbara, Mags and the E-Dawg. We think our waiter may have been very, very stoned.

Afterwards, we met back at Barbara's. She'd made a strawberry jello cake (which I'd reminisced about several times). And, E-dawg complimented the cake with some Toasted Coconut ice cream. Yum!! The (figurative) icing on the cake, was that B got me some awesome cooking-themed gifts that I LOVE! A Cuisinart ice cream maker (electric! with an extra canister!), a copy of David Lebovitz's The Perfect Scoop, and a set of baking ramekins. So fun! (the next day I made some frozen yogurt--exactly how I like it, maybe better than Pinkberry).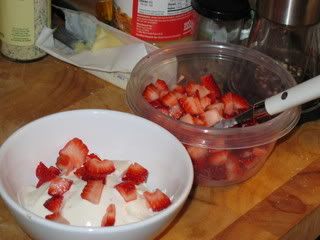 We stretched the celebrating on out to the weekend, and had a little family party (I borrowed Barbara's family) on Saturday afternoon with her mom, sister, brother-in-law and niece. She and her sister, Sissy, made a snowball* cake!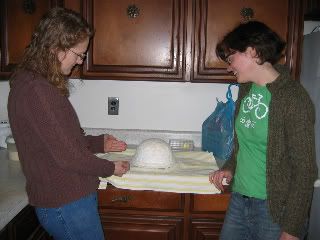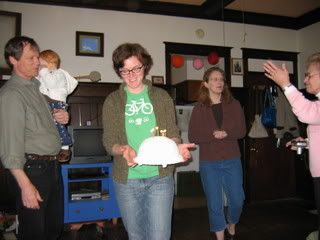 *Now, it must be noted that Barbara broke the news to me several months ago that Hostess Snowballs are not vegetarian. I didn't realize this, and had long considered them to be my favorite of the snack cakes. I'd been missing them sorely. And, maybe, holding a grudge since Barbara ruined it all for me--as if she'd added the animal fat all by herself. All is forgiven now! It was SO good!!!

And, yesterday I concluded (?) my multi-day birthday extravaganza with my pal Maria. We had dinner at Casbah. It's been one of my favorite Pittsburgh eateries for years, but my pocketbook hasn't allowed for very frequent visits. But, now with my fantastic employee discount (and a generous friend celebrating my birthday), that has changed! We really had a beautiful meal--the food was gorgeous and delicious, the service was really nice, yet understated, the presentation divine.

I started out with a Parisienne Fizz to drink, which was a glass of champagne with a splash of an elderberry liquer. I love champagne and champagne cocktails, and this one didn't disappoint. It was light and floral and a little sweet, but in a good way, not cloyingly. And, I chose the Mixed Greens salad which was a mix of romaine, raddichio and spinach, with feta, crispy fried banana peppers, fried blue cheese stuffed olives (don't let the "fried" make you think this was heavy--it wasn't, but was extremely flavorful and interesting), tossed in a creamy red pepper dressing. Some fantastic bread on the side (I think it's the Mt Athos Fire Bread from Mediterra).

My entree was one of the best things EVER. I had the Sweet Pea Risotto, and it was like spring on a plate. It was the most perfectly creamy risotto I've ever had with tender little peas studding the rice, and it was accented by some wild forest mushrooms, julienned slices of preserved lemon, some beautiful al dente baby carrots, and topped off with a little shaved parmigiano reggiano. If I couldn't gotten away with it, I'd have licked the plate.

For dessert, I chose the Meyer lemon crepes. The crepes were filled with house-made ricotta and Meyer lemon curd, the plate was drizzled with a Meyer lemon-vanilla vinaigrette, and topping this lovely plate was a scoop of olive oil gelato. Woah. Wow. Geez. Gosh. It was amazing!!! (Thank you, Maria, for the lovely meal and the sparkling conversation!). Maria had the Arugula Salad, Orecchiette pasta, and the dark chocolate and raspberry bread pudding. She also loved her meal (I had a few mouthfuls here and there, and it was fantastic). I wish I had photos of my meal. It was truly stellar. [And, for work, I get to meet the chef (Chef Alanson Peet) tomorrow! I'm totally geeked about it. (Geek being the operative word)].